| | | |
| --- | --- | --- |
| | OPED — WORLD | |
Gaddafi up against angry masses
Libyan civilians are struggling to survive in the civil war's most violent battlefield
Kim Sengupta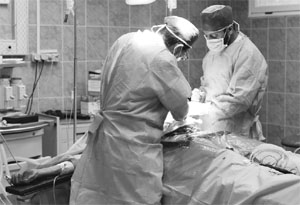 Doctors operate on a rebel fighter, seriously injured by Gaddafi forces near the front-line, in a Ajdabiyah hospital on April 14, 2011. Photo: Reuters
The attacks started early in the morning as the residents of this besieged and battered city were starting their hours of queuing for bread. The missiles came in two salvos, around 80 of them crashing down. At the end, amid the smoke and flames, lay the dead and the dying.
Even by the grim standards of Misrata, the most violent battleground of this savage civil war, what happened yesterday was a cause of deep shock. The targets for Muammar Gaddafi's forces appeared to be of no military or strategic value: houses, a school, an empty cement plant, the street outside the baker's shop. At least 16 people died, and 29 were injured, almost all of them civilians — including a mother and her two young daughters.
Hillary Clinton, the US Secretary of State, has highlighted Misrata as the prime example of the atrocities Colonel Gaddafi has inflicted on his own people. But yesterday, there were repeated questions on the streets about the absence of Nato warplanes.
The funerals took place late in the afternoon, at a children's playground which has become a makeshift cemetery. It was one of the few pieces of open ground in the area of Ghasr Ahmed, where most of the deaths occurred. The official graveyard for the district has been too dangerous in the last fortnight because of sniper fire. The service became an occasion for outpourings of anger and grief. Mourners wept, as others shouted "Misrata will be your graveyard, O Gaddafi" and "Misrata will stay true, Misrata will stay strong".
Before the outbreak of the conflict, Misrata had a population of 480,000. Many of those residents have since fled and those who stayed behind have become familiar with the sorrow brought by the fighting.
In the grounds of the hospital, seven bodies were laid out in a tent, three of them charred and the others with extensive shrapnel wounds. "We have similar tissue damage in the ones who survived," Dr Abdul-Baset Hussein said. "It is hard dealing with this kind of thing week after week, but it was particularly hard today seeing such terrible damage. The ones caught in the bread line, in the open, really did not have much of a chance. The few who were brought in from there could not be kept alive."
An Egyptian woman and her two daughters were at the bread shop when the explosions began. The mother dragged her girls to a garage to seek protection. But the next missile hit the entrance, starting a fire from which they could not escape.
Staying indoors did not save Mohammed Ben Arafa. The 85-year-old retired businessman was sitting in his home, having a cup of tea before going for prayers when the building's front section was obliterated. Rescue workers were hosing blood and remains from the walls as Mr Ben Arafa's two sons sat on the pavement crying. "We shall miss him so much," the younger boy, Amer, said. "We do not even have a body to bury, we could not recognise what was left of our father. This is not the memory we wanted of him."
Some of the injured had been taken to a clinic run by the Red Crescent organisation. Two patients, aged 17 and 23, lay in adjoining beds suffering from serious stomach and chest wounds. Dr Ibrahim Mahmoudi, who had returned from working at a Toronto hospital to help in the crisis, shook his head. "If this was Canada I would say these two would have a pretty good chance of survival," he said. "But we are really struggling with facilities here. Look, we have just got one ventilator in the whole ward. We are not really equipped to deal with things like infection. I am afraid we cannot give them more than 35 per cent chance of survival."
Among the crowd drifting away from the funeral were those who wondered how much longer Misrata would continue to bury its dead from this conflict. "We all genuinely thought that once Nato stepped in, we shall stop having these daily attacks," Tahir Ramadan said. "Are we supposed to believe that Nato could not see what was going on? Why didn't they do something?"
His companion, Yusuf Farousi, a retired university teacher, stopped him. "Have you forgotten that Gaddafi came to school here in Misrata?" Mr Farousi asked. "We have played a part in creating him. Let us not blame foreigners for the misfortunes of our country. We Libyans have become good at inflicting tragedies on our own country."
Libyan state television yesterday broadcast footage of Muammar Gaddafi racing around Tripoli in an open-top vehicle, pictured above, and said he went on the outing while the capital was being bombed by Nato.
Wearing a green safari hat, dark glasses and a black jacket, Colonel Gaddafi pumped his fists in the air and waved as pedestrians chased his convoy of SUVs through the streets.
A screen caption said the trip had taken place earlier yesterday, while Tripoli was under an air attack by Nato forces.
Nato carried out air strikes on the city, the state-run Al-Libya TV reported, while reporters said they heard four blasts and saw plumes of smoke rising from the south-east of the city. — The Independent