| | | |
| --- | --- | --- |
| | OPED YOUTH | |
Corruption is not new to this country. However, the way new scams and scandals are coming to light is indeed alarming.
Anna Hazare has started a new movement against this sorry state of affairs and has been joined by people from all
walks of life. The question remains as to what role must the youth of India to play in it
GenNext can help to banish corruption
Vipul Grover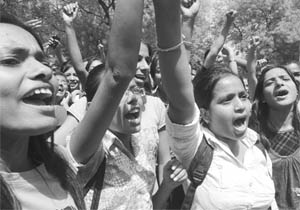 Taking up cudgels against graft:

Thousands of people including school children, teachers, social workers and bank officials shout anti-corruption slogans in support of veteran Indian social activist Anna Hazare during his fast unto death against corruption in New Delhi on Friday.
A silent revolution has been brewing in the hearts of the Indians for quite some time. The World Cup win was a welcome detour but the anger remained there, somewhere deep within. Finally, the septuagenarian social activist Anna Hazare has acted as the catalyst for the young and the old to vent out their angst against the system in a true Gandhian way. The incessant revelations of scams and scandals which have rocked this nation in the recent past have only added to our frustration against the system.
We do not need the rankings of organisations like Transparency International to realise how grim the situation is. A slanting glance through any newspaper's cover page or a brief view of any news channel while browsing the television is enough for a person to realise its gravity. Every day, there is a new damning revelation that floods the nation, from our homes to parliament and from the coffee table discussions to the news channel debates.



Scams hardly affect today's youth unless they come face to face with it. It is our upbringing and education that will decide our reaction to such situations.

— Pramathesh Borkotoky, 29,
Engineer, Jorhat Assam

We get the kind of leaders that we deserve. If we don't proactively engage in politics, no matter what media does to bring corruption to light, we are going to see more of it.
—Sojo Varughese, 31,
Educational Consultant, Mangalore
Apathy breeds corruption and it is high time we stopped being ignorant about all this. All of us need not know the details of all the scams but definitely all of us need to stop slipping 50s and 100s with our driving license when we jump a signal.
— Rashi Vidyasagar, 22, pursuing MA in Criminology and Criminal Justice Administration, University of Madras

The multi-million corruption scams which are happening around us amount to poor use of tax paid by the common man. All this will have long-term impact on development of facilities in the nation, especially for the underprivileged.
— Robin Goyal, 25, Business Analyst, Wipro technologies, New Delhi
We do tend to turn a blind eye to the corruption these days. But by doing that we cannot absolve ourselves from it. Just small actions on our part can also cause a significant change.
— Tavish Chadha, 25, IT professional, Accenture, Hyderabad

In the short term, protests might create ripples and subsequent resignations but finally one lot of ministers will be replaced by another corrupt lot. If the youth desire change in the long term, they must enter the system and actively participate in meaningful politics.
—Nethra Anjanappa, 23, pursuing MBA, Bengaluru

Juggling with my own family life and the office, the scams and scandals do take a backseat. However, working in a government undertaking, I get the satisfaction from a simple fact, that I keep myself clean of corruption.
—Neha Sarna, 29, MTNL, New Delh

What's happening affects me, for it affects my country. It shakes my confidence in our leaders. It affects how the world sees my country. This could well be the start of change, where people realise the need to elect better candidates and call for transparency on part of the government.
—Devanshi Kulshreshtha, 18, economics undergraduate, SRCC, New Delhi
And despite all these discussions and deliberations, there is always a new scandal waiting to be revealed- telecom spectrum allocation, commonwealth games, Adarsh society, cash-for-vote, CVC appointment, black money - that it's becoming difficult to keep a count.So when India Against Corruption led by Anna made a call to the nation, the people poured out in thousands all across the nation, demanding the government strengthen the anti-corruption mechanisms, symbolised by the Lokpal Bill which has been pending for more than four decades. For a nation, which is thriving on its young population and aspires to tap this favourable demographic dividend, it becomes important to know, what the youth feel about all the scams and the unholy mess they have created. Shashaank Shekhar Singhal, 25, a Gurgaon-based entrepreneur has a candid admission to make, "Well honestly, I haven't thought through a lot about these scams." However, in case one puts a little thought in deciphering the causes behind corruption, they can be reduced to just two rhyming words - need and greed.
When an underpaid traffic constable or an office peon with a large family to support demands a bribe, one can justify their greed to some extent in the terms of their need. However, what kind of justification can we have for the greed being shown by the well-fed politicians and rich businessmen?
As Shashaank adds exasperated upon a little contemplation, "I'm surprised how people can be so greedy and unethical. At the end of the day they cannot even use that large amount of money."
The dystopian society of George Orwell's conception in his novel '1984' borrowed its stability from three basic tenets; one of these being - 'Ignorance is Strength'. It will be far-fetched to compare today's India with that society. However, the way the things are going, one tends to question oneself if it's worth getting frustrated at this sorry state of affairs? According to Ankit Sakhuja, a 26-year-old MBA student from Chandigarh, "The extent and frequency with which we get to hear about these scams makes the youth wonder that is it really worth being honest any more. A majority of them may feel that it is now a common thing and it does not matter even if they indulge in corruption as long as their own greed is satisfied." Just when, such doubts were creeping in many minds, this anti-corruption movement has come as a new beacon of light.
In the recent past the media, judiciary and certain autonomous authorities like CAG have demonstrated remarkable activism in bringing to light various scams and scandals. However, now it is the time for the civil society to take up these issues. A recently released tagline of an Indian business group reads, "There are those who accept things as they are and those who rise to change."
When it comes to change, rise is an over-rated word. The first step towards change is to just realise. It's the realisation of one's basic rights and the realisation about what's right and what's wrong. Ignorance can never be strength. To feign ignorance is to shirk responsibility.
Despite all its shortcomings, the Indian polity has been supplying certain tools to the citizens for raising their voice against corruption. Right to Information, Public Interest Litigations, Lokayuktas and social audits are just some of these mechanisms. While demanding new and stronger mechanisms as enumerated in the Jan Lokpal Bill, it is important that the civil society realise the importance of spreading awareness about the existing mechanisms among the masses too.
In this context, one can't ignore the fact that after all, it's the youth of India that forms the largest chunk of our nation's civil society.. Rajeshwari Reddy, 35, a Hyderabad-based sociologist notes that, "The way youth has responded to Anna Hazare's call not just across the country but in other parts of the world too, by being physically present at the marches and the gatherings or extending their support through social networking sites is unprecedented." We can only hope that this zeal and commitment is there to stay and will not wither away with the maneouvrings and manipulations of the politicians, inside and outside the Parliament.
Vipul Grover is a popular blogger and a soft skills trainer based in Chandigarh