Defence procurement and production policies seek to expedite and simplify provisions and establish a level playing field for the public and private sector to achieve self-reliance, besides encouraging participation by the academia. The policies, however, lack the teeth for proper execution. The academia and the private sector have considerable talent and energy that can be liberated for defence development and production provided a conducive environment is facilitated by the defence ministry
Academia-Industry interaction is key to cut imports
Air Cmde J.S.Kalra (Retd)
Over 50 per cent of the annual defence budget goes towards imports. The production of defence equipment, until recently a government function, was reserved for ordnance factories and defence public sector undertakings (DPSUs), supported by research through DRDO laboratories. Production as well as research has been seriously constrained both in quality and quantity, thus keeping the import bill high. By the time a weapon system is developed, it is far behind the new technology in the contemporary world. Most weapons systems ex-Soviet block were reasonably priced, which India could afford to meet its minimum requirements. Western technology was far superior though very expensive and the country imported some percentage of its defence requirements from these countries. With the fall of the Soviet bloc, the emphasis shifted towards indigenous substitution and import from western countries.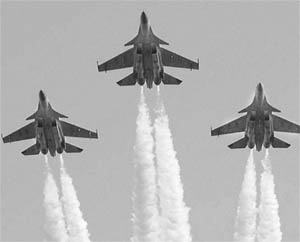 The IAF's Russian-made SU-30 MKI frontline fighters at an air display. Even 63 years after independence, India remains dependent on foreign military suppliers for all its critical defence requirements, including weapon platforms and spares. This makes the country strategically vulnerable.
The hostile attitude of countries in our neighborhood has become increasingly paramount, requiring higher defence expenditure. With good performance of the national economy, investments in the defence production sector could also be increased. Since DRDO and DPSUs alone would not be able to meet the current and future requirements, the government is steadily liberalising its Defence Production and Procurement Policy to involve the private sector.
Defence Procedures and Academia-Industry Interaction
Over the years, the government has assiduously tried to increase capabilities in defence R&D, ordnance factories and DPSUs to provide armed forces with all types of equipment. Simultaneously, the better performance of the private sector has made it possible to consider off-loading defence development and production to the civilian industry. Besides, eligible corporates can also apply to be Raksha Udyog Ratnas (RURs). All viable approaches such as formation of consortia, joint ventures, and public private partnerships have been permitted. The government has decided to set up a special fund for providing necessary resources to the public and private sectors including SMEs as well as academic and scientific institutions to support research, development and production.
Defence Procurement Procedure-2011
The Defence Procurement Procedure (DPP) is the defining document published by the Ministry of Defence to enable decisions regarding defence capital acquisition for the Indian Armed Forces to be made in a cost effective, timely and transparent manner.
DPP-2011 aims at expanding India's defence industrial base, encourage indigenous defence production and reduce defence imports. It aims at simplification of procedures, speeding up of procurement and enhanced benefits to the Indian defence industry. Keeping in view the strategic importance of the ship building sector, seminal policy changes have also been incorporated in the ship building procedure. It also covers the civilian aviation sector.
The thrust of the policy is to provide a level-playing field to the defense public sector undertakings, shipyards as well as the private sector. The scope of the DPP has been enlarged gradually over the years through amendments in 2003, 2005, 2006, 2008 and 2009. The basic thrust of the enlargement has been to promote development of indigenous military industrial complex.
The Defence Procurement Procedures laid down in 1992 have been fully revised with the issuance of Procurement Procedures--2011. The aim is to expedite decision-making, simplification of contractual and financial provisions and establishing a level playing field, for both public and private sectors. The scope of the offset policy mandating foreign suppliers for indigenous procurement with orders totaling more than Rs 300 crore has been expanded to include civilian aerospace, internal security and training.
Today higher education institutions (HEI) and the industry are keen on building strong and purposeful partnerships. The existing system through internships, student projects and representation of industrialists on academia boards has not brought about the requisite quality improvements in student's learning. This needs greater monitoring by academic institutes and serious involvement of industries as they are fully interested in better work force. Industries also seek partnerships because of complexity of scientific and engineering knowledge, competition and the drive for innovation. Academia finds industrial collaboration important for their research initiatives and students placements.
Over the past 20 years, US major private laboratories AT&T, Bell, IBM and Xerox etc. have down-sized considerably. Today their focus is entirely products related and have shifted the other research task to universities and are funding the same. Given the current high rate of growth and dynamic investment climate in India, the demand for knowledge workers will only increase.
Execution of the Defence Production Policy
The defence ministry has done well to issue the Defence Production Policy and updated it in January 2011 as a New Year gift to the nation. It has the characteristic features and objectives to achieve self-reliance in the design, development and production systems, and create an environment for the private industry, including SMEs, to play an active role. It also encourages inv olvement of the academia, R&D institutions, etc. outside the DRDO and to synergize efforts in defence production and set up a separate fund to provide resources to all development and production stake holders.
The policy document, however, lacks the teeth for proper execution. Let us discuss some of the significant deficiencies
We have to move from state controlled defence research and production to a process of liberalisation as was done for economic liberalisation in 1990s. Moment the government shackles were withdrawn, the economy grew at a fast rate. Particular example is the IT sector where bureaucratic controls were absent by default.
Second, we have advanced the concept of RURs but have limited the scope to corporates with a minimum turnover of Rs 1,000 crore. This will have to be expanded to bring many more players to compete and unleash their talent and latent energy.
Third, the role of academia--industry interactions has been highlighted without providing methodologies for its achievement. Incentives need to be provided both to academia and industries to strengthen partnerships.
Fourth, it has been found that service headquarters, while formulating general staff requirements (air force and navy including), are unrealistic both in terms of qualitative requirements and timeliness. It has to be appreciated that development is an incremental process and one should not expect disruptive technologies to appear overnight.
Fifth, it is nice to hear that the government will setup a private fund for research and development in the private sector outside the DRDO, but no provisions appear to have been made in the 2011-12 budget.
Sixth, the DPP must carefully appreciate that DRDO has more than fifty full-fledged laboratories but has failed to compete in technology and timeliness with global standards. Delayed production of the LCA and MBT are glaring examples of time and cost over runs.
Seventh, defence services are also seen as a source for easy funds for the politicians because of kickbacks. We have to find a solution and operate in the most transparent and merit based manner.
Implementation of the Procurement Procedures
The MoD deserves compliments for issuing the procurement procedures in 2011. This document needs to be introspected. Three models for defence procurement have been introduced in the past namely "Buy", "Buy & Make" and "Make". The last two models require heavy investments on the part of the industry. The savior of course is the offset policy that so far has not produced the desired results. The MoD should engage organisations like the CII, FICCI, PHDCCI and ASSOCHAM for publicity and feedback. DPP--2011 has also provided relief by removing the mandated requirements for licensing as a pre-requisite for being an Indian offset partner. Banking of offset credits has also been introduced, but this area still remains murky. The government has is also interested in Headquarters Integrated Defence Staff sharing the public version of the 15 years procurement plan with the industry, but we have yet to see its execution.
The private industry has been found to be wary of the defence procurement procedures and delays in payments. I have met many top industrialists in North India whose experience with defence procurement agencies is rather bad and they are scaring off other industries also. Today, an original equipment maker runs around the entire South Block or service headquarters and gets frustrated. There must exist a single window system where all concerns are addressed.
The Department of Defence Production has made a lot of progress in formulating the policy as well as the procedures. Several issues have been highlighted to improve competition on a level playing field for the private sector (corporates and SMEs). Regular seminars should be held to ensure that we progress fast in meeting defence requirements and enhance import substitution through academia–industry interaction. The private sector has tremendous amount of energy that can be liberated for defence development and production if a conducive environment is facilitated by the MoD.
The writer has been the chairman-cum-managing director of two public sector undertakings