April 7

World Health Day
HEALTH CARE FOR "AAM AADMI"
While cities and towns have witnessed the introduction of huge medical speciality and super-speciality complexes, both in public and private sectors, primary rural health care centres have remained a pipedream
M.L. Kataria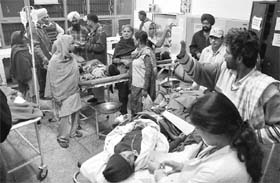 WHO is an "aam aadmi" in India? He is a remote rural rustic. When he grows up, he is forced to migrate to sprawling cities and towns, mainly for food, clothing and shelter. He lives in humble, inhospitable and, at times, inhuman urban periphery. He and his family are seen constructing roads, bridges, buildings and as domestic aids and engaged in various so-called class IV and III pursuits.
The rural and the displaced migrants of rural India constitute 70-75 per cent of India's "aam aadmi", spread over nearly six lakh villages. Thirty to 40 per cent of them patiently and quietly suffer the scarcity and frugality that is the destiny of everyone below the poverty line.
And yet, 70 to 80 per cent of our meagre budget for health care, both at the Centre and in States, is utilised by 25-30 per cent preferred urban sons and daughters at the cost of 70-75 per cent rural underprivileged step-children of Mother India.
Towards the fag end of British rule in India, the Bhore Commission gave a skeleton health plan for India in 1946. Sixtyfive years have since passed and we have had a series of Five Year Plans. We need political will and bureaucratic accountability to give a comprehensive health care to the common man of India.
Inspired by UNO in 1977 WHO resolved at Alma Ata to provide primary healthcare to all by the turn of the century. India was a signatory to this resolution and resolved to establish rural primary health centres, including basic investigative facilities for every group of 2-3 villages, within 1-2 km from each health care centre by 2000 AD.
Decades have since gone by. Governments have come and gone. While cities and towns have witnessed the introduction of huge medical speciality and super-speciality complexes, both in public and commercial private sectors, primary rural health care centres have remained a pipedream.
The Central Government announced yet another scheme in 2005 with a humane face and called it the National Rural Health Mission for BPL masses.
In essence it is a promise for free primary health care and health insurance for hospital services for Rs 30, 000 against a premium of Rs 30 for a family of five members. To make it a peoples movement the scheme lays emphasis on maximum encouragement to NGOs at all levels for a public/private participation for primary and hospital health care for the common man.'
Only an apology
Hospitalisation for any major surgery costs Rs 50,000 to Rs 1 lakh, Health insurance for Rs 30,000 for a family of five members is only an apology. Documentation for BPL registration is not only cumbersome but also a journey into wilderness. It is almost impossible for an illiterate person to go to several government departments to get registered. There has to be a single-window service.
More than five years have gone by, but the National Rural Health Mission launched with a lot of fanfare, is still to find its feet.
India needs more than two lakh primary health care centres for six lakh villages. Each PHC needs to cater for 2-3 villages, not more than 1-2 km from each health centre. Each PHC should operate a daily general OPD, supported by a free dispensary, X-ray, lab, ECG and dental services. Each block should have one 100-bed hospital with a medical, surgical, gynae and obstetrics and paediatrics specialist, who should also attend each PHC once a week or twice a month. Each district should have one or two multi-specialty hospitals and one or two super-specialty hospital in each state. Those below the poverty line should have free health care at all levels.
Ninety per cent of ailments are within the curative scope of the rural primary health centre and the block hospitals. Hardly 5-7 per cent patients need reference to multi-specialty district hospitals, and 2-3 per cent to super -specialty state hospitals. Obviously we need to revise our expenditure and development priorities for health care accordingly for each level.
Four-tier care
This four-tier health care system will channelise the patient inflow with a regulated referral system and considerably reduce primary health care workload on district and state hospitals.
Private health care entrepreneurs who have only commercial interest and goals and are escalating cost of medicare need to be controlled both the by the Centre and states, to make them fit with the overall national and state healthcare plan and layout of facilities.
Health care is essentially state subject, and also its budget planning, which is an exercise by itself. Nevertheless, a revolutionary outlook to raise the priority for health care is imperative, both at Centre and state levels.
Dr (Brig) M.L. Kataria (retd), Chairman cum Managing Director of Chandigarh Rural Health Care Mission that has established 20 rural health care centres in UT Chandigarh and adjoining districts of Punjab & Haryana during the last 25 years.


A "fiasco"
On March 24, the Public Accounts Committee came down heavily on the National Rural Health Mission (NRHM), describing it as a fiasco.
The commitee also asked the health ministry to carry out a complete re-appraisal and restructuring of the project.
The Head of PAC Murli Manohar Joshi explained to reporters that the government's expenditure on public health was merely 1.1% of the GDP, which was really shocking. The per capita expenditure in India on public health stood at $7, even less than that of neighbouring Sri Lanka at $30.
The PAC, in its report, said it was dismayed to note that health centres at various levels were being used as foodgrain godowns, community halls, local offices or cowsheds in many of the 18 states where the NRHM is being implemented. The Health centre lacked qualified doctors, necessary infrastructures, medical supplies etc.
The PAC also noted that the health centres were being supplied substandard and expired lifespan medicines and there was a lack of trained health workers and absence of common drugs in many states.
Chandigarh model
The Union Territory of Chandigarh has 18 villages on its periphery. The city state has developed a unique health care system for a population of over 15 lakh residents completely conforming to the four-tier model. Five rural polyclinics in villages Attawa, Maloya, Sarahgpur, Ram Darbar and Mauli Jagran have been established in close collaboration with the NGO. While the accommodation, electricity and water are being provided by the government, the entire bio-medical equipment and the daily operating cost and management is being met by an NGO.
Each rural polyclinic has 3-4 villages/colonies within 1-2 km from each polyclinic. Free consultation, medicines, X-ray, lab tests, ECG and dental services are being provided at each polyclinic. Thus 100 per cent primary health care with basic investigate services has been ensured as a door delivery service to the common man in the entire rural periphery of the Union Territory.
The 2nd tier specialist services are available at the two well equipped mini hospitals in Sector 22 and 45, while the 3rd & 4th tier multi-specialty and super-specialty services are being provided by the Govt. Multi-Specialty Hospital, Sector 16, and Govt. Medical College and Hospital Sector 32, respectively.