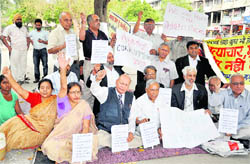 Protestors stage a dharna in support of Anna Hazare, demanding the 'Janlokpal Bill', in Sector 17, Chandigarh, on Wednesday. Tribune photo: Parvesh Chauhan
UT dist magistrate, IG (prisons) in HC contempt loop
Chandigarh, April 6
The Punjab & Haryana High Court on Wednesday ruled the UT district magistrate and inspector-general of prisons had, prima facie, had shown scant regard for the court's orders in a parole matter. Both were, on the face of it, also held blameworthy for willfully disobeying court orders in at least three cases.
SP, SHO booked for hurting religious sentiments
Mohali, April 6
An SP and an SHO have been booked by the police on thecharge of hurting religious sentiments of a community.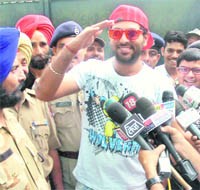 Yuvi arrives amidst dhol, bhangra
Chandigarh, April 6
It was an emotional moment for ace-cricketer Yuvraj Singh when his mother Shabnam Singh embraced him as soon as he reached his residence in Mani Majra this evening.




HOMECOMING: Cricketer Yuvraj Singh (Man of the Series, World Cup 2011) salutes his fans while coming out from the Chandigarh airport on Wednesday. Tribune photo: S Chandan
Flight timing changed
Chandigarh, April 6
The arrival and departure timings of Jet Airways have been rescheduled.
Can we afford to waste drinking water?
Chandigarh, April 6
Even as city residents, particularly those staying on the first floor have begun facing difficulties in getting the normal water supply, those residing in colonies and villages are in contrast a blessed lot, as they seem to be availing uninterrupted water supply without spending a penny and without fear of being challaned for misuse of water.



Drinking water being wasted at Colony no 5 in Sector 50 in Chandigarh. 2) A boy washes a car with water pipe in Sector 51. (3) Drinking wate going a waste as there is no tap at pandit Colony in Sector 52.Tribune photos: Parvesh Chauhan
Laying Down of Paver Blocks
MC adopts dual policy
Chandigarh, April 6
Councillors of the Municipal Corporation (MC) are adopting a dual policy on the laying of paver blocks in the city. While on the one hand, the Road Committee which met here today, directed the department to prepare a policy for the laying of paver blocks in the city,on the other, a majority of councillors refused to discuss this issue in the last general house meeting since this was an election year.
'A danger to greenery'
Chandigarh, April 6
A delegation comprising DS Chahal, president, and SK Khosla, secretary, Chandigarh Residents Social Welfare Federation, met the Commissioner and Mayor Municipal Corporation, Chandigarh, in connection with the perceived loss being caused to greenery and health of citizens by installing paver blocks.
Repair Work in Bhakra Canal
Panel to sort out water supply shortage
Chandigarh, April 6
A special meeting regarding the upcoming shortage of water supply held here today under the chair of Municipal Corporation Mayor Ravinder Pal Singh along with water supply and sewerage disposal committee chairman Jatinder Bhatia to monitor the arrangements made by the authorities to deal with the water crisis on account of repair work in the Bhakra canal. Later, a team of committee members also visited Kajauli water works and inspected the alternate arrangements to sort out the shortage of water supply.
Devotees from outside have problem staying overnight
No rooms available in temple complex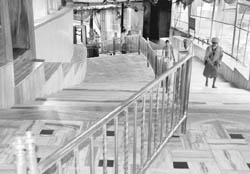 Panchkula, April 6
Devotees coming from far off places face problem finding accommodation near Mata Mansa Devi Temple, as the new Laxmi dharmashala is yet to be handed over to the Mata Mansa Devi Shrine Board (MMDSB) by the PWD B& R department.

HAPPY HOURS: A view of less rush (probably due to beginning of schools) during the daytime on the third day of Navratra at Mansa Devi temple in Panchkula on Wednesday. Tribune photo: Nitin Mittal
Samples of 'kuttu' flour taken
Chandigarh, April 6
Following reports of a large number of people falling ill in Delhi and Uttar Pradesh after consuming contaminated 'kuttu' flour, the local health authorities, lifted samples of the flour from five shops in Sector 26 and Mani Majra. Kuttu flour is used in preparing food and snacks during Navratra festivals for people who observe fast.
Vacant posts to be filled
MC to have 50 councillors
Mohali, April 6
The Mohali Municipal Corporation is expected to have 50 councillors, including the Mayor, Senior Deputy Mayor and Deputy Mayor. A provision of Rs 203.17 lakh has been made in this year's budget for these vacant posts apart from various other posts, which will be filled by additional officials.
Violators get one-week warning to vacate
Mohali, April 6
Giving a warning to shopkeepers who have encroached upon government land, the Greater Mohali Area Development Authority (GMADA) has asked them to vacate the area within a week, failing which a demolition drive will be carried out.
Three commissioners in three months!
Mohali, April 6
The work in the Mohali civic body started moving at a very slow pace ever since it was given the status of a Municipal Corporation about three months ago, thanks to the indifferent attitude of the government, which has so far not been able to appoint a full-time commissioner for the corporation.
Residents want amenities as per brochure
Zirakpur, April 6
Members of the Royal Estate Apartment Owners Association, Zirakpur, alleged that the builder of the apartment has failed to provide the promised amenities mentioned in the brochure to the residents.
Dhaba owner launches ambulance
Zirakpur, April 6
You may find it hard to digest, but a dhaba owner here has set up an example for others by launching a private ambulance on his own expenses for accident victims of Zirakpur.
General Hospital to get nursing college soon
Panchkula, April 6
The district health authorities are planning to start a nursing college on the hospital complex, as the General Hospital in Sector 6 is being upgraded from 150 to 300-bed hospital on the lines of the PGI, Rohtak.
Awareness programme on drug resistance
Chandigarh, April 6
The department of microbiology, Government Medical College Hospital, (GMCH), has decided to conduct an awareness programme on drug resistance in order to observe the World Health Day on April 7.
Funds flow in for research work at PGI
Agencies pump in Rs 26 cr as compared to Rs 5 cr in 2005
Chandigarh, April 6 The work being done by researchers at the Post Graduate Institute of Medical Education and Research (PGIMER) is being recognised by the funding agencies in the country, as well a abroad, as the flow of funds for projects submitted by doctors of the PGI have increased five times during the past five years.
Home Secy seeks inventory of heritage items
Chandigarh, April 6
The home secretary today asked heads of different departments of the Chandigarh Administration to prepare an inventory of heritage items, currently in their possession.
Clinics for ex-servicemen to rise by 2013
Chandigarh, April 6
The number of polyclinics under the Ex-Servicemen Contributory Health Scheme (ECHS) across the country would be increased to 426 by April 2013.
Milk Colony, Dhanas, is now Sector 14 (West)
Chandigarh, April 6 Milk Colony, Dhanas, has now been christened Sector 14(West) by the Chandigarh Administration.
Devotional music soiree enthrals devotees
Panchkula, April 6
Spiritual fervour pervaded the entire ambience of Mata Mansa Devi shrine complex, as devout pilgrims paid their obeisance to the Goddess on the fourth day of the ongoing Navratra festival at the temple here toady.
Lyricist Neeraj in city
Chandigarh, April 6
Hailed as a favourite of the Bollywood music directors, litterateurs and connoisseurs, Padmabushan Gopaldas Saxena, also known as Neeraj, is in the city to light up a poetic symposium (kavya sandhya) to be held at Haryana Niwas tomorrow.
Tributes paid to seafarers
Chandigarh, April 6
Marking the National Maritime Day yesterday, members and families of the newly established Chandigarh-based Company of Master Mariners of India, got together at the Sector 3 War Memorial to pay tributes to those seafarers, who lost their lives in the sea.


Admissions under EWS Quota
Education dept fails to supervise process
Chandigarh, April 6
Over a decade after they first conceptualised it and several months after they began insisting on its implementation, the UT education department has abjectly failed to either review or supervise the admission process of children belonging to the economically weaker sections (EWS).
'Punjabi compulsory in Class I'
Mohali, April 6
It is compulsory for all private schools to teach Punjabi from Class I and in case they fail to do so, then no objection certificates, issued to these institutions, can be cancelled.
NET forms to be accepted in zoology dept
Chandigarh, April 6
Applicants of the National Eligibility Test (NET) conducted by the University Grants Commission (UGC) for arts, commerce and related subjects can deposit a copy of their forms at Panjab University's zoology department room number 79.
PU teachers anxious over delay in salaries
Chandigarh, April 6
Having not received their monthly salaries since a week now, Panjab University teachers were today spotted inquiring about the same anxiously from a bank located on the university premises.
Paper checking charges
PU moots 30 pc hike
Chandigarh, April 6
In a bid to facilitate compulsory evaluation of answersheets for postgraduate subjects by teachers, Panjab University is mooting a hike of 30 per cent in paper checking charges from the current academic session.