Threat mitigation: Going beyond just modernisation
The challenges before India are the continuation of the proxy war by Pakistan and coercion and intimidation by China. With technological advances and emerging doctrines, we need to be very clear on the nature of future wars. What is now vital is to develop the capability to perceive and mitigate emerging threats beforehand
Brig Arun Sahgal (Retd)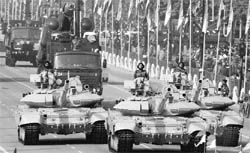 Russian-made T-90 tanks in Republic Day parade. Attritional platform-centric warfare approach needs a serious review during capability-based perspective planning
Every year during the budget time a great deal of debate takes place on the adequacy or otherwise of defence allocation in terms of the percentage of GDP to meet the minimum modernisation needs of the armed forces.
Response from the government as always is; money will not be a constraint to meet the genuine needs of the forces. What is unfortunately never debated or discussed adequately is what purpose is the military capability being developed for. Is the aim merely to maintain the territorial integrity of the state in a defensive construct or is it the development of hard power, in addition to soft, to secure and maximize the strategic space of "rising India' and to cope with future challenges?
Unfortunately both the propositions, i.e. territorial integrity and maximization of the nation's strategic space are interlinked, given the nature of challenges faced by India. If we were to consider the current threat perspective, Pakistan has been waging a proxy war against India with near impunity, ensuring that large numbers of Indian forces are tied down in low intensity conflict operations. In addition, Pakistan is slowly but steadily building both its conventional capability by leveraging the war on terror and the US's TINA (there is no alternative) factor on one hand, and on the strategic collusion with China on the other hand. Sino-Pak ties have seen not only the sale of conventional weapons on friendship prices but also the transfer of technology and joint projects as the recently concluded strategic dialogue between Pakistan and China would indicate.
Added to the above is the growing Sino-Pak nuclear nexus that is helping Pakistan develop its nuclear arsenal. Today Pakistan is the only nuclear weapon state that has twin weapon production lines based on enriched uranium as well as plutonium that it is producing from its Khushab I, II and subsequently III nuclear plants. This is backed by elaborate and proven missile development capability allowing it to have majority of its nuclear wraheads on missiles, thereby releasing its air force for offensive air operations. Moreover, it has a deterrent of over a 100 nuclear warheads.
In effect, it means that Pakistan continues to wage proxy war and squeeze the so called space for limited war through cultivated irrationality in terms of its nuclear war fighting doctrine as well as brinkmanship in terms of single rung escalation. Thus our ability to execute punitive strategy to deal with future acts of terror is getting incrementally restrained. What is worse, we appear to have started playing down our pro-active response doctrine (Cold Start) as can be noted from the statements from the military hierarchy.
Now let us see the situation vis-a-vis China. By all indications China is not only marching ahead in its military modernisation through primarily developing indigenous capability, but is also in the process of acquiring means to integrate military operations in all domains -- ground, air, maritime, space, cyberspace and information. It can be said to be at the threshold of acquiring real-time net-centric capabilities, backed by large standing armed forces.
Under the overall rubric of active defence, Chinese doctrinal thinking is veering toward two specific arenas. One is what the Americans call "anti-access strategy" that can also be termed as "area denial". This approach is based on the strategy enabling the technologically weak to deal with the challenge posed by the technologically superior, and designed to deny access to the US in case of intervention over Taiwan. It is a politico-military-technological thinking in terms of developing capabilities for stand-off attacks against both, the adversary's military resources like the naval aircraft carrier-based task forces and air force assets deployed at places like Japan, South Korea and the Pacific. The overall aim is ensuring effective strategic deterrence through demonstrated capabilities such as anti-ship missiles, anti-satellite weapons, offensive and defensive use of space, direct energy and electromagnetic pulse weapons, cyber attacks and information warfare etc. The aim is to cut off vital digital links and degrade systems on which the US military capabilities are vitally dependent.
The second arena is called a "no contact war". This is a strategy aimed at political coercion through political, economic, and psychological effects —tactics apart from political and diplomatic coercion include demonstration attacks with focus on both military and non-military targets resulting in low collateral damage to maximise political gains. Targets include economic, infrastructural and communication networks aimed at producing political dislocation and coercion. Forces employed for such attacks include, theatre ballistic missiles like its CSS-6 and CSS-7, armed with manoeuvrable re-entry vehicles and short-range ballistic missiles. Precision strikes by cruise missiles, CNO (attack, defence and exploitation), information warfare and electronic warfare operations, are also to be undertaken in the backdrop of minimal force deployment that may include regular and special forces.
The entire concept of "no contact war" is aimed at striking at key points to paralyse the enemy's entire range of politico-military systems to immobilize its command structures. Possible dimensions of this approach includes "intimidation warfare", comprising military pressure or show of force i.e. actions short of war, including build up and large-scale military exercises, computer network attacks, electronic attacks, psychological operations and provocative air and naval activity.
At the high end of the intimidation spectrum is "paralysis warfare" that could include cyber warfare and electronic attacks, missile strikes, including long-range precision strikes, special operations and sabotage. All aimed at achieving a quick, decisive victory by "rapidly paralyzing command and control system and political and military nerve centers".
The major deduction emerging from above is that both Pakistan and China either singularly or in concert are engaged in what can be termed as "no contact war". One through proxy war and the other through coercion and intimidation, which includes border tensions, enlarging its footprints in Pakistan Occupied Kashmir, cyber attacks, issues pertaining to issue of visas and nuclear collusion with Pakistan among others.
The basic issue how we structure our response to these challenges. Mere political response without demonstrable dissuasive deterrence capabilities of the type China is developing against the US to maximize its options, is not the answer. We need to be very clear on the nature of future wars. Current attritional platform-centric warfare needs a serious review during our capability-based perspective planning. What India needs is threat mitigating capacities and not mere weapon systems for modernisation.
The writer is a former Director, Faculty of Studies, Army War College