Sustained campaign only way out
Geetanjali Gayatri
Tribune News Service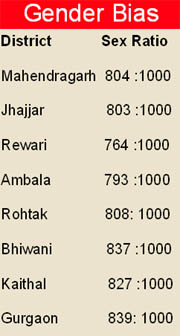 Chandigarh, March 31
That Haryana is insensitive to the fair sex is amply clear from the latest provisional results of Census 2011 that has pegged it at an alarming 830 per 1000 in the 0-6 years age group. Constantly on the decline, the sex ratio showed some improvement in a few pockets for a while owing to special efforts. However, after improving for a year or so, it slipped back, indicating the lack of a sustained campaign.
Considered a backward pocket low on literacy, Mahendragarh recorded a sex ratio of 804 birth per 1000 while Jhajjar had only 803 births per 1000 in 2010, showing a fall of 28 births per 1000 over last year.
According to the data compiled till October 2010, the number of births of girls for every 1,000 boys fell from 852 births per 1,000 in 2009 to 838 births per 1,000. In the latest district-wise data compiled till October by the Health Department, Rewari (764/1000) had the lowest gender ratio while Ambala (793/1000) showed the maximum decline over last year.

The district registered 832 births per 1,000 in the same period in 2009, showing a fall of 39 births per 1,000, closely followed by Kurukshetra and Faridabad registering a fall of 33 and 32 births per 1,000 boys, respectively.
In Rohtak, the sex ratio has fallen from last year's 827 to 808 births per 1,000 this year. Interestingly, Bhiwani, which won the award for a marked improvement in gender ratio (895/1000) in 2007 has fared badly since then. Against 862 births per 1,000 in 2009, the district has registered 837 births per 1,000 this year. From having the second highest gender ratio (896/1000) in 2006, Kaithal district continues to touch a new low, registering 827 births per 1,000 this year, a fall of 18 births over last year. Glitzy Gurgaon has slipped down further, showing a fall of 13 births per 1,000 over last year with a sex ratio of 839 girls per 1,000 boys.
No political party has ever bothered to place the issue of skewed gender ratio on its agenda because the issue will not attract votes.
The Health Minister, Rao Narinder Singh, who recently took charge of the ministry says: "This is a serious issue. I have asked the chief medical officers to tighten the noose around ultrasound centres and have urged the district administrations to step up measures to check female foeticide.
"We also need to change the mindset by holding nukkad natak and showing short films to drive home the point." To halt the falling sex ratio, a sustained campaign with participation of all stakeholders is a must.