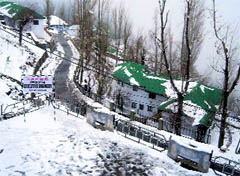 Snow hits life in Pangi valley
Chamba, April 7
The Killar township, sub-divisional headquarters of the mountainous Pangi tribal valley in Chamba district, recorded 60 cm of snowfall during the past two days. According to reports, the Saach Pass situated at an altitude of 4,413 metres had been closed due to heavy snowfall.


The snow-covered Killar township. Photo: Balkrishan Prashar

Fast in Hazare's support
Mandi, April 7
The Himachal Pradesh RTI Bureau, Mandi, and other writers and intellectuals have come out in support of social activist Anna Hazare here and decided to organise a 24-hour-long hunger strike in Hazare's support on the Seri Munch on Saturday and Sunday this week.
In Anna's Footsteps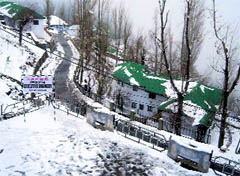 Activists of the ABVP raise slogans in support of Anna Hazare's fight against corruption, in Shimla on Thursday. Photo Amit Kanwar

Passes of contention
Contractor rues lack of clarity on issuance of passes of Baddi and Barotiwala barrier to non-Himachalis
Solan, April 7
Collection of barrier fee has become a contentious issue in the Baddi-Barotiwala-Nalagarh (BBN) industrial area with contractor resenting the grant of concessional passes to vehicles of other states, including villagers of adjoining Haryana and investors agitating against the non-issuance of passes.
ETT teachers hold rally
Dharamsala, April 7
Elementary teachers, who have been sitting on a dharna in front of the Dharamsala mini secretariat for the past many days, today held a rally in the town carrying black flags.
Minister denies supply of contaminated water
Shimla, April 7
Irrigation and Public Health (IPH) Minister Ravinder Ravi today denied that the people of Kusumpti and some other localities in the periphery of the state capital were being supplied contaminated water.
Clinics of two 'quacks' raided, drugs seized
Kullu, April 7
Drug inspector Manish Kapoor raided the premises of two medical practitioners at Naggar and Kais in the district today and seized a large amount of drugs.
Engg college stone to be laid on April 10
Shimla, April 7
The Atal Bihari Vajpayee Government Institute of Engineering to be set up at Pragatinagar will be a "three-in-one" institution combining ITI, polytechnic and engineering college under one roof.
CPM opposes college at Pragatinagar
Shimla, April 7
The CPM has opposed the move of the government to open an engineering institution at Pragatinagar on the land of the apple carton factory which was given by the local fruit growers to get quality apple packing cases at reasonable rates.
Tanda Medical College
Move to make campus pollution-free
Dharamsala, April 7
The anti-ragging committee of Dr Rajendra Prasad Government Medical College, Tanda, has initiated an idea of making the campus pollution-free.
Self-medication most dangerous: DC
Kullu, April 7
A seminar was organised at the regional hospital here today on World Health Day. Addressing the gathering, Deputy Commissioner BM Nanta said self-medication was most dangerous and people should avoid taking medicines without consulting a doctor. He also called upon chemists to discourage selling of drugs without a prescription.
Recruitment drive for ex-servicemen begins today
Shimla, April 7
The recruitment of ex-servicemen (general duty and tradesmen) for the Ecological Battalion of the Territorial Army will be held at Kufri, near here, on April 8 and 9 from 8 am.
Man gets life term for wife's murder
Chamba, April 7
Sessions Judge at Chamba CL Kochhar today convicted Muneem, a resident of Chamba, for committing the murder of his wife Champa and sentenced him to undergo life imprisonment.