Accident accused flees, cops remain mute spectators
Chandigarh, April 8
An accident accused managed to flee after knocking down a cyclist, killing him on the spot, right in the presence of the police, which remained a mute spectator to the incident here today.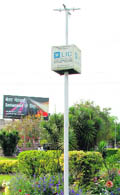 CCTV cameras go missing
Panchkula, April 8
Four years after an NGO installed closed circuit TV cameras at five traffic intersections in the town with much fanfare, all the four CCTVs at the Sector 11/15 roundabout, one of the busiest, have been found stolen . It is however a different matter that none of the CCTVs, installed at a cost of Rs 1.5 lakh per four cameras at each intersection, functioned ever since they had been installed.



CCTV cameras installed on a pole at the roundabout of Sectors 11 & 15, Panchkula, have gone missing. Tribune photo: Nitin Mittal
Lecture Shortage
68 students denied permission to take exam
Chandigarh, April 8
As many as 68 students pursuing graduate and postgraduate courses as part of the Department of Evening Studies, Panjab University, found themselves left in the cold today after being denied permission to sit for their second paper of the final examination of their respective courses.


Residents gherao police post over inaction
Chandigarh, April 8
Lack of co-ordination between two police stations came to the fore today when family members of a missing youth learned that their kin had in fact died in an accident a week ago and his body had been lying in the hospital mortuary as "unclaimed".
GMSH-16 OPD timings changed
Chandigarh, April 8
The UT health department has effected a change in the OPD timings of Government Multi-Speciality Hospital, Sector-16, and its allied dispensaries, including Ayush dispensaries, Community Health Centre, Mani Majra, Community Health Centre, Sector 22, and Polyclinic, Sector 45.
'Coolex 2011' kicks off
Chandigarh, April 8
Twenty four leading air conditioning and refrigeration companies are showcasing their latest products at "Coolex 2011", an exposition organised by the CII. The four-day exposition was inaugurated by Chief Secretary, Punjab, SC Agrawal this afternoon.
Safai workers 'manhandle' health official
Chandigarh, April 8
A group of safai workers appointed by the municipal corporation's medical health officers (MOH) department allegedly manhandled and used abusive language against health supervisor PK Pushkarana following an area inspection here today.
Workshop to review minimum wages
Chandigarh, April 8
The National Human Rights Commission (NHRC) today convened a zonal workshop on fixation, review, revision and enforcement of minimum wages to workmen employed in the brick-kiln industry.
19 illegal structures razed
Chandigarh, April 8
At least 19 concrete structures were razed in a demolition drive carried out by the municipal corporation's enforcement department at Mani Majra today.
Man dies at Fortis
Family to review report
Mohali, April 8
Tempers ran high at Fortis Hospital here today after the death of a Panchkula resident who had come to the hospital for angioplasty.
Anna Hazare's crusade
Social bodies join in
Panchkula, April 8
Hundreds of people associated with various social organisations in the city have stepped out to support Anna Hazare for rooting out corruption from the country. Lawyers, including Panchkula Bar Association president Jagpal Singh, Satish Kadian, RS Sathi, BS Virk, Amit Singla and INLD leader advocate Vijay Bansal, held a demonstration at the district courts complex.


Over 58,000 students to get uniforms
Ambala, April 8
A total of 58,567 students, which include 26,920 females studying in government schools in Ambala district, will be benefited with the state government's recent decision to provide school uniforms costing around Rs 400 each.
Vijay, Nitika adjudged best students
Chandigarh, April 8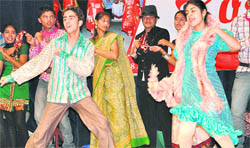 Around 450 youngsters today participated in an annual cultural extravaganza "Roshaan" organised by the Aryans Group of Colleges (AGC) at Punjab Kala Bhawan, Sector 16.

Students of the Aryans Group of Colleges perform at the annual cultural extravaganza 'Roshaan' at the Punjab Kala Bhawan in Chandigarh on Friday. A Tribune photograph
Seminar on education
Panchkula, April 8
A national seminar on "Education and empowerment" was conducted at the Swami Devi Dyal College of Education at Mauli in Barwala today. Eminent educationists, Dr Anil Gugnani (SIE, Chandigarh); Dr Dinesh Chahal, Dr Sushma Sharma (Kurukshetra University) and Dr YK Sharma (HP University) were among those who presented their papers on education and empowerment.