A home in the hills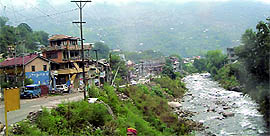 The realty scene in Himachal Pradesh by and large remains as cool as its climate, barring a few pockets. Strict land ownership rules and a fragile ecology are generally big barriers for over ambitious developers. Over the years many of the over-zealous projects have landed in soup for messing with environment and for threatening the 'green balance' of the hills.



Price Index
YAMUNANAGAR
Camp
10,000 to 15,000
Chopra Garden
15,000 to 18,000
Choti Line
50,000 to 60,000
Madhu Colony
20,000 to 23,000
Model Colony
30,000 to 34,000
Model Town
38000 to 45000
Mini Model Town
20,000 to 23,000
New Hamida Colony
17,000 to 19,000
Nehru Park
60,000 to 70,000
Prem Nagar
20,000 to 22,000
Sector 15
20,000 to 23,000
Sector 17
30,000 to 35,000
Sector 18
21,000 to 22,000
Price in Rs per sq yd

Please note: The prices may vary as per the size of the plots and location, and are subject to change from time to time. Source: Nirmal Infrastructures. Mohali nirmalinfrastructures@yahoo.com
Sound agreement
Loan agreement should be thoroughly scanned and all the clauses should be understood fully, writes S.C.Dhall
Easy availability of home loans has made the dream of buying a home an achievable one for many. But remember to go over the paperwork thoroughly as your home loan may eat up a lion's share of your salary over many years. Scan your loan agreement thoroughly to understand what each clause implies before you sign on the dotted line.
Ground Realty
Novel building blocks
The bricks that a common user knows about are the ones that we see everywhere - red coloured, 9 inch long, 3 inch thick, 4 ½ inch wide and can be bought from a brick kiln. These are an essential building component and among the first materials that arrive at site whenever construction is about to begin. Constructing a house without bricks is unthinkable, at least in India.
Ceiling statement
Attractive colours or patterns, decorative wall panels, furniture, show pieces, indoor plants all are elements that are usually considered important in defining the internal ambience and the overall environment of a home or a work place. The use of designer flooring, natural stone, and carpets has made the floors, too, enter the set of design considerations. Ceilings, too, play a vital role within an interior space. They offer the maximum unobstructed view in a room and thus never fail to catch the eye.
Credai's code for builders
Credai makes carpet area mention mandatory for builders
Apex realtors body Credai has made mandatory for all members of the association to mention carpet area in their brochures and sale agreement, aiming to bring in transparency in the sector.
Take separate DDs
Mortgage & inheritance
Is plot with construction a residential house?
LAUNCH PAD
Tuscan Residency
Taneja Developers and Infrastructures Ltd. (TDI) group that is coming up with two township projects in Mohali recently launched its housing project "Tuscan Residency" in TDI City in Sector 110-111, Mohali on Landran-Banur road.