Lokpal Bill this monsoon session: Manmohan
Ashok Tuteja
Tribune News Service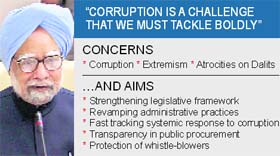 New Delhi, April 21
With his government's image taking a beating over the corruption issue, Prime Minister Manmohan Singh today promised to introduce the Lokpal Bill in Parliament in the coming monsoon session.
"Corruption is an impediment to faster growth, and hurts the poor the most. It is a challenge that we must tackle boldly and we stand committed to doing so," he said in his address on Civil Services Day.
The Prime Minister said his government's aim was to strengthen the legislative framework, revamp administrative practices and procedures and fast track the systemic response to fighting corruption. A group of ministers (GoM) was looking into the legal and administrative measures that could be taken in that regard. "The group has a wide ranging mandate and I expect its recommendations to be available very soon," he added.
He noted that a committee of ministers and representatives of the civil society was at work to finalise the draft of the Bill.
Two Bills relating to judicial accountability and protection of whistle-blowers have already been introduced in Parliament. India would also soon ratify the United Nations Convention on Corruption. "We are committed to bringing more transparency in public procurement and ensuring that disinvestment of public utilities and allocation of public resources are done in a manner that best safeguards the interests of the asset-owning public," he added.
The Prime Minister urged civil servants to contribute to the government's efforts in fighting corruption. "Each one of you is in a position to do so in many meaningful ways and I hope to see renewed energy emanating from you in this fight. I expect you to be honest and fearless in advising your superior authorities, especially the political leadership. Those of you who serve in senior positions would do well to also encourage your subordinate officers in this direction," he told officials.
Reminding the officials that people value the work done by honest and dedicated civil servants and look up to them, he said he would like them to strengthen the trust and faith that people still had in civil servants.
In this connection, he recalled the spontaneous support of the people of Malkangiri when the Collector of the district was kidnapped by Left-wing extremists. He observed the core of the civil services was sound and rooted in values of integrity and fair play.