China claims in its latest white paper on defence that it will never seek hegemony or undertake aggression. It stands for reinforcing friendship and cooperation with its neighbours. Yet, the fact remains that it is committed to vastly expand strategic capability and reach of its armed forces through expansive modernisation and military-diplomatic engagement. This has serious ramifications for stakeholders in the geo-political arena
Inside the Dragon's fire-breathing mindset
Vijay Mohan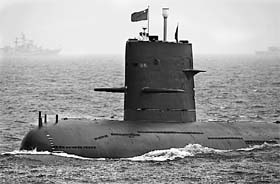 A Chinese navy submarine during an exercise near the Shandong coast. China is developing the capability to operate in distant waters and modernising its armed forces to be lean, well-equipped and technology-intensive with the ability conduct operations beyond its borders
— Reuters
TWO aspects in China's National Defence – 2010, a white paper issued by its state information machinery on March 31 2011, attract attention. The first is the emphasis it lays on exploitation of the information spectrum or "informationalisation" as the paper calls it, in the pursuit of military objectives. The other aspect is the chapter devoted to "military confidence building" that details its military-diplomatic engagement with other countries, many of which lie beyond its immediate neigbourhood.
Like most government documents meant for the public domain, the paper reiterates much of what is already known, but nonetheless offers a glimpse into the policy, doctrinal approach and emerging trends in the world's second largest war machine and what many experts say poses the biggest challenge not only for India, but also for many other countries. The paper emphasizes the Chinese military's rapid transformation into a lean, agile and integrated force, moving away from its earlier focus on quantity and manpower to technology, quality and efficiency capable to providing a long reach in a short time.
Information, particularly real-time information, is the key to empowerment, dominance and success, both in war and peace. It involves not only one's ability to communicate effectively vertically and laterally across military echelons as well as other vital institutions, but also security of information and communication networks while at the same time possessing adequate capability to penetrate, manipulate and demolish the adversary's information structure so as to cripple his functioning. A large chunk of the information structure, interlinking a host of agencies upon which the day-to-day functioning of the nation depends lies in the realm of cyberspace, which remains highly vulnerable as some recent incidents in peacetime have revealed. Military and strategic networks are also not immune.
Engaging in military confidence building, which includes strategic consultation and dialogues in the field of security, border area confidence building measures, cooperation on maritime security, regional security cooperation in the Asia-Pacific theatre and military exchanges with other countries indicates China's growing confidence and influence in geopolitics and its desire to expand its footprint on the global security scenario. China has established mechanisms for strategic consultations with 22 countries, some of which do not see eyeball to eyeball with India on several issues.
Security Situation and National Defence Policy
The international situation, the paper states, is currently undergoing profound and complex changes, with the progress toward economic globalisation, informationisation of society and a multi-polar world is irreversible. The current trend toward peace, development and cooperation is irresistible, but international strategic competition and contradictions are intensifying, global challenges are becoming more prominent, and security threats are becoming increasingly integrated, complex and volatile.
The world on the whole remains peaceful and stable, but deep-seated contradictions and structural problems behind the international financial crisis have not been resolved. Economic recovery remains fragile and imbalanced. Security threats posed by global challenges as terrorism, economic insecurity, climate change, nuclear proliferation, insecurity of information, natural disasters, public health concerns, and transnational crime are on the rise. Traditional security concerns blend with non-traditional ones and domestic concerns interact with international security ones, making it hard for traditional security approaches and mechanisms to respond effectively to the various security issues.
Though generally stable, Asia-Pacific security is becoming more intricate and volatile with regional pressure points dragging on without any solutions. There is tension on the Korean Peninsula. The situation in Afghanistan remains serious. Political turbulence persists in some countries. Ethnic and religious discords are evident. Disputes over territorial and maritime rights flare up occasionally. And terrorist, separatist and extremist activities run amok. Profound changes are taking shape in the Asia-Pacific strategic landscape.
China, the paper states, is in a critical phase of the building of a moderately prosperous society, and is confronted by more diverse and complex security challenges. It has vast territories and territorial seas, thereby facing heavy demands in safeguarding national security. It implements the military strategy of active defense, adheres to the principles of independence and self-defense, strengthens the construction of its armed forces and that of its border, territorial sea and territorial air defenses, and enhances national strategic capabilities.
Stating that the two sides of the Taiwan Strait are destined to "ultimate reunification", the paper adds that China's national defence is also tasked to oppose and contain the separatist forces for "Taiwan independence," crack down on separatist forces for "East Turkistan independence" and "Tibet independence".
Modernisation of the People's Liberation Army
To meet the new and changing needs of national security, the PLA, according to the paper, accentuates modernisation from a higher platform. It strengthens the building of a new type of combat capability to win local wars in conditions of informationisation, strengthens the composite development of mechanisation and informationisation with the latter as the leading factor for raising its fighting capabilities and enhancing fire power, mobility, protection and support.
In line with the strategic requirements of mobile operations and tri-dimensional offense and defence, the Chinese army has emphasised the development of new types of combat forces, optimised organisation and structure, strengthened military training in conditions of informationisation, accelerated digitised upgrading and retrofitting of weaponry, deployed new weapon platforms, and significantly boosted capabilities in long-distance maneuvers and integrated assaults. Artillery and armoured components are developing precision operations capability with integrated reconnaissance, control, strike and assessment elements. Other arms and services are being upgraded into multi-functional support forces for use in war, peace and military operations other than war.
The Navy endeavors to accelerate the modernisation of integrated combat forces, enhance capabilities in strategic deterrence and counterattack, conducting operations in distant waters and in countering non-traditional threats. The air force, the paper claims, is working to ensure a combat force structure that focuses on air strikes, air and missile defence, and strategic projection, to improve leadership and command system and build up an informationised, networked base support system. It conducts training on confrontation between systems in complex electromagnetic environments and different tactical contexts.
The Second Artillery Force, PLA's strategic missile component, strives to improve its capabilities in rapid reaction, penetration, precision strike, damage infliction, protection, and survivability, while steadily enhancing its capabilities in strategic deterrence and defensive operations.
Informationisation, Joint Operations and Manpower
Information warfare and joint operations are the current buzzwords in military affairs globally. In this context the paper states that the PLA's fighting capabilities in conditions of informationisation have increased and significant progress has been made in building information systems for reconnaissance and intelligence, command and control, and battlefield environment awareness. Information systems have been widely applied in logistics and equipment support. A preliminary level has been achieved in interoperability among command and control systems, combat forces, and support systems, making intelligence distribution, command and guidance more efficient and rapid.
The paper adds that the PLA takes joint operation systems as the focal point of its modernisation and preparations for military struggle, and strives to enhance fighting capabilities based on information systems. It has improved joint support mechanisms, enhanced IT-based integrated support, and established a basic integrated support system linking strategic, operational and tactical levels.
While the complement of new-mode and high-caliber military personnel who can meet the needs of informationisation has been steadily enlarged, the PLA is also laying stress on the training of commanding officers for joint operations and high-level experts in technological innovation. Under its strategic project for talented individuals, it cultivates a contingent of commanding officers, staff officers, scientists, technical experts and non-commissioned officers as joint operation commanders, informationisation professionals and experts in operating and maintaining new types of equipment.
The PLA is improving the quality and optimising the composition of weaponry and equipment. While already planning the development of future weapons and equipment, it is using advanced and mature technologies to retrofit existing systems to upgrade their comprehensive performance. It is strengthening logistics systems and revamping capabilities in managing, maintaining and supporting equipment by applying modern management techniques, integrating systems and outsourcing services. Plans for wartime troop mobilisation have been improved and the reserve force has been strengthened.
The Implications
While underscoring the fact that China's armed forces are on a major modernisation drive and revamping their organisational structure to meet its perceived national security interests, the paper harps that China's defence policy is defensive in nature. It will never seek hegemony, nor will it adopt the approach of military expansion nor or in the future, no matter how its economy develops. In a self-complimentary mode, the paper claims that strengthened coordination and cooperation with major traditional powers and emerging countries, reinforced good-neighborly friendship and practical cooperation with neighboring countries, and extended mutually benefiting cooperation with other developing countries. It further states that China will hold high the banner of peace, development, cooperation and endeavor to foster, together with other countries, an international security environment of peace, stability, equality, mutual trust, cooperation.
For India, which does not feature in the part concerning regional security cooperation but gets a passing reference in sections devoted border area meets, security dialogues and military exchanges, China's claims on peaceful co-existence and mutual trust would sound hollow. Chinese claims on Indian territory in Arunachal Pradesh and Ladakh are provocative, border disputes remain unsolved, military incursions continue and the Sino-Pakistan strategic collusion in military and nuclear fields is a cause for concern.
As China marches ahead in its ability to project force beyond its borders to protect its interests and, in its apparent keenness to employ military might to support politico-diplomatic maneuvers and economic initiatives, it poses a huge challenge for stakeholders in the global power play arena, particularly the Asia-Pacific region. India has a mammoth task at hand on the political, diplomatic, economic and military fronts if it is to rise to the occasion and secure its interests. Though the paper is devoid of specifics about military strength and weapons and reveals little of strategic or tactical significance, its the intents and not the contents that matter. India will have to watch and analyze the Dragon's moves very carefully. Working towards expanding its global footprint while hemming in India, there is little doubt that China will become more assertive and tougher to deal with in future.