The Hazare phenomenon
Astute advisers can save him from political traps
by S. Nihal Singh
THE Anna Hazare phenomenon is striking on two counts. The immense countrywide enthusiasm it has generated is an indication of how frustrated and dissatisfied the populace is with corruption that reaches the lowest levels of transactions involving authority. Second, it is a warning to the political class cutting across party lines that it is not performing its duty as it should. The ruling party is more culpable because it is in power as a succession of scams has tumbled out of a copious basket of crooked deals.
The Manmohan Singh government's acceptance of Hazare's terms for ending his fast for public probity in the Gandhian tradition was determined in part by the succession of assembly elections on the political calendar and the chord they struck among diverse sections of people across the country. Interestingly, the apparent civil nature of the first meeting of the committee of government ministers and Hazare's nominees speaks of caution on both sides.
This has not been so as far as Hazare is concerned. At times, he has called for hanging the corrupt reminiscent of kangaroo courts, at other times he has waxed eloquent on the development model of Narendra Modi's Gujarat, seemingly unmindful of the political minefield he had entered. He was quickly brought to earth by the sharp reaction of some of his great supporters who publicly questioned his judgement. And in an exercise that will call for all the sagacity he and his fellow members representing civil society - itself the subject of controversy — there would be little room for loose talk.
BJP leader L.K. Advani as well as other politicians have taken Hazare to task for seemingly challenging the basis of a democratic framework by placing his concept of civil society above the elected representatives, the kingpin of democracy. While Hazare seems to have the vaguest idea of how democracy works, he has the power of using the people's disenchantment with the calibre of politicians and their ways to make the point that if the democratic system is corrupted by those elected to represent them, where do the people go?
The dilemma Hazare represents is that while pointing to the weaknesses of the Indian system in which so-called criminal elements can walk to Parliament and state assemblies with total disregard of their moral responsibilities, there cannot be a separate popular dispensation superseding the checks and balances of the system. In other words, how does one avoid throwing the baby with the bath water? The answer is, of course, to reform the system to plug the loopholes. But that it is easier said than done.
It is still too early to tell whether Hazare has compromised himself by his praise of Modi. He would be doing a great disservice to the movement he has launched, exciting the enthusiasm of countless Indians, if he were to be bogged down by his identification with Modi and the party to which the Gujarat Chief Minister belongs; strikingly, Gujarat has not had a Lokpal for years and Modi's methods of governance, however result- oriented they are, are not a shining example of a democratic framework. Indeed, a worrying point in the controversy — and the despair of some of his ardent supporters — is that there is naivety in his explanation that he had based his praise of Modi on the basis of reports he had read. No one doubts his sincerity, but if Hazare's opinions are formed by reports he had read, he would invariably commit errors of judgement that would expose him to manipulation, in this instance of self-serving Bharatiya Janata Party manipulation.
In a sense, the Hazare phenomenon is reminiscent of Jayaprakash Narayan and the use political parties made of him in the movement in the 1970's that started with Gujarat and found its rationale in Bihar. The newly-cobbled Janata Party government did not last, and Jayaprakash died a disillusioned man as constituent parties fought over the loaves and fishes of office. While leaders such as Advani have decried the Hazare phenomenon for denigrating politicians, others in the Bharatiya Janata Party have embraced him as a new messiah for partisan profit.
Politics is never far from a venture as basic as Hazare's, and Digvijay Singh's own foray on his own behalf or that of his Congress party has raised eyebrows as was the circulation of a compact disc allegedly compromising Shanti Bhusan, a member of the panel on Lokpal. The point is that those representing civil society on the panel must safeguard the integrity of the process if it is to emerge as a useful enterprise.
Politicians have not covered themselves with glory by their collective guilt in pushing the Lokpal Bill downhill for 42 years, giving the impression that they were more interested in saving their skin than in ensuring the integrity of the system. The inference many have drawn is that after all elections have to be won and how they are won is less important than to secure enough seats to form a government.
The jury is still out on whether the present exercise will help make the political process in India more honest and representative of the best interests of the people. One hopes that Hazare will acquire astute men and women who will advise him on the intricacies of the political games that are a staple of governance to enable him to avoid the pitfalls of falling into political traps.
Having aroused the conscience of the country on the evils of corruption that is debilitating in India's quest for economic and political dominance, it would be a great pity if it were to lose steam at the altar of naivety and the manipulation of interested parties. It is up to Hazare to prove the point that he combines his selflessness with a capacity to learn the hard lessons of a predatory political world. I, for one, will keep my fingers crossed.

The wind beneath his wings
by Roopinder Singh
The picture in The Tribune brought a lump in my throat. There was Marshal of the Indian Air Force Arjan Singh DFC, and his two children, having just bid farewell to Teji Arjan Singh, MIAF's wife and companion for 63 years, and whose soul had soared into the skies on April 15.
My mind went back to the time, a decade ago, when I had first visited the Kautilya Road residence of India's only living Field Marshal. It was Teji who put me at ease, and made me feel relaxed enough to pursue the subject that had brought me to their door.
"What will you write about me, there's not much to write about," MIAF said when I told him that I wanted to write a book on his life. "Oh! There is much, just let me do it," I replied. Eventually, he agreed to a series of interviews that laid the foundation of his first biography.
The person who helped me even more than him was the gracious and graceful lady, who had chronicled her husband's journey in life with a thoroughness and meticulousness that showed her love for her man who had swept her off her feet and then made her his life partner.
Teji was born on October 22, 1930, in Sargodgha district of Punjab, now in Pakistan. Pretty, young and petite, she was still a student of Convent of Jesus and Mary in Delhi when, in 1943, she fell for the dashing Squadron Leader Arjan Singh who was visiting Delhi and staying in her father's house.
They were married in Delhi, in the Janpath house of Sir Sobha Singh, on February 15, 1948. Twelve Harvard aircraft, flying in the formation "A" and "T" flew over the house in their honour, a gesture authorised by Air Marshal Elmhirst, the then Chief of Air Staff. The couple moved to Ambala Air Force station. Teji recalled how, as the CO's wife, she was expected to give advice to other wives, who were otherwise elder to her.
The next year, Air Commodore Arjan Singh took over as Air Officer Commanding, Operational command and moved to Delhi, where they spent most of their life. That very year their daughter Amrita was born. Her brother Arvind followed three years later, and then came the youngest daughter Asha.
Known for her kindness and graciousness, Teji was the perfect host who put visitors at ease as soon as they entered her home, be it the Air House, an ambassadorial residence, a Raj Bhavan or the imposing Kautilya road residence.
She was, indeed, the wind beneath the Marshal of the Indian Air Force's wings, his inspiration, his support. They worked together to achieve their goals. In 2004, MIAF Arjan Singh DFC sold off his farm near Delhi, and entrusted a corpus of Rs 2 crore to the "Marshal of the Air Force & Mrs Arjan Singh Trust" devoted to the welfare of retired Air Force personnel. When Teji asked him why he had put her name on it, he replied: "If you hadn't agreed, how could I have done it?"

From the most celebrated artist of China to someone beaten, condemned and arrested for his ideas, the case of Ai WeiWei raises serious questions about the role of art as a political weapon. Not just for China, but for the world and times we live in.
The end of ideas
Vandana Shukla
"What could they do to me? Nothing more than banish, kidnap, or imprison me--perhaps they could fabricate my disappearance into thin air--but they don't have any creativity or imagination, and they lack both joy and the ability to fly." Some of the last words seen on Chinese artist, Ai WeiWei's blog before his arrest.
WeiWei became a force to reckon with for the Chinese authorities, who became nervous about Jasmine rallies reaching the shores of China with Weiwei's international following and the popularity he enjoyed among his people.




Arrested for Art-Chinese artist Ai WeiWei
Is art creative statement of passive beings, or, is it subversive? Perhaps, none. Art does not come into being in a social and political vacuum. WeiWei, could have continued to produce art of comfort to add to the aesthetic quotient of his country. He had collaborated with the Swiss architect Herzog & de Meuron for the design concept of the now famous Bird's Nest, Beijing National Stadium. Later, he withdrew support on this project as he realised the Olympics were used for political posturing rather than to modernise Chinese society by infusing more democratic rights. As his celebrated works began to make a political comment, trouble began.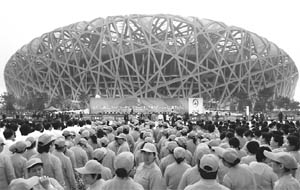 Bird's Nest (Beijing National Stadium), WeiWei is best known for.
Sunflower Seeds (October 2010), a large scale installation at Tate Modern, London, had the sea of 100 million ceramic identical replicas of sunflower seeds scattered on the ground floor of the museum for visitors to walk on and interact with--it was a comment on the culture of mass production in China- of people and of goods. It took 1,600 Chinese artisans from a town called, Jingdezhe--and two years to complete the project. A series of pictures he posted on his blog also overtly expressed his scorn for his government and others, symbolised by the buildings --captured while he is seen giving the finger to the symbolic sites of that particular country in an offensive manner. The sarcasm is unmistakable and if you are as powerful as governments are, you will squirm, masking your helplessness into some heavy-handed action. The mere presence of these pictures unsettled the authorities, the way Charlie Chaplin upset the Fuhrer by his film 'The Great Dictator'.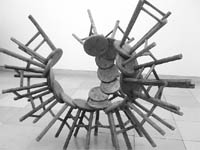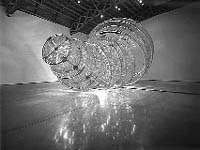 Works from his series The Dream Speaks-20Chairs from the Qing dynasty and Descending Light in Tokyo, Japan
In 2009 WeiWei was brutally beaten up by the police for addressing the 2008 earthquake corruption issue, in which the government did not disclose exact numbers of the people killed. WeiWei implicated government officials in corruption that resulted in collapse of a school building in which several school children died.
WeiWei's artistic CV is as uniquely impressive as are his rebellious musings. During the 80's and early 90's, the now 53 year old artist lived in New York to study art, and was influenced with other artists like Andy Warhol, Alen Ginsberg, and Marcel Duchamp. Like Duchamp, Wei Wei's artistic expression is in the form of Dadaism- making ordinary objects into the unexpected. He never trained as an architect, yet, his prowess in architecture has created inimitable landmarks.
On April 3, while he was boarding a flight from Beijing to Hong Kong, WeiWei was arrested. His whereabouts are not known since then, despite the fact that museums such as the MoMA (Museum of Modern Art, NY) , the Guggenheim, NY, Tate, London, LACMA (Los Angeles Country Museum of Art) , have all begun to make appeals to the Chinese government for his release. Protesters have started demonstrations in London and Hong Kong, but to no avail. In Hong Kong people made stencils of his picture with caption ' Who is Afraid of Ai WeiWei' across the streets of the city to make a befitting statement for an artist who dared to demand better human rights in China. In an interview to Index On Censorship, U K based leading organisation that promotes freedom of expression, he said, " Totalitarian society creates a huge space that, as we know, is a wasteland. The great success of this system is that it makes the general public afraid of taking responsibility; afraid of taking a position or giving a definite answer; or even of making mistakes." So, WeiWei continued to make 'mistakes' to reassert his statement of demanding accountability from the government of China. From his studio named Fake, he wrote and posted his art works on his blog, which was visited by 4 million people , the only communication tool in his country that would take him to masses. By his arrest, the authorities made their own statement, that even WeiWei could be silenced! The next best thing after failing to control ideas and expressions is to control the source, ideas are coming from.

The artist community around the world has expressed its dismay and protest over the imprisonment of Ai WeiWei. He is an artist of unparalleled international repute and the Chinese government perhaps has forgotten that they held him as a beacon of the community when the Olympic stadium was built. Because an artist questions corruption and speaks for those who have no voice, the world community must support every citizen's right for freedom of speech. Countries like ours must move beyond what policy makers decide is good for "us".

—Bharti Kher, artist

I have been an admirer of Ai WeiWei's art for more than a decade. For a long time now he seemed to be too much of a international name for the Chinese establishment to do much against him and I have been amazed at his ability to use the very system that he is fighting against. I think the only way we can continuously evolve as a truly civilized society is to allow for all voices to be heard and provide space for negotiation and dialogue. —
Sudarshan Shetty, artist

Artists are viewed as dangerous sometimes; Picasso's works were viewed as anti-war much later, because their statement seeped in rather slowly. Arpana Caur's sublime works on spiritualism were bought by museums, not what she painted about the pain of 84 riots. A poet like Paash, who used words like a sharp edged sword was killed ruthlessly. When artists and writers come out of the showcase of art, they are viewed as dangerous. That's why government sends classical dancers and singers as ambassadors of culture, this passivity is not our culture.—
Ajeet Cour, writer