Anna Hazare can't stop 'Shri 420'
A society which sanctifies, legitimises, respects and honours the sheer possession of wealth and all its attributes without questioning its source and means used to acquire it will never see the back of corruption in spite of dozens of Anna Hazares
Surendra Kumar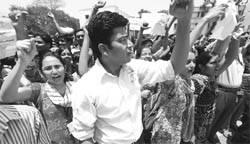 Anna Hazare's fast and its fallout might turn out to be the most significant watershed in India's parliamentary democracy in the last 50 years, though its concrete results may not match the hyped euphoria or the highly exaggerated expectations. A fortnight ago none anticipated such a massive and lightening support for Hazare's fast, not even Anna himself! He publicly admitted so with his disarming humility and candour.
Similarly, very few expected the government to cave in so soon and so completely. One ought to go beneath the surface to understand these developments.
Nationwide, positive and spontaneous response to Anna Hazare's fast on the issue of Jan Lok Pal Bill underlines how distrustful people have become of the current leadership and how desperately they are looking for a saviour. With his unimpeachable integrity, honesty, sincerity -- rare commodities in today's Indian polity -- untainted by any scandals, simple and selfless Anna becomes the beacon of hope for millions of Indians cutting across the differences of age, gender, language, region and religion. He is suddenly catapulted into the role of an unlikely hero to fill the leadership void in India today.
The Central Government is already besieged by scams, struggling to cope with frequent strictures by the Supreme Court and forced to climb down and accept the Opposition's demand on the JPC issue. The Prime Minister is under attack from various quarters, particularly for the appointment of TJ Thomas as the CVC, and ISRO's attempts to sell 70 MHZ of scarce S band wavelength for 20 years to Devas. There is a growing perception that the government is either unwilling, or worse, unable to take the fight against corruption to its logical conclusion. Haunted by the memories of the past when it suffered a massive electoral debacle in 1989 on account of allegations of corruption against Rajiv Gandhi in the infamous Bofors case, the government is obviously nervous and insecure.
TEMPORARY PEACE
It doesn't want to see Anna Hazare and his anti-corruption campaign remain in headlines and burst in breaking news everyday, especially when the elections are taking place in some states. So to smother the fire before it becomes uncontrollable, the government took the only prudent option available, i.e., accept Anna's demand and try to take the moral high ground that it has nothing to hide and is, in fact, with Anna on the same page in the fight against corruption. In a way, it has bought temporary peace by embracing the dictum: If you can't beat them, join them.
Again, like in Tunisia and Egypt, the burst of support for Hazare was technology driven and media orchestrated. Facebook, SMS, Twitters, Internet connected millions of people in India and abroad in no time and generated unprecedented support for an issue which has been in the news for months and which affects us all in our lives one way or other.
The minute by minute coverage of Anna and other fasting individuals, show of support from Bollywood stars, writers authors and public figures like Swami Ram Dev, Lord Meghnad Desai, Kiran Bedi and others transformed the fast into a gripping TV realty show, which kept viewers glued to their TV sets for hours. Irrespective of the long-term outcome of this protest, the Internet and new means of communications and the media are going to play an increasingly vital role in bringing national issues to the forefront .So, it is a wake-up call; the political parties and politicians can ignore this phenomenon only at their own peril.
The resounding success of Anna Hazare's fast proves that if a cause is good, intentions are noble, the driving motive is serving the masses and not personal gain, means used are open and transparent and the leader possesses impeccable integrity, people can be galvanised in an effective and totally non-violent manner. It augurs well for the maturity of our democracy.
ANNA NO MAGICIAN
Having said the above, it will be immature and naive to assume that like a magician, Anna can make corruption disappear from public life. Anna, with due respects, is no magician and corruption is too deep rooted and too well entrenched to be eradicated completely and in a very short time.
Swept by the euphoria generated by Anna's fast, one shouldn't offer simplistic, impractical, half-baked, half-cooked Readers Digest-type made-easy solutions and weaken the institutions which are the pillars of our democracy. Pakro, jail mein dalo aur phansi de do sounds a very catchy filmy line oblivious of all constitutional, social and political implications.
Yes, we must fight corruption; the guilty must be punished. We must also put in place an effective, impartial, time-bound justice delivery system. But we can't reduce this country of 1.21 billion people into a banana Republic, running kangaroo courts!
We must find a balance between the utmost need of stringent punishment to the guilty in the shortest possible time and upholding the rule of law and protecting an individual's fundamental rights as enshrined in our Constitution. An individual is innocent till he/she is convicted has been the bedrock all civilized societies.
One must also pause for a while and consider whether creating a Superman like Lok Pal with unbridled powers above the government, Parliament and the judiciary will serve national interests in the 21st century. Proper checks and balances must be applicable to the Lok Pal as well lest he should become the law unto himself. Levelling allegations of corruption must not be allowed to become a potent tool to settle scores and cause harassment or resort to blackmail.
Fighting corruption will need a multi-pronged approach sustained over a long period; there are no quick-fix solutions. Of course, arrest and imprisonment of politicians and other bigwigs will have a deterrent effect. But corruption will continue at various levels on account of ground realities.
The ice vendor near Jantar Mantar was happy to have witnessed brisk sale on account of the presence of protesters supporting Anna Hazare. He readily admitted that he had bribed the policeman on duty to be allowed to sell ice cream there as he does daily for selling his ice cream near New Delhi railway station. He bluntly told the journalist asking for his reaction that he can't wait till Anna's crusade stops corruption; he has to feed his family and can't see them go hungry!
Millions of Indians in small hamlets, villages, kasbas and towns like the ice cream vendor have to live with corruption in their daily lives. Alas, none gave voice to these silent sufferers at Jantar Mantar.
MORAL VALUES
Politicians, bureaucrats, doctors, engineers, defence personnel, judges, airline pilots, sports bodies' heads, media representatives, India Inc tycoons are part of the same society. Arresting and jailing allegedly corrupt people will certainly discourage proclivity to corruption but it won't stop corruption unless we attack the root cause of corruption, i.e., total decline of moral and ethical values in society.
Everyone seems to be interested in making a fast buck with total disregard to what is right and what is wrong. Restoration of moral and ethical values has to begin at home and needs to be strengthened at schools/ colleges/universities and encouraged, supported and protected by the government, corporate sectors, organised and unorganised employers and the civil society.
Lastly, a society which sanctifies, legitimises, respects and honours the sheer possession of wealth and all its attributes without questioning its source and means used to acquire it will never see the back of corruption in spite of dozens of Anna Hazares. More than half a century has passed but what Raj Kapoor showed in his classics "Shri 420" and "Jagte Raho" remains true and relevant even today.
The writer is a former Secretary, Ministry of External Affairs, and Dean, Foreign Service Institute, New Delhi