Taken for a ride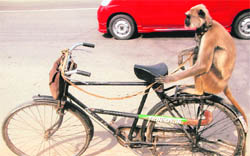 Noori, a langur, waits on a bicycle for her master Hussain, who had gone to bring food for her, in Sector 8, Chandigarh on Monday. Tribune photo: Vinay Malik
Mystery shrouds student's fall from school building
Chandigarh, April 18
Mystery shrouded the fall of Jahnvi, a class X student of St Xavier's School, Sector 44, here from the third floor of the school's building at around 1.30 pm today. Jahnvi, whose condition is said to be stable, was admitted to Fortis Hospital, Mohali. She received multiple fractures in the incident. While her parents made a complaint to the Chandigarh Police alleging that the school's principal had pushed her from the third floor from the school building, the school authorities maintained that she fell accidently.
Rabid dog bite cases on rise in city
Chandigarh, April 18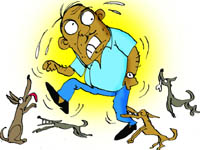 The stray dog menace continues to stalk city residents with about 40 cases of dog bites reported on an average every day to the local anti-rabies department. According to sources, instances of stray dogs, many infected with rabies, biting people are steadily increasing. About 70 per cent of the cases that come to the anti-rabies clinic in Sector 19 and the Sector 16 hospital are from the city with the rest from Punjab and Haryana. Department records reveal in 2007 about 30 dog bite cases were reported every month, rising to 40 cases a day now.
GMADA chief engineer eased out over stalled projects
Mohali, April 18
With an eye on the approaching elections, the Punjab chief minister's public expressions of "disappointment" over the tardy progress of development projects in Mohali claimed the first casualty when the chief engineer of the Greater Mohali Area Development Authority (GMADA), Rajiv Moudgil, was given marching orders on Monday. He has been transferred to the Greater Ludhiana Development Authority.
185 traffic challans issued
Chandigarh, April 18
In its special drive to check violations of traffic rules and regulations in streets of the city sectors, the UT Traffic Police today issued 185 challans and impounded four vehicles.
Bravehearts honoured by police
Chandigarh, April 18
The UT Police today honoured the girls and a boy who showed exemplary bravery in catching a snatcher in Sector 29 here yesterday. UT Inspector General of Police Pardeep Kumar Srivastva gave Rs 1,000 and commendation certificates each to Roomnika Hooda, a resident of Sector 4, Panchkula, Neha Singla, a resident of Sector 12, Panchkula, and Parminder Jaiswal, a resident of Sector 37.
MC's Hallmark: Shoddy work, poor planning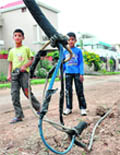 Chandigarh, April 18
While the municipal corporation is spending crores of rupees on laying pavement blocks and widening roads annually in the city, it is "clueless" about the quality control, with no policy in place to monitor the work. The authorities have been frittering away public money in the absence of proper planning or close coordination among its various wings.
Electricity cables have been left exposed by workers near a park, posing a threat to the lives of children, in Sector 34, Chandigarh. Interestingly, the MC has dug up the same road four times in the past tow months. Tribune photo: Parvesh Chauhan
Unfinished work on the pavement outside a house in Sector 34 hinders the passage of inhabitants and the damaged grill of a park in the same sector. Tribune photos: Parvesh Chauhan
Issue of sweeping machines to rock MC House meet
Chandigarh, April 18
The issue of paying extra amount of Rs 32 lakh for the purchase of three sweeping machines is likely to rock the General House meeting of the Chandigarh Municipal Corporation on April 21, as the authorities have failed to give a satisfactory explanation to the sanitation committee during a special meeting held here today.


Summer delight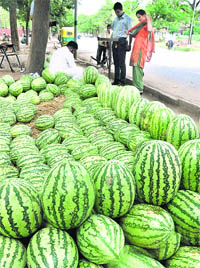 A vendor sells watermelons along a road in Chandigarh on Monday. Tribune photo: Parvesh Chauhan
Reduction in building map fee proposed
Zirakpur, April 18
The Zirakpur Municipal Council has recommended reduction in building map fee and has sent a proposal to the local bodies for approval.
Adviser wants to replicate Delhi's 'Bhagidari' in city
Chandigarh, April 18
With a view to put an institutional mechanism to redress people's grievances in place, Adviser to the Punjab Governor and UT Administrator KK Sharma wants to replicate Delhi government's much-touted citizen-government partnership initiative - the Bhagidari system - in Chandigarh.
Far from Singapore dreams, residents stay in filthy conditions
Mohali, April 18
Sanitation is in a bad state here much to the annoyance of residents, who have been shown dreams by the SAD-BJP government of making the town into another Singapore. Heaps of garbage, dry leaves and garden waste is a common sight in the town. Even the footpaths, along the main roads can be seen strewn with filth and polythene bags. Unhygienic conditions prevail near garbage collection points in various parts of the town.



Stray cattle sit while garbage is seen lying around at a children's park in Phase I, Mohali. Stinking garbage welcomes commuters at Phase V in Mohali. Tribune photos: Vicky Gharu
Nagla becoming more of tourist hot spot, courtesy Avtar Singh
Zirakpur, April 18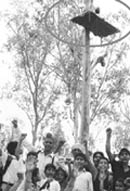 The remote hamlet of Nagla, some two kilometers away from Zirakpur, is turning out to be a tourist hot spot. And, the man who has made all this happen is Avtar Singh Nagla. The self-styled politician, who lost the Punjab Vidhan Sabha polls 4 years back, is perched on a tree for the fourth consecutive day now. He is demanding action on his complaints in the land sale matter. From day one Nagla has made it clear that he would climb down the tree only after having face-to-face dialogue with the Punjab Chief Minster Parkash Singh Badal.


Children raise slogans in favour of protester Avtar Singh Nagla, who sits on a tree for the fourth consecutive day at Nagla village, Zirakpur, on Monday. A Tribune Photograph
Farmers block Barwala-P'kula NH
Demand solution to tension between two warring groups at Bataud village
Panchkula, April 18
Farmers unions supporting Dalits of Bataud today blocked the Barwala-Panchkula national highway No 73 in protest against the indifferent attitude of the district administration.
Unhygienic conditions ail P'kula dispensaries
Panchkula, April 18
Lack of space and unhygienic conditions in the two out of the 11 dispensaries in Panchkula speaks volumes of the healthcare facilities here.

| | | |
| --- | --- | --- |
| Piles of record files and almirah stacked in the corridors of the Sector 20 dispensary in Panchkula | In the absence of storage facility, medicines are kept on a bed at the Sector 20 dispensary in Panchkula. | Drain water from Fatehpur village enters through the damaged boundary wall of the Sector 20 dispensary in Panchkula. Tribune photos: Nitin Mittal |
Nanakpur health centre cries for staff
Kalka, April 18
The Nanakpur Primary Health Centre (PHC) in the Pinjore block is facing acute shortage of staff.
'Bholaram Ka Jeev' staged to perfection
Chandigarh, April 18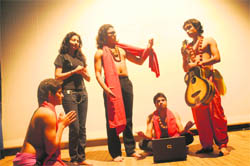 Two stories authored by eminent writers, titled "Dou Kahanian" with a theme of socio-cultural relevance were staged by a group of young actors under the aegis of CEVA at the Randhawa Auditorium here today.




Artistes stage a play against corruption "Bhola Ram Ka Jeev" at Punjab Kala Bhawan, Sector 16, Chandigarh, on Monday. Tribune photo: Pradeep Tewari
Snake greets new City Magistrate
Panchkula, April 18
A snake strayed into the office of the City Magistrate who took charge today. It was around 11.30am when one of the staff members sighted the snake in the retiring room attached to the office and raised an alarm.


Exam Reforms at PU
Students to get access to answersheets
Chandigarh, April 18
Taking a cue from the recent incidents of students accusing teachers of intentionally failing them, Panjab University has decided to facilitate showing of answersheets to students of all departments, excluding the department of law.
PU to waive prospectus fee for poor students
Chandigarh, April 18
Following the Chandigarh Tribune's report highlighting the plight of poor applicants facing the brunt of costly admission process at Panjab University, the authorities have decided to waive the price of prospectus for poor and deserving students.
Ru-ba-Ru on April 23
Chandigarh, April 18
In a unique endeavour, nine first year students from the PEC University of Technology have decided to organise an interactive session with prospective admission seekers to PEC and various other engineering colleges.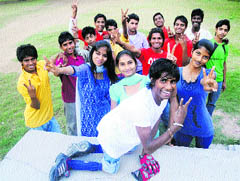 School adopts 17 slum children
Chandigarh, April 18
As a part of its corporate social responsibility, Gurukul Vidyapeeth today adopted 17 students of the Theatre Age, an NGO working for the upliftment of slum children. At a function organised at Government High School, Sector 24, DPI (Schools) Sandeep Hans felicitated the students, who appeared in Class X examinations in the academic session 2010-11.

Students of the Theatre Age in a jubilant mood in Chandigarh on Monday. Tribune photo: Pradeep Tewari