16,118 lucky applicants allotted DDA flats
7,55,075 applicants put through a computerised draw of lots
Tribune News Service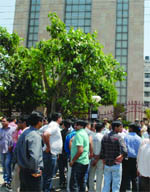 New Delhi, April 18
The wait of lakhs of applicants of Delhi Development Authority (DDA) Housing Scheme 2010 who are striving for a house in Delhi today got over as the draw of lots for over 16,000 flats was held in Noida.
The DDA has, for the first time, taken the help of the Center for Development of Advance Computing (CDAC) and the draw was held at its office in Sector 62 under tight security, where hundreds of applicants waited for more than two hours.
As many as 7,55,075 applicants were put through a computerised draw of lots in the presence of independent observers for 16,118 flats The flats were allotted to applicants of various categories which included categories of houses like EWS, 1-room tenement, 1-bedroom, 2-bedrooms and 3-bedrooms located almost all over Delhi.
The results will also be published in newspapers tomorrow.
Only a handful of mediapersons was allowed in a hall on the premises where the process was screened while draw panelists, independent senior observers from diverse fields and DDA officials were inside for the draw.
The DDA officials said allotment letters would be issued within 15 days to the successful allottees with the request to attend the DDA office with original documents to verify the genuineness of the documents as well as of the applicants.
For the first, time the draw was held at a place other than the DDA headquarters.
However, many applicants were heard complaining that the process should have been open while some mediapersons were unhappy over not being allowed inside.
A large number of policemen and PAC personnel were deployed in and around the building while traffic was diverted in the area.
Fire engines were parked to handle any eventuality.
The flats are located in areas like Vasant Kunj, Mukherjee Nagar, Motia Khan, Jasola, Dwarka, Rohini, Narela, Jaffarabad, Kondli and Gharoli. There are one, two and three bedroom flats with the prices ranging from Rs 9 lakh to Rs 1.12 crore.
The housing scheme was launched on November 25, 2010.
About the allegations of irregularities that had cropped up during the last draw of lots for its housing scheme, Delhi Development Authority officials had earlier said that all necessary checks and balances were in place.
"The draw is being held in Noida only due to the fact that the number of applicants and the number of flats being allotted under the scheme is high as compared to earlier schemes. The CDAC has better wherewithal and expertise to conduct the draw of such a magnitude and it is not possible to transport the equipment from there," an official had said.