Strong social fabric cure to such cases: Psychiatrists
New Delhi, April 13
Shaken by the incident of two sisters, who starved in self-imposed confinement in Noida for months, psycologists today strongly advocated the need for a strong social fabric in the fast-paced modern urban life.
Unrecognised pharma colleges play with future of students
Over 12 pharmacy colleges in Knowledge Park of Greater Noida do not possess the needed recognition from the Pharmacy Council of India
Greater Noida, April 13
Bleak future awaits hundreds of students who have passed B. Pharmacy exam from about half a dozen colleges in Knowledge Park of Greater Noida as the colleges do not have the recognition from the Pharmacy Council of India.
Udham Singh's kin honoured
The martyr's 55-year-old grandson lives in Sangrur, Punjab, with his two sons, in penury despite promises of succour by government
New Delhi, April 13
Udham Singh might have borne the burden of avenging one of the most gruesome colonial acts in Indian history--the infamous Jalianwala Bagh massacre--but his descendants were condemned to carry the burden of penury.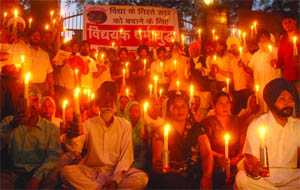 Members of the Shiromani Akali Dal take out a candlelight march against the alleged deterioration in education standards of Guru Harkishan Public Schools run by the Delhi Sikh Gurdwara Management Committee in New Delhi on Wednesday. Tribune photo: Manas Ranjan Bhui
Reply sought on bail of 2G scam accused
New Delhi, April 13
A Delhi court today asked the Central Bureau of Investigation to file its reply on the bail plea filed by five accused in the 2G Spectrum scam.
Eminent Himachalis awarded
New Delhi, April 13 Himachal Social Bodies' Federation conferred awards to renowned persons who belonged to Himachal Pradesh on the occasion of its annual function held in Talkatora Stadium.
Fungus found in kuttu atta sample
New Delhi, April 13
Fungus, acid insoluble ash and toxic particles were found in samples of food articles prepared from contaminated buck wheat, consuming which one person had died and around 200 people fell ill in the city earlier this month.
Five killed as Canter crushes auto on NH-24
Ghaziabad, April 13
Five persons, including a couple, were killed when a Canter overran an auto on NH-24 near a checkpoint. One child had a miraculous escape with some minor injuries. The auto was fully smashed in the accident. The Canter driver fled the spot. The police sent the bodies for a postmortem while the Canter has been seized.
Body in Parcel: Sender's sketch released
New Delhi, April 13
The Delhi police today released the sketch of the man who allegedly sent a parcel that contained a woman's body to the Kishangarh area of Ajmer a few days ago. The police is yet to identify the victim, aged around 25 years, who was tortured and stabbed to death by the killer.
Rajni Abbi is BJP's mayoral candidate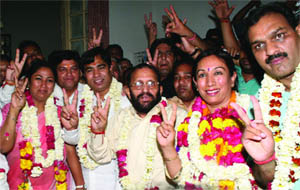 New Delhi, April 13
The BJP-ruled Municipal Corporation of Delhi (MCD) is all set to elect Rajni Abbi, the BJP councillor and also a Delhi University law professor as its new mayor. She filed her nomination for the post today as the candidate of BJP, which is in majority in MCD.
BJP candidate for the post of mayor, Rajni Abbi (2R) and deputy mayor Anil Kr Sharma (R) with the party supporters after filing their nominations at Town Hall in Delhi on Wednesday. Tribune photo
Govt firm on move to divide MCD
New Delhi, April 13
Congress MLAs at a meeting held at Chief Minister Sheila Dikshit's residence this evening supported the decision of the cabinet that had given its nod for the division of the Municipal Corporation of Delhi into five zones.
Man found murdered
New Delhi, April 13
An unidentified man in his early twenties was found dead with injury marks on his body in the New Ashok Nagar police station area of east Delhi this morning. According to the police, the body was discovered in a vacant plot close to a petrol pump in the Vasundhra Enclave area around 9 am.
Kids rescued
New Delhi, April 13
Fourteen child labourers, all trafficked from Bihar and working in leather goods factories in central Delhi, were rescued today.
NE siblings assaulted
New Delhi, April 13
A brother and sister from Manipur have been severely beaten by their landlord and neighbours in Munirka, a northeast support NGO said on Wednesday. The incident occurred late on Tuesday. The siblings were hospitalised at the AIIMS trauma centre.
Depressed over illness, woman hangs self
New Delhi, April 13
A 40-year-old ill and depressed woman today allegedly committed suicide by hanging herself at her house in north Delhi. According to the police, the incident was reported around 10 am from the Kinari Bazaar area where the woman, Reema Sharma, lived with her husband and children.