Lights and Shades of Science
(1)First prize in Science as Art: A Fine Balance by Mohan Gidwani, Delhi.The R R Mehta Educational Trust, New Delhi, in collaboration with the Department of Science and Technology, is organising a photography show of the award-winning images of National Science Photography Contest 'Lights and Shades of Science' at AIFACS, New Delhi. The show opened to the public from April 10 and will continue up to April 17. (2) First prize in Science Close-up: Compound Eyes by Baburajan Thekkan, Bangalore.
| | |
| --- | --- |
| Dew is water in the form of droplets that appears on thin, exposed objects in the morning or evening. As the exposed surface cools by its heat, atmospheric moisture at a rate greater than that at which it can, resulting in the formation of water droplets. Water vapour will condense into droplets depending on the temperature. The temperature at which droplets can form is called the dew point. When surface temperature drops, eventually reaching the dew point, atmospheric water vapour condenses to form small droplets on the surface. | Dragonflies (and bees) have the largest compound eyes of any insect; each containing up to 30,000 facets and the eyes cover most of the insect's head, resembling a motorcycle helmet. In contrast to a human eye, each facet within the compound eye points in a slightly different direction and perceives light emanating from only one particular direction in space, creating a mosaic of images. Does this mean that dragonflies have 30,000 eyes? No, It's more like a human having 10,000 to 30,000 photoreceptors spread out across the retina. |
'Union Carbide knew tragedy was coming'
New Delhi, April 13
The CBI today told the Supreme Court that Union Carbide India Limited (UCIL) was entirely responsible for the world's worst industrial disaster at Bhopal on the night of December 2-3, 1984, as it was running the pesticide plant with "structural and operational" defects and flouting all safety norms.
SC sets aside Tamil Nadu MLA's election
New Delhi, April 13
In a strange coincidence, the Supreme Court today set aside the election of a Congress MLA of Tamil Nadu at a time when the state had polling to elect the next Assembly.
India unsure of identity of Pakistani held in Chile
New Delhi, April 13
Indian authorities are not sure if the Pakistani man detained in Chile is Abdul Rauf, one of the key conspirators of 1999 Indian Airlines IC-814 hijacking, with an Indian team in the Latin American country trying to verify his identity, CBI officials said here today.
MoD yet to clear promotion policy proposed by ArmyAjay Banerjee
New Delhi, April 13
The Army's proposal to make major changes in the existing promotion policy for senior officers — brigadiers and above — has not been okayed by the Ministry of Defence so far. It has asked for more time to study the impact of the changes.
Grandson of Udham Singh given financial helpSyed Ali Ahmed
New Delhi, March 13

Jeet Singh, grandson of freedom fighter Udham Singh who lived in a penury at Sunam in Sangrur district of Punjab, was felicitated and given a cheque of Rs 11 lakh as financial assistance by an NGO Andolan : Ek Pustak Se.


Jeet Singh Grandson of ShahidUdham Singh being felicitated by an NGO Andolan : Ek Pustak Se on the book release of 'Forgotten Indian Heroes : Their Neglected Descendants - 1857 - 1947' . A Tribune photograph
B'desh to bring out books on Tagore
New Delhi, April 13
To honour literary great Rabindranath Tagore, Bangladesh intends to bring out a series of books this year that will explore the different facets of the personality of the Nobel Laureate.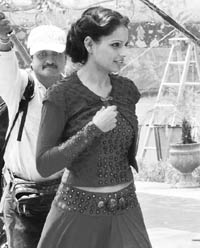 Bollywood actor Bipasha Basu during the shooting of Hollywood Director Ronald Joffe's film 'Singularity' on the premises of the world famous cenotaphs in heritage city Orchha, Tikamgarh on Saturday. The shooting was suspended after a notice by Madhya Pradesh Directorate of Archeology, Archives and Museums, due to violation of rules. — PTI
Action against anybody found guilty by Shunglu panel: Maken
New Delhi, April 13
Sports minister Ajay Maken said Wednesday that action will be taken against any official of his ministry found guilty by the V.K. Shunglu panel that has been appointed by the prime minister to probe into irregularities in the preparations for the 2010 Commonwealth Games.
IAF women team embarks on mission Everest
New Delhi, April 13
An Indian Air Force (IAF) mountaineering team, comprising 11 women officers, embarked on a mission to scale Mount Everest today.
Ban on tobacco sachets to continue
New Delhi, April 13
The Supreme Court today refused to lift ban on the use of plastic sachets for tobacco products. Hearing a petition filed by the Indian Asthama Care Society, a Bench comprising Justices GS Singhvi and KSP Radhakrishnan allowed several civil societies and manufacturers of non-smoking chewing tobacco products like gutkha to become parties to the case.

Gujarat a benchmark for development: Modi
Ahmedabad, April 13
Gujarat Chief Minister Narendra Modi today claimed that the state has become a benchmark for development in the country. "In the (ongoing) elections in the five states, one thing has come to fore, that Gujarat has become benchmark of development," Modi said while addressing a public meeting after inaugurating two bridges here in the presence of BJP Leader L K Advani.
'Dum Maaro Dum' may be screened in court before release
Panaji, April 13
Before hitting the theatres April 22, Rohan Sippy's "Dum Maaro Dum" (DMD) could be screened before the Panaji bench of the Bombay High court.
Lease of life for Adarsh Society
Mumbai, April 13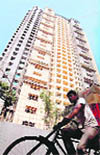 The controversial Adarsh Co-operative Housing Society whose height was extended illegally by influential politicians and bureaucrats who then cornered homes in the building got a fresh lease of life today with the Bombay High Court asking all interested parties to maintain status quo in the matter till April 27 when the matter will be heard next.
The building in the eye of storm.

No action till completion of legal process: Ramesh