Climate change affecting weather cycle: Omar

Jammu, April 23
Chief Minister Omar Abdullah said today that the visible climate change in the form of cloudbursts, earthquakes, tsunamis, snow-less winters, cooler summers, erratic rains and many more environmental shifts should serve as a wake-up call to human beings to address this hazardous phenomenon collectively.


Artistes from foreign countries perform during a function organised by the Kashmirink Foundation at the University of Jammu on Saturday. Tribune photo: Anand Sharma

Need to empower Jammu region politically: Bar Assn
Jammu, April 23
During their visit to Jammu, the Centre's interlocutors interacted with a cross-section of society. After visiting Doda and Kishtwar districts, the team of interlocutors comprising Dileep Padgaonkar, Prof Radha Kumar and MM Ansari reached Jammu last evening and held discussions with the representatives of various social, political and religious organisations.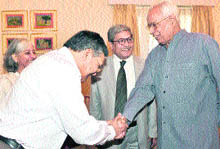 Interlocutors meet Governor
Jammu, April 23
The three-member team of interlocutors comprising Dileep Padgaonkar, Prof Radha Kumar and MM Ansari, currently on a visit of the state, met Governor NN Vohra at Raj Bhawan here today.



Governor NN Vohra interacts with the Central interlocutors at Raj Bhawan in Jammu on Saturday. A Tribune photograph

Omar meets Governor
Jammu, April 23
Chief Minister Omar Abdullah met Governor NN Vohra at Raj Bhawan here this evening. In an hour-long meeting the Chief Minister briefed the Governor about his recent meetings with Union ministers in New Delhi.
5 bootleggers held, illicit liquor seized
Jammu, April 23
The police seized 52 litres of illicit liquor and arrested five persons involved in its distillation during raids on five places in Rajouri district yesterday.
Summer timings of govt offices, schools notified
Jammu, April 23
The Divisional Commissioner, Jammu, Pawan Kotwal, has notified the summer working hours in the state government offices and educational institutions in various districts of the Jammu division with effect from May 1 to September 30.
Take steps to root out corruption, Omar urged
Jammu, April 23
A deputation of the Vichar Kranti Manch, led by its founder Dr Ram Rattan Khajuria, called on Chief Minister Omar Abdullah today and submitted a memorandum demanding early effective steps to root out corruption from public life and the administration.
Don't lose heart over cross-voting, Nadda asks BJP workers
Jammu, April 23
To boost the morale of the party cadre, BJP national general secretary and in charge of Jammu and Kashmir affairs JP Nadda addressed a meeting of party workers here today. He asked them not to get demoralised over the cross-voting episode.
466 promotions in police dept
Srinagar, April 23
The IGP, Kashmir Zone, SM Sahai, has promoted 86 head constables as assistant sub-inspector (ASI) and 380 constables as selection grade constables.
NSF activists burn Peerzada's effigy
Jammu, April 23
The National Secular Forum (NSF) yesterday burnt an effigy of Education Minister Peerzada Mohammad Sayeed at the University of Jammu for not taking action against Elementary Teachers Training (ETT) colleges, which were violating the norms fixed by the government.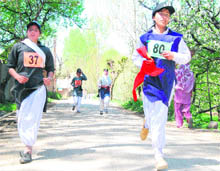 Six girls injured in police lathi-charge at Pulwama
Pulwama, April 23
Six girls were injured allegedly in a cane-charge by the police during a prize distribution function for the winners of a marathon organised by the Army as part of its goodwill operation in south Kashmir today.


Girls take part in a marathon organised by the Army at Pulwama on Saturday. Photo: Amin War

2 lakh drug addicts in Valley: DIG
Srinagar, April 23
Years of turmoil in the Kashmir valley has seen an alarming increase in the number of youth taking to drugs. More than two lakh youth in the Valley are addicted to various types of drugs. "According to a report of the United Nations there are around 60,000 drug addicts, while, according to a local expert, there are around two lakh drug addicts in the Kashmir valley. Most of them are addicted to codeine phosphate," said Abdul Gani Mir, DIG, central Kashmir range, Srinagar.