Raising funds for kids suffering from cancer
Karnal, April 26
With a mission to ensure that no child dies of cancer due to lack of money, a women's car rally, organised by Cankids, an NGO, today reached Sainik School, Kunjpura, here.
ITIs to be revamped, says Bhukkal
Ambala, April 26
Education Minister Geeta Bhukkal has announced that the state government has undertaken measures to revamp technical education in Haryana and the infrastructure in industrial training institutes (ITIs) would be upgraded.
Degrees conferred on 200
Sonepat, April 26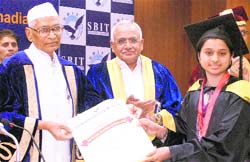 "Haryana, despite being one of the smaller states of the country, has become an educational hub of North India and is contributing immensely to promoting technological, engineering and allied technical education for the youth of the entire country," said Haryana Governor Jagannath Pahadia while addressing the first annual convocation of the Shri Balwant Institute of Technology last evening.
Haryana Governor Jagannath Pahadia presents a commendation certificate to a student during the convocation of the Shri Balwant Institute of Technology in Sonepat. A Tribune photograph
Special drive to fill posts for blind
Chandigarh, April 26
The state government will launch a special drive to fill the backlog of posts reserved for the blind by the end of 2011.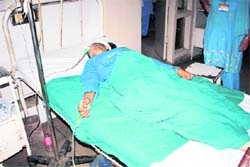 Docs' stir on, patients a harried lot
Rohtak, April 26
Functioning at the emergency and OPD of the PGIMS remained paralysed for the second day today as the hospital authorities and the protesting doctors failed to resolve the matter.



A critically injured girl under treatment at the PGI, Rohtak, on Tuesday. A Tribune photograph
Private schools reluctant to give 25 pc seats to poor
Chandigarh, April 26
Private schools in Haryana are reluctant to earmark 25 per cent seats for students belonging to the economically weaker sections as has been made mandatory by the Haryana School Education Rules, 2009.
Property dealers oppose regulation Act
Sirsa, April 26
Property dealers of the district are up in arms against the authorities concerned over their efforts to bring the dealers under the Haryana Regulation of Property Dealers and Consultants Act, 2008.
HCS officer granted bail
Chandigarh, April 26
The Punjab and Haryana High Court has granted bail to Deveshwar Dayal, a senior HCS officer, sentenced to five years rigorous imprisonment after being held guilty in October last by a Karnal court in a corruption, cheating and forgery case.
Khaps
State files affidavit in HC
Chandigarh, April 26
The activities of khap panchayats do not come within the ambit of the Unlawful Activities (Prevention) Act, 1967, the Punjab and Haryana High Court heard today.
Road blocked over erratic power supply
Fatehabad, April 26
Irate villagers blocked vehicular traffic on the Ratia-Bhuna road near Chando alleging an erratic supply of power to their village.
Structures near IAF station
23 FIRs filed, demolition drives launched
Chandigarh, April 26
Demolition drives were carried out on three days last month; and 23 FIRs were also registered against persons responsible for unauthorized constructions within 900 meters of the Gurgaon air force station, the Punjab and Haryana High Court was informed today. It is hearing petitions against illegal structures within the 900-meter restricted area around the station.
Two feared killed as combine falls into canal
Sirsa, April 26
A combine harvester fell into the Sirhind canal at the Lohgarh head near Dabwali town in this district today, in which two persons were feared killed.
Call girl racket busted, three arrested
Faridabad, April 26
The police today claimed to have busted a call girl racket with the arrest of three persons, including a woman, in the Ballabgarh area near here.