Civil hospital sans doctors
Bassi Pathana, April 27
Local residents have been devoid of proper healthcare due to the absence of specialist doctors at the civil hospital here.
Youth stabbed, kin block highway
Ambala, April 27
An irate mob of the 12 Cross Road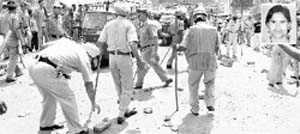 here today blocked the Ambala-Jagadhari road outside the Civil Hospital for about one hour, demanding arrest of the culprits who had killed a youth.

Vijay Kumar (22), a resident of 12 Cross Road, was stabbed when he went to the residence of his friend Ankush in Shivala Mandi around 10 last night.
A police team removes bricks from a road after the demonstration by victim Vijay Kumarís (inset) kin and neighbours in Ambala Cantonment on Wednesday. A Tribune photograph

Postal dept launches flat rate parcel service
Ambala, April 27
The postal department has introduced parcel services on flat rates initially in three fixed sizes to compete the courier service.

Illegal disbursement of compensation
Revenue officials booked
Kalka, April 27
On the complaint of SDM, Kalka, Vandna Disodia, the Pinjore police yesterday booked land acquisition officers, a tehsildar, two naib tehsildars and a kanoongo.



Witness in Babla case turns hostile
Chandigarh, April 27
In a setback to the prosecution, a witness in the case of illegal allotment of sheds, involving Congress councillor Devinder Singh Babla as the accused, turned hostile in court today.

List of Ayurvedic medical posts stayed
Chandigarh, April 27
Justice Permod Kohli of the Punjab and Haryana High Court has stayed the issuance of final select list of 133 posts of Ayurvedic Medical Officers (AMOs), while hearing a writ petition filed by Dr Kulwant Singh and 14 others. They were seeking the scrapping of the result of the written test conducted on April 3.

ATI ex-official convicted
Chandigarh, April 27
The CBI court today sentenced former Assistant Director of Advanced Training Institute (ATI), Ludhiana, to two-and-a-half-year imprisonment in a corruption case.

Forum told to rehear case
Chandigarh, April 27
In a rare case, UT Consumer Disputes Redressal Commission has asked the consumer forum to rehear a case wherein an ex parte order was passed on the grounds that the respondent was not given an opportunity to explain his stance.

Company directed to repair, return mobile
Chandigarh, April 27
In an ex parte order, the UT Consumer Dispute Redressal Forum has directed Harish Communication and GSM (Fly Service Point) to repair and then return the mobile phone of a city resident, Suraj Pradhan, and pay him Rs 4,000 in all, Rs 2,000 each as compensation and litigation costs.



Youth shoots at himself
Chandigarh, April 27
A Sector-47 resident, Karamdeep Singh (25), shot at himself at his residence here tonight.

One booked for demanding dowry
Mohali, April 27
The police has booked a resident of Zirakpur on a charge of harassing and ill-treating his wife for dowry.



99-run win for APJ XI
Chandigarh, April 27
Hosts APJ XI recorded their first win in the APJ League as they beat Coaching Centre-19 by 99 runs at the Government Model Senior Secondary School, Sector 19, here today.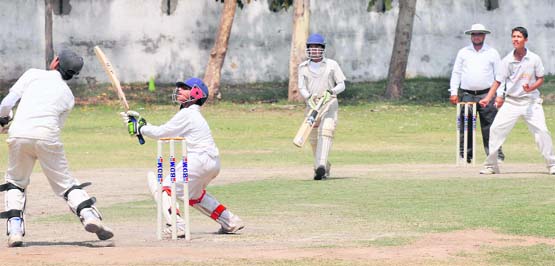 A batsman follows through a pull shot during a match between APJ XI and Coaching Centre-19 at Government Model Senior Secondary School, Sector 19, Chandigarh, on Wednesday. Tribune photo: Manoj Mahajan
Baij Nath, Nitin make right moves
Chandigarh, April 27
Local lads Baij Nath Prasad, Nitin, Anil Raina, Rakesh Kochar, Pardeep Singh Negi and Tarini Goyal moved ahead after winning their respective first round matches in the first Chandigarh Below-22 All-India Open Fide Rating Chess Tournament-2011 that started at St Xavierís Senior Secondary School, Sector 44, here today.
Most-trampled golf course needs 5-yr rolling plan
Chandigarh, April 27
New Chandigarh Golf Club president Malvinder Singh is determined to implement the five-year rolling plan to give a facelift to the most-trampled course of the country. ďIt is very much worth it, whatever the cost,Ē he told The Tribune soon after being elected president of the CGC.
DP Azad-Tau CC match ends in tie
Panchkula, April 27
The match between DP Azad Cricket Academy and Tau Devi Lal Cricket Club ended in a tie in the Weekend Cricket Tournament at Tau Devi Lal Cricket Stadium, Sector 3, here today.