Regal tie
Royal spectacle is on…are you part of it?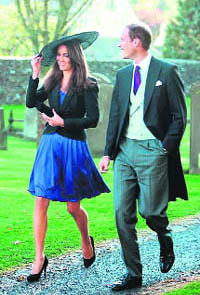 The most eligible royal bachelor hitches on Friday, turning a commoner into a royal. Prince William and Catherine (Kate) Middleton's wedding is all over the media - the bridal gown (even the Prince hasn't seen it yet), wedding souvenirs, the bride's humble beginning, the vows (is Kate going to pledge to 'obey' her husband), royal feast, wild after-party thrown by Prince Harry for the elder bro and also the biological or nuclear terror threat to London! Is public as enthusiastic as us, we find out!
Royal couples: (L-R) Kate Middleton and Prince William; Lady Diana and Prince Charles took their wedding vows in 1981.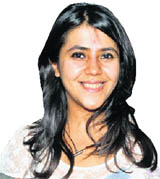 EKTA…lent
Czarina of television soaps, Ekta Kapoor refuses to follow the given and believes in doing her own thing
She wears her attitude on the sleeve. Dressed casually, with all those 'so-talked about' rings in place, Ekta Kapoor takes on shutterbugs, media queries, enthusiastic students, admiration and criticism…all in her stride!





Ekta Kapoor — Photo: Vinay Malik

Shades of the season
Being cool in summers means combining style with care for the entire body. For the most sensitive part of our body, our eyes, nothing spells style more than a dashing pair of sunglasses. A good pair of sunglasses is one accessory that adds that star quality to any ordinary face.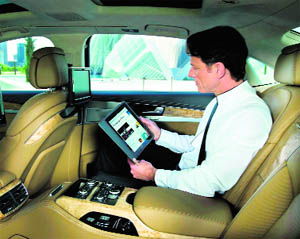 Road Rage
Browse on the move!
Our addiction to the Internet is growing by the day and it has become an integral part of our daily routine. So much so that we need online access at almost every moment we are awake. Internet mania has spread so much that it has taken over our workspaces, our homes, our mobile phones and now even our cars! Yes, several leading automobile manufacturers are geared up to offer wi-fi hotspots to their customers. Working on your business documents or digging into your social network profiles would soon be possible from inside your car, while on the move!
As Ready as can be
Salman Khan was at his candid and entertaining best at the music launch of Ready. His witty answers had the audience in splits. He also showed his magnanimous side by felicitating the workers and managers at Film City. The superstar is excited about his next release Ready and is pulling out all the stops to reach out to the masses. He talks about the song, Character dheela and the kind of films he makes.
Mahesh is filmi: Lara
Bollywood actress Lara Dutta, who makes her debut as a producer along with husband Mahesh Bhupathi for Chalo Dilli, says the tennis star is very filmi and has an eye for cinema.
Cannes calling … Sonam all set
Sonam Kapoor is the face of a world-renowned cosmetics brand alongside Aishwarya Rai Bachchan and Frieda Pinto. She has been invited to walk the Cannes red carpet for a day. She is super-thrilled about it and talks about her preparations.
Will Big B say yes?
Bunty Walia has produced some memorable films like Pyaar Kiya Toh Darna Kya, Hello Brother and others. He is trying to rope in Amitabh Bachchan for his next project.

What a Jump
Hollywood heartthrob Johnny Depp will make a cameo appearance in the big screen remake of 21 Jump Street.The Pirates of the Caribbean star will appear in a small, uncredited part in the remake, which will star Channing Tatum and Jonah Hill in the lead.Although it is unclear if Depp will reprise his original role, he revealed last year that he had his own plans for the movie.

street boy: Johnny Depp


BOLLYWOOD GOSSIP
Temper tantrums
Five important crewmembers of the team of Reema Kagti's next film with Aamir Khan have quit the project. The reason for their departure is Reema's explosive temper. Even being part of an Aamir Khan film could not hold them back.



n Agent Salman
n Big B takes revenge
n Saif learns to kick
n The missing editor
n Double dhamaka for Ajay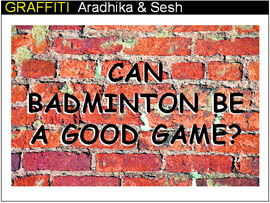 Chatter Box
Number game for Sasural Simar Ka
"Producer Rashmi Sharma and Sunrise Productions' new daily soap on Colors Sasural Simar Ka will do very well as far as TRP's are concerned and even the serial will be appreciated a lot," predicts famous numerologist Bhavikk Sangghvi.



n Sumana's new role
n Akki's Chinese connection
n Tarana in Bade Acche Laggte....
n Sourav Ganguly in new avatar
n Mukti seeing Ankur?
n Shewta 'Tantrum' Tiwari

Character dhila hai a copy: Anu Malik
Music composer Anu Malik alleges that Pritam Chakraborty has lifted the entire tune of his Mohabaat naam hai kiska from Ajnabee and used it in the song Character dhila hai.

Gents first
Men say 'I love you' before women do in anticipation of sex in relationship
While most people think that it is women who say "I love you" first in romantic relationships, a new research has found that men were more likely to utter those three magic words first. Also, men admit thinking about confessing love six weeks earlier than their female partners.

Master chef
Rijuta Jain is an expert in baking. She is known for eggless wonders and experimenting with wheat products. Her eatery Sweet Temptations is known for its innovative food, which combines French and Indian cuisine: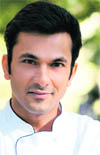 Nirvana at New York
Karma to Nirvana, the second installment in chef Vikas Khanna's Holy Kitchens documentary series will premiere at the New York Indian Film Festival, the longest-running, prestigious Indian film festival in the US, on May 7.





Cooking journey: Vikas Khanna

Healthy option
Potato-based dishes are turning up on more dinner tables and restaurant menus as a healthy addition to almost any meal, according to a new research. Donald E. Pszczola, senior editor of Food Technology, examined the history of the spud as well as some of the innovative ways it can be prepared and new products on the market that showcase the healthy advantages of potatoes.