Neck-deep in water!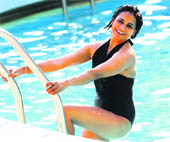 Swimming buffs share what makes them go for a dip
Summer is here. So are swimming buffs, prancing around the pool. Touted as 'the best form of exercise', swimming is supposed to be a good exercise for each body part. Well, there are other reasons why some are hooked on to it. They share the significance swimming holds in their lives.


POOL DANCE: Gagan

Dine, alfresco
The trend of open air dining is slowly but surely catching up
When air-conditioned environs symbolise suffocating office interiors, it's time to actually get out while going out! As against the initial makeshift trend, now even a 20-cover café will ensure there are some chairs spread in the open, be it the backyard or outside. Increasingly, rooftop space is giving way to open-air restaurants.
Club it…together
Ludhiana can boast of an active club life. Here are a few famous ones
Bustling with activity, clubs in Ludhiana are an integral part of the social life. Right through the week and especially on weekends, various clubs in the city are choc-o-bloc with people. In all the clubs, the gymnasium, badminton and lawn tennis courts are the most popular, but during summer it is the swimming pool that attracts the maximum crowd. We check out a few.
Chitrangada gets into action


Chitrangda Singh plays the female villain in Krrishh's sequel. She is undergoing action and physical training. She is learning how to hang from a harness, do taekwondo, martial arts, and kick-boxing. All this is new to her.
Kya item hai!
Kareena Kapoor is all set to wow audiences with her song Shake Your Booty in Ra.One. Her gyrations are delectable and her dress is as tiny as can be!
Kangna the launch pad
A particular TV was launched by a popular electronics brands by Kangna Ranaut. She only unveiled the product and left and did not interact the media. The organisers said that the product is so good that it does not need a brand ambassador and the company only wanted the actress to launch it.
Lucky @ 40?
Actor Govinda, who is making a comeback after a long gap with Naughty @ 40 says this is his third inning in Bollywood and now he is no mood to refuse films.
Making some Shor in Bollywood
Sendhil Ramamurthy is best known for his role as Mohinder Suresh in the sci-fi fantasy television series, Heroes. .
Pun'jab'
Sandeep Joshi
Balle Balle: After Ludhiana scarf they should invite Punjabi bhangra for the royal wedding.
Gem of a girl!
Hollywood actress Kate Hudson is collaborating with Chrome Hearts on a one off line of Bohemian jewellery.The Bride Wars star is the first actress to partner with the company on a range, which will be called CH + KH and sees Kate team with Chrome Hearts founders and close friends, husband and wife tram Richard and Laurie Lynn Stark.
Skin deep
Paris Hilton is gearing up for a new venture. The socialite is set to share the secrets of her beauty regime by launching her own skin care collection.The hotel heiress, who has already established herself as a successful perfumier, is working on a range of creams and lotions that she hopes to release in the coming months.
Bare essentials
Barefoot running can be beneficial while heavily cushioned running shoes may be leaving the foot prone to injury, according to a US sports medicine expert. Irene Davis of Harvard University has been studying both barefoot running and minimal footwear running, which uses a type of running shoe almost like a glove for the foot, but with a thin layer of rubber on the bottom, reports ABC Science.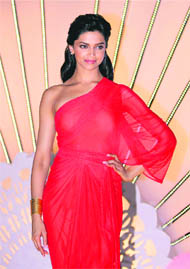 Red Letter Day: Actor Deepika Padukone strikes a pose during a show at Filmcity in Mumbai on Wednesday. — PTI
Power of silence
I am neither a romantic dreamer nor a mystic, but only a poet who portrays the realities of life through the medium of words," says Dheera Khandelwal at the release of her latest Hindi poetry book Mukhar Maun (silence speaks) at a function held recently.
stress buster
Beat it with your attitude
Each individual is unique and each of us responds differently to a stressful situation. The problem of stress is not taken as seriously as it should be.