12 killed in college bus-truck collision
Tribune News Service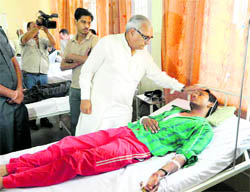 Chief Minister Bhupinder Singh Hooda enquires about the wellbeing of a seriously injured victim. Tribune photograph

Yamunanagar, April 28
A pall of gloom descended on the twin towns of Jagadhri and Yamunanagar when 12 persons, including six students, two lecturers and two staff members of an institute, were killed and 29 injured, five of them seriously, in a road accident on the Yamunanagar-Chhachhrauli road near Manakpur village on the National Highway 73-A this morning.
The tragedy struck when a bus of the Shri Ram Institute of Management and Technology, Urjani, carrying BTech students, collided head-on with a truck. The driver of the bus, Joginder Singh, and the truck driver, Satish Kumar, died on the spot. The impact of the collision was so great that its sound was heard a long distance away.
Traffic on the Yamunanagar-Chhachhrauli road came to a screeching halt and passersby joined villagers in retrieving the bodies from the mangled remains of the bus. Ambulances reached the spot and the injured were rushed to the civil hospitals at Yamunanagar and Jagadhri.
Heart-rending scenes were witnessed at the trauma centre and outside both the civil hospitals where wailing relatives waited for the post-mortem examination. Five of the seriously injured students were shifted by their relatives to private hospitals.
The bus was on the way to the institute after picking up the students. At around 8.45 am, the bus collided with a truck laden with sand when the truck driver reportedly lost control over the vehicle after one of its tyres burst.
Chief Minister Bhupinder Singh Hooda visited the injured at the civil hospitals at Yamunanagar and Jagadhri. He announced an ex gratia of Rs 1 lakh to next of kin of those killed, Rs 25,000 to the seriously injured and Rs 10,000 to those with minor injuries. Hooda expressed grief over the tragedy and directed the administration to take immediate steps to regulate the movement of vehicular traffic. He described the accident as unfortunate and "very sad".
He said the injured would be provided treatment free of cost. He also instructed the district administration to provide all possible support and medical aid to the injured.
Irate residents raised slogans during the visit of the Chief Minister and demanded steps to check the movement of overloaded vehicles carrying construction material, including sand and gravel. Union Minister Kumari Selja also visited the injured in the hospitals.
Meanwhile, a pall of gloom has descended on the twin towns. Huge crowds of residents assembled at the hospitals where the injured had been admitted. There was no word from the management of the institute.
According to a PTI report, the eight victims declared dead at the Civil Hospital, Yamunanagar, have been identified as Uma Dhiman, Harvinder Kaur, Rinki Mittal, Jitender, Sunita Pal, Neha Narula (lecturer), Kartika Madan (lecturer) and Joginder (bus driver).
The four, including two girls, declared dead at the Civil Hospital, Jagadhri, have been identified as Priyanka, Deepika, Satish Kumar (truck driver belonging to Rohtak) and Gagandeep Singh.