M A I N N E W S

Special to the tribune


US FORCES KILL OSAMA bin laden INSIDE PAKistan
n 9/11 mastermind and world's most wanted shot dead inside a mansion; buried at sea
n Al-Qaida loses its head, Islamabad its face but the war on terror is far from over
Ashish Kumar Sen in Washington DC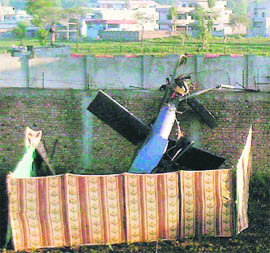 A crashed chopper near the hideout of Osama bin Laden in Abbottabad.
Osama bin Laden, the leader of Al-Qaida and the most recognisable face of global terrorism, was killed in a US military operation at a heavily fortified compound, around 60 km north of Islamabad, US President Barack Obama announced late on Sunday evening.
The operation was wrapped up in 40 minutes and the US team left with Laden's body. Three adult males - two Qaida couriers and a son of Laden - and one woman, who was used as a shield by the terrorists, were also killed in the operation. US officials said Laden tried to put up resistance but was killed in a firefight.
Obama and US officials said no Americans were harmed and that the team took care to avoid civilian casualties.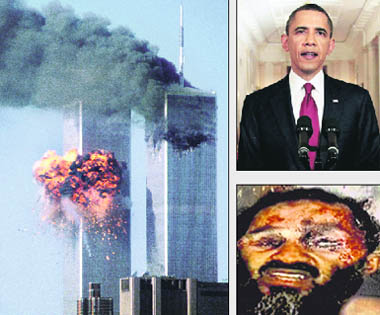 (Clockwise from left) The terror attack by Al-Qaida left over 3,000 dead in New York in September 2001; Obama announces Osama's killing by US troops; TV grab of Laden's body
Laden's body was buried at sea, according to some reports. A photograph of his body showed an injury on the side of the recognisable face.
"Tonight, I can report to the American people and to the world that the United States has conducted an operation that killed Osama bin Laden, the leader of Al-Qaida, and a terrorist who's responsible for the murder of thousands of innocent men, women, and children," Obama said. "On nights like this one, we can say to those families who have lost loved ones to Al-Qaida's terror: Justice has been done," he added.
Laden's death comes almost 10 years after Al-Qaida's deadliest act of terrorism - attacks on the World Trade Center's twin towers in New York City and the Pentagon - killed nearly 3,000 persons.
The small team of commandos found Laden living in a plush mansion on a secured compound in the suburb of Islamabad and not in a cave along the rugged and lawless Pakistan-Afghanistan border region, where Pakistani officials said he was hiding. The raid was carried out in the early hours of Sunday. Senior US officials, who briefed reporters early on Monday morning, said the Obama Administration did not inform Pakistani authorities of the mission. Only a handful US officials were aware of the plan. "We shared our intelligence on this Laden compound with no other country, including Pakistan," said an official. "That was for one reason and one reason alone: we believed it was essential to the security of the operation and our personnel. In fact, only a very small group of people inside our own government knew of this operation in advance," he added.
He said that since 9/11 the US has made it clear to Pakistan that it would pursue Laden wherever he might be. "Pakistan has long understood that we are war with Al-Qaida. The US had a legal and moral obligation to act on the information it had," he added.
Laden was found living comfortably on a property US officials said was worth $1 million. "We are very concerned that he was inside Pakistan," another senior US official said. Al-Qaida No. 3, Abu Faraj Al-Libbi and Sept 11 mastermind Khalid Shaikh Mohammed were both previously captured in residential areas in Pakistan. On Sunday night, Obama spoke to Pakistan President Asif Ali Zardari. "Going forward, it is essential that Pakistan continues to join us in the fight against Al-Qaida and its affiliates," Obama said. Obama gave the green light for the US military operation on Friday. He was first briefed on a possible lead to Laden last August. "It was far from certain, and it took many months to run this thread to ground," Obama recalled.
Shortly after taking office, Obama directed CIA Director Leon Panetta to make the killing or capture of Laden a top priority. Obama met his national security team five times in March as U.S. agencies developed more information about the possibility that they had located Laden hiding in a compound inside Pakistan. "Finally, last week, I determined that we had enough intelligence to take action, and authorised an operation to get Laden," Obama said.
Senior US officials said they traced Laden by monitoring an Al-Qaida courier they believed was a trusted confidant of the terrorist leader. Over the years, the CIA gathered leads on Bin Laden's inner circle, including his personal couriers. "One courier had our constant attention... He was identified as a protege of Khalid Shaikh Mohamed and a trusted assistant of Abu Faraj al Libbi, al Qaeda's No. 3 who was captured in 2005," said an official.
Two years ago, areas in Pakistan were identified where the courier and his brother operated. However, US intelligence wasn't able to pinpoint where the two lived.
In August last year, the US intelligence traced the brothers' home - a compound in Abbottabad, a military town close to Islamabad.
n Post-9/11, the CIA had been actively gathering leads on Laden's inner circle.
n Laden was traced by monitoring an Al- Qaida courier, identified as a trusted assistant of Al-Qaida's No. 3, Abu Faraj al Libbi.
n Terror suspects detained after 9/11 identified the man as one of the few couriers trusted by Laden.
n Two years ago, areas in Pakistan were identified where the courier and his brother operated. However, the intelligence wasn't able to pinpoint where the two lived. *In August 2010, brothers' home - a customised extraordinarily unique compound in Abbottabad - was identified.
n After constant surveillance, intelligence analysts concluded that the mansion had been built to hide "someone of significance".
n Agencies discovered that a third family lived on the compound, one whose size and makeup matched that of the Laden family. Laden's youngest wife was also on the compound.
n March 14-April 28: Obama holds five national security meetings with his top aides. Finally, the operation gets a go-ahead over the weekend.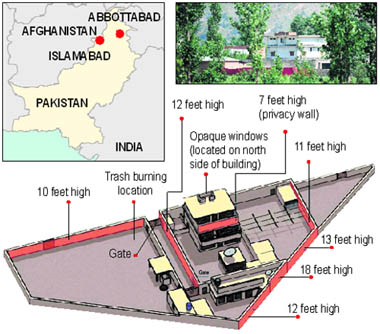 n While the world thought that the dreaded Qaida chief was hiding somewhere in the rugged caves on the Pakistan-Afghanistan border, he was found living comfortably in a property US officials said was worth $1 million and in the area relatively affluent with lots of retired military officials. The building was roughly eight times the size of other homes in the area. It had 12- 18 feet wall topped with barbed wires. There were two security gates.
n The main structure, a three-story building, had few windows facing outside. A terrace on the first floor had a 7-feet privacy wall. The property had no telephone or Internet service. The seldom-seen residents of the compound burnt their trash rather than disposing it as other neighbours did.
n The design of the compound and the mansion, and the activities surrounding it, indicated it housed someone important.
Islamabad: A Tweeter who described himself as an IT consultant taking a break from the 'rat-race' by hiding in the mountains in Abbottabad may have unwittingly covered US military's dramatic attack that brought down Osama bin Laden.

At about 1 a.m. local time, 33-year-old Sohaib Athar (@ReallyVirtual) put out his first tweet that a helicopter was flying above Abbottabad - "a rare event," he said. "Go away helicopter - before I take out my giant swatter :-/" Athar joked.

He then reported a "huge window-shaking bang" and says "it was too noisy to be a spy craft, or a very poor spy craft it was." He went on to say, "I hope it's not the start of something nasty :-S". He also tweeted that a friend heard it six km away too.

At 1.30 am, the 40-minute operation that eliminated the mastermind behind 9/11 was over and hours later, news broke of Bin Laden's death.

"Uh oh, now I'm the guy who liveblogged the Osama raid without knowing it," he tweeted. "And here come the mails from the mainstream media... *sigh*"

In the age of Twitter, perhaps it's no surprise that the first signs of the US operation that killed the Al-Qaida leader were noticed by an IT consultant awake late at night. And twitter buffs were ecstatic over the microblogging site stealing a march over the mainstream media for the developing story.

"Osama bin Laden is dead -- yeah, you knew that already, but did you know that Twitter broke the story first?" said one blogpost. — PTI