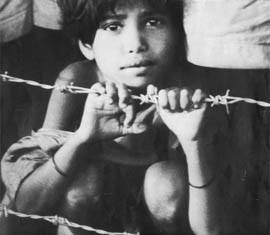 Monika Deb (name changed) is a sex worker in the red light area of Kalabagen, Shamsherganj block of Murshidabad, close to the Bangladesh border. Her clients include cross border smugglers, medical representatives, senior school students and those guarding India's frontiers. Over the years she has learnt to live and cope with the sleaze and filth of commercial sex work. However, a month ago even she was rattled when sexual overtures were made to her 10-year-old daughter.
At two well kept rooms in a hut on the Jalangi roadside leading to Farrakka, Amona Bibi, just 35, runs a thriving flesh trade business. Her clients include the lower ranks of those guarding the borders as well as the truck drivers ferrying goods to Bangladesh. She makes anything from Rs 2000 to Rs 5000 a day. A mother of three, she supplies young girls to her clients. Girls, on their way to school or, on their way back, come with a set of clothes which they change into and provide service, for which she pays them Rs 1000. If a school going girl gets pregnant, abortion services are provided by Amona Bibi and its back to business as usual.


No condom, no sex please!
There is a glimmer of hope at Bangladesh border. There is high awareness about HIV and AIDS and most of sex workers refuse to entertain clients who do not use a condom. "Condom promotion has been highly successful," says Ameena Mariam, peer educator at NACO's ( National Aids Control Organisation) drop in centre on the road leading to Farrakka. This is an extremely busy stretch of the highway for sex work. Some 50 to 60 trucks are parked on the roadside day and night and on either of the road are shacks where clients are entertained. Some 200 sex workers operate on this stretch of the road. The women have received the female condom and use it, though they are not comfortable with it. Regular supply of condoms is ensured by NACO and other agencies. Despite various precautions, 12 of the 200 have tested positive for HIV. Four women have died of AIDS.
Women are taken for regular blood tests and ensured medication when needed. When a HIV positive case surfaces, even the Babus (pimps) who live with the women are tested.
The grass is greener on the other side of the fence
n The Central Law Commission report on the Foreigners Amendment Bill- 2000 estimated the clandestine cross border trade between India and Bangladesh is at $ 5 billion.
n A bottle of phensedyl that costs Rs 75 in India, sells for Rs 700 in Bangladesh.
n A profit of Rs 2000 to Rs 5000 is made on each cattle smuggled.
n 500 girls are rescued every year from Mumbai and Delhi brothels.
n The number of girls trafficked from Nepal has reduced now.
n A sex worker makes anything from Rs 2000 to Rs 5000 a day at the border, and involves less risk.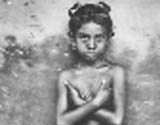 All the 300 odd women working in red- light area of Shamshergunj depend on babus ( pimps) for sheer survival and emotional needs. They too are a threat for girls reaching puberty.
These were just two of the many horrendous stories on the insecurity of adolescents living on the border villages, shared with a group of NGOs, researchers and journalists who travelled the 151 kms Indian border to Bangladesh in Murshidabad District.
There is extensive use of children for smuggling and sex work on the India/Bangladesh border. Young Bangladeshi girls are also trafficked into India with promise of jobs. Men posing as businessmen, entrepreneurs from India live in the villages of Bangladesh and after winning the confidence of the villagers 'marry' girls and bring them to India --then sell them in Mumbai, Delhi and other places.
Bangladeshi girls replace their Nepali counterparts
NGOs like the Kolkata-based Sanjog working on cross border as well as intra country sex trafficking have seen a decline in the number of girls from Nepal in the brothels of Mumbai. However, there is an increase in Bangladeshi women in sex work. Roop Sen, secretary of Sanjog, says, there are no accurate estimates of the number of adolescents/ women being trafficked into India or from different parts of India to the brothels of Mumbai. However, he says 500 girls are rescued every year from Mumbai and Delhi and sent to shelter homes or reunited with their families. But rehabilitating these youngsters remains a challenge. They may be engaged in rolling bidis, making gamchhas (hand woven light towels) or in agricultural work, but the returns are not good enough for young people who have seen more money in the destinations to which they were trafficked. An estimated 20 percent are re-trafficked or migrate again for work.
India's border with Bangladesh is well populated and largely porous despite the large tracks of thickly fenced areas guarded by the Border Security Force (BSF) and the Bangladesh Rifles (BDR) on either side. It's an active border with smuggling by children and trafficking of women and children in disturbing proportions. The Central Law Commission report on the Foreigners Amendment Bill 2000 estimated the clandestine cross border trade between the two countries at $ 5 billion. Sanjog's research looks at issues of the rural adolescent in poverty, affected by the rapid political and economic changes in South Asia.
Rehabilitation blues
Adolescents and older children of sex workers in Murshidabad have approached the CWC (child welfare committee) as well as SPMUS (Suprava Panchashila Mahila Uddyog Samity), an NGO which has been working for protection, prevention and empowerment of women and children in red light areas in Murshidabad district since 1993, to run a separate home for them so that they don't have to struggle with the stigma of being children of prostitutes.
A high, seasonal drop out of children attending the school is observed so that they can be engaged in smuggling. In fact SPMUS did a study in 2007 showing 300 children of 8 to 14 years smuggling from six spots of the border—Jalangi, Sheikhpara, Sagarpara, Bhagwan Gola, Lal Gola and Shamsherganj.
Children, who have traditionally herded cattle, used to take the animals through one of the illegal ghats or border crossings in the hope that the security forces would be kinder to them. But as the fences came up and the vigilance on the border increased, the number of cattle being smuggle dropped substantially.
At Farrakka, Sheikh (26) from Bangladesh said till two years ago he was smuggling cattle. Purchasing four to 10 cows from the haat in India he would take them through Dhuliyan into Bangladesh. After bribing various people for his illegal operation he made a profit of Rs 2000 to Rs 5000 on each cow. Now he is in the sex trade which is more lucrative and rouses less suspicion.
Juveniles used as smugglers
What is more disturbing is the use of children to smuggle phensedyl, a cough syrup used as a narcotic drug and banned in Bangladesh. Quite clearly it is with the tacit support of parents for some of it is put in their school bags. Women smuggle it across in pockets stitched into their petticoats and undergarments. A bottle of phensedyl that costs Rs 75 in India, sells for Rs 700 in Bangladesh. At Fulbari, where there is a 12.5 kms barbed wire fencing and the BSF jawans work in six hour shifts- patrolling on cycles, village women are asked to search suspected female carriers. A woman had 10 bottles of phensedyl on her. At night families living on the Indian side of the fence use mobiles to alert relatives on the other side of the fence and literally chuck bottles of the banned drug to them when the jawan on patrol is some distance from them. Some 200 metres further is the actual border with a BDR outpost. Till women constables are inducted into the BSF, search of adolescent girls and women carriers is a problem.
The smuggling of rice, which costs Rs 17 a kg in India and is sold across the border at Rs 40, is rampant. Old women and children can be seen lugging huge bundles of rice across the sandy river beds, past ferry ghat to Bangladesh. Before walking or swimming (depending on the season) with their bags, the rice is weighed in shacks that have come up close to the ghats. SPMUS study shows that smuggling is at its peak in the four months of the monsoon. This is also the time when school dropout rate is maximum.
Children caught smuggling are produced by the BSF before the Juvenile Justice Board in Murshidabad.
Day-care centres for children
While many of the sex workers have been able to segregate their children—leave them with parents or send them to residential schools, there are umpteen others living with their mothers, exposed to sexual innuendos. Since 2007 SPMUS has been running two day- care cum night shelters for children of sex workers at Shamsherganj and Behrampore. These efforts have paid dividends. SPMUS tries to wean the children from the trauma of living in a red light area and counsels them but many mothers want to be with their children when not with clients.
At Shamsherganj red light area, where there is a strong committee of sex workers, no girl below 19 is allowed to practice.
The inevitable pimp
Babus- glorified pimps who live with the sex workers and get clients for them could also be potential threats to children of sex workers. The women depend on them for their emotional and economic needs and trust them completely. Some of them cook, look after their children and get medical aid when the women fall sick.
All the 300 odd women working in the red light area of Shamsherganj have babus who live on their earnings, though they may do sundry other jobs. The sex worker has to pay the babu as well as the owner of the hut on the roadside that she brings her clients to, so she has to earn enough for her upkeep, food, education of children and the babu.
(The writer is an eminent development journalist)