Though women have stormed every conceivable male bastion and earned a place for themselves in public life, men continue to look at women through a blinkered perspective and insist on laying down rules on how women should behave and act
No more moral policing please!
Rajesh Gill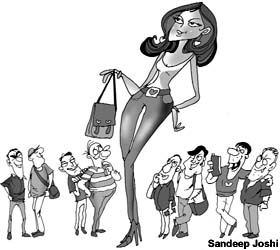 THE Constitution of India bestows equal rights to all its citizens, men and women, rich and poor, irrespective of race, religion, caste etc. But how these rights get translated in real life situations is a different story.
Let us take the case of gender differences. Recognising that men and women are biologically different, any discrimination on the basis of gender is prohibited by law. As a result, women are outnumbering men in educational institutions both as students and teachers. The gender proportion in erstwhile male professional courses has also tilted in the favour of girls over the last few years. From the typically feminine jobs, women even at the lower rung have moved into jobs conventionally held by men such as bus conductors and drivers. At least in metros; they can be seen driving autos and taxis; they are working at petrol stations and they have been recruited as officers in the defence forces. This has created a strange situation in traditional societies, not used to having women in public spaces in such large numbers.
While it has been found alright to have women as teachers, doctors, clerks, air hostesses, receptionists, etc. their presence in formal organisations in a sizeable number is something with which our society is not very familiar. The situation gets more atypical when women in such public spaces assert themselves, excel as professionals and question the 'taken for granted' attitudes of society around, again including men and women. Although globally speaking women's movement has moved from 'women and development' to 'women in development', this shift in paradigm is relevant only for the academic discourse.
Ground reality
At the grassroots level, whatever freedom women have acquired is perceived as a bonus bestowed upon them by a generous society, mainly men at the helm of affairs. While women occupy almost all kinds of public places and offices today and make a larger chunk of the student community even at the level of higher education, they continue to be marginalised by men, who usually choose to be women's spokespersons. In a recent training programme conducted for university and college teachers, a male teacher introduced a female colleague as a wonderful cook while the female teacher frowned at him. While she denied having ever told him that she liked cooking, the man said "the very fact that she is a woman implies that she has to be a good cook."
No code for men
It is very common for men to be giving out public judgments about the dress code adequate for a woman and the way she should behave. A woman who is outspoken and has the grit to call a spade a spade is usually despised by men and is often ridiculed. Imagine the plight of a working woman who has to give out her best and work constantly under a scanner. I have often found women professionals doing a wonderful job at office spending long hours at work, not letting their household responsibilities interfere with their professional work. Do they get appreciation for that?
The spontaneous response from male colleagues is "poor chap who married her, and poor children to have got such a mother." Men continuously engage themselves in the process of moral policing, keeping a watch on women around, with a self-acquired right to comment upon them, ridicule them and correct them. It is strange that men keep themselves free from all such hassles. I have never seen a man objecting to another man urinating along the road in full public view where women, young and old, are moving. Nobody has ever made up an issue about the stalking by men threatening young girls. Ask any college or university girl student and she would relate her harrowing experiences of men's exhibitionist actions terrorising them which they cannot share with anyone except the peer group. I am yet to find these issues making headlines in the media or public discourses of male academia which otherwise shows great concerns about a code of conduct for women. In the recent past, several cases involving male schoolteachers molesting their young female students have been reported. It is a pity that even a small child is perceived by a male teacher as primarily a woman. Where is the problem then?
Male gaze
Is it at the level of the girl who wants to come out in the world, given her fundamental rights to equality, life, personal liberty and privacy or at the level of the male gaze that always gets fixed at her physical contours? This kind of moral policing by men definitely invades into a woman's fundamental right to privacy and personal liberty, seriously inhibiting her in her professional and academic pursuits. As a woman, while travelling in a bus where every now and then men, young and old, keep on pressing against her, touching her body, making her feel very helpless and small; while she keeps thinking that this is normal and she is not the only woman to face this. Shockingly still, for all this harassment it is again a woman who is blamed. She is therefore directed to dress up "properly". Could anybody explain why girls as young as two years and girls in salwar kameez continue to be molested and raped? Recently, farmers have been found to be selling their wives to repay their loans in Bundelkhand spanning the states of Uttar Pradesh and Madhya Pradesh. In Kashmir, a number of young girls lost their lives for not obeying the dress code prescribed by a militant outfit. Recently, a Saudi civil court is getting ready to hear the first ever case brought against the religious police, known as the Muttawa. The woman in question wanted compensation after she and her daughter were allegedly wrongfully arrested in a car park of a shopping centre for "not wearing decent clothing."
In Saudi Arabia, women must follow a strict dress code and be completely covered, from head to toe, when they are in public. Bubbling with freedom, equality and liberty and boasting as the largest democracy of the world, India deceits its Constitution when it treats its men and women differently to the disadvantage of the latter. Women in this country for ages have carried the burden of preserving the so-called rich Indian culture. Let us now at least do away with the hypocrisy and the double standards, for assessing men and women when both of them are today recognised as equals by the Constitution. If there is a need to mind the dress code and body language in public spaces, it exists for both genders.
When men's bodies and sexuality is publicly celebrated while woman's sexuality is controlled in Talibanic ways, it is the woman who is being treated as polluting. While women are assuming responsible positions in society, we must learn to build trust in their ability to hold themselves respectably in public life. Instead of the 'blaming of victim' approach, let us work towards improving our own mindset, learning to look at women as human beings. Men may find it difficult but I am sure constant practice and training at home and outside can go a long way. Let the moral policing, if any, be gender neutral.
Dr Gill is Professor and Chairperson, Department of Women's Studies & Development and Department of Sociology, Panjab University, Chandigarh.