AT THE CROSSROADS OF LANGUAGE
English in the modern context is a tool of communication but there is a need to 'decolonise' it. It should be used to break the barriers between the classes instead of segregating society further and augmenting the inferiority complex in the socio-cultural mindset of the rural children.
Geetanjali Bhagat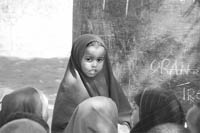 English, being a global language, has become one of the most important social skills nowadays. The IT boom too has added to its importance as almost all the software is in English.

Schools, colleges, universities and interview boards deem it an inseparable part of an individual's personality. No doubt learning and teaching of English is stressed and we find many coaching centres thriving on slogans like "Learn English in 30 days!" TV channels and mobile phone ads also try to entice the masses with the lure of teaching 'good' English in an easy way.

In this race of acquiring skills in language, somewhere the rural students seem to be left out of the scene. In the Northern region of India where the mother tongue has its hold on the socio-psychological development of an individual, the students with a rural background lag behind in acquiring English as a soft skill and fail to express themselves in English, though they may be very fluent and expressive in their own mother tongue. According to Professor B. S. Chavan, Professor and Head, Department of Psychiatry, GMCH 32, Chandigarh, "A major reason for the rural students not being able to speak well in the English language is their late exposure to the language which leads to a feeling of inferiority and acts as a handicap in the expression of ideas."

For an average person in India, English symbolises better education and higher intellect. Even a person belonging to a lower income group tries to educate his children in English medium schools as learning and speaking of English is related to the status in the community. "In India, English is treated as the language of nobility and success and the upper class elite imposes it in a particular way on the masses", says Dr. Santosh Kumar Singh, Assistant Professor in Sociology at Ambedkar University, New Delhi. An interesting parallel that Dr. Singh draws in this regard is that of the Brahmins declaring Sanskrit to be 'a language of the elite class', keeping it out of the reach of the middle and lower classes. In the modern context of English as a language of communication, there is a dire need to 'decolonise' it.

Learning English means to acquire a set of rules that are very different from those of the mother tongue and the rural children have a major drawback as the mother tongue gets in the way in acquiring a new language. They fail to exercise what they have learnt in the classrooms as at home mostly it is the mother tongue that is used. Consequently, the influence of the mother tongue overshadows the limited knowledge gained in English. Moreover the target remains to clear the exams and the use of grammar-translation method again makes the students dependent on their mother tongue. The main reason for adopting this translation method is that in villages, even now, English is being taught more as a subject rather than a language. Dr. Sharda Kaushik, Director of Regional Institute, Chandigarh is of the view that the policy of promoting SS Masters to teach English in many of the government schools has also been a major reason behind the rural students not learning English language. In her words, "As most of these teachers lack proficiency in English, they fail to do justice to the language and end up using translation method which is least conducive to acquiring language skills. Large classes and examination-governed pedagogy leave no room for practice of oral skills." As many of these teachers are poor in oral skills and pronunciation, they fail to teach the students use of proper sounds of English language.

Language is the expression of one's identity, and as per the studies conducted in the field of language learning, a normal individual takes about four to six years to develop a good verbal command of a new language. The schooling of rural children is in mother tongue only and when they come to colleges, the sudden transition from mother tongue to English language reduces their self-esteem and confidence and becomes an obstacle in learning a new language, especially English. The fear of the new language increases and the performance of the student goes down. This view is also endorsed by Sukhpreet, a B. Tech student of Guru Nanak Engineering College, Ludhiana, who is at present undergoing training at PEC, Chandigarh. Having studied in a rural school for twelve years, a sudden shift of language posed a lot of problem for her. She feels that while her urban friends had their parents to teach and hone their skills, she herself lacked this advantage. While she was made to learning new words in English at school, but not being able to use them at home or in day to day life in a different socio-cultural as well as socio-lingual environment, often made them fade in the memory, generating the fear of not being able to express herself fully in English.

The need then arises to help the rural students caught in the jam of language learning. The language, which is the most potent tool of expression, should not become bound to a certain class or become an impediment in the growth of students' intellect and increase the fear in the minds of students who wish to acquire it as a soft skill. It is high time that teaching methods be modified as per the requirement of the students, and English, instead of being taught as a subject, be taught as a language. Teachers and peer groups also need to take up the responsibility in helping rural students to shed fears related to speaking skills. Curriculum should be designed in such a way that it may bring a gradual transition in learning and hence improve it.

The writer is Assistant Professor, Regional Institute of English, Chandigarh.

Prof. M L Tickoo is a renowned English scholar with a vast experience of teaching in various national and international universities. He is one of the leading English Language experts of India and has several books to his credit. In an interview he deliberates on the problems faced by the rural students in learning of communication skills.
The soft skills in English have always been stressed upon for a long time and these days everyone wants to be good in speaking English. What do you think is the reason for that and does having good communication skills in English mean having a very good hold on the language itself?
In an interview, a candidate who can answer well gets selected and as almost all the interviews are in English, stress is laid on good communication skills in the language itself. But communication is not just speech or language. It includes the demeanour, dressing sense, body language, the ability to maintain eye contact, clarity of thought and the right way to put one's ideas across. A good candidate always shapes the direction of the interview so as to put his/ her perspective across while using language as a medium of expression.
That's very true. But do you think in the present scenario of education, the rural children are at some disadvantage as far as such skills, especially in communication, are concerned? And if so, what are the reasons?
Yes, I think so. The main problem lies in the belief that the English language belongs to the elite and the upper middle class. The shyness and the fear to speak is a part of this belief. Apart from this, the lack of infrastructure, casual attitude of the teachers and technological backwardness contribute to it. Also there is no atmosphere at home to practice what the students have learnt at their school or college. There is a lack of skillful and well trained teachers in rural areas as most of them don't want to work in a rural environment.
Does the mother tongue become an impediment in acquiring English language? If yes, how?
English is a very rhythmic and stress timed (according to the syllables) language which makes it distinctive and many of the sounds that we have in English are different from the sounds in Indian languages. A child learns the mother tongue first of all and then goes on to acquire English as a second language. The difference of sounds and rhythm poses a big problem and the fear of being incorrect generates low self confidence, again leading to difficulty in acquiring the language. In such a situation, mother tongue, instead of facilitating the acquisition of a new language, becomes more of an impediment. But if it is in the hands of a skillful and well trained teacher, even mother tongue can help a lot in learning English.
Is there any difference in the rural and urban school teaching as far as teaching of English is concerned?
It is very much there in our education system. Many of the English teachers in rural areas lack good communication skills themselves and they treat and teach English not as a language but as a subject, failing to do justice to it. Language should be taught as a mode of expression, a tool to make an individual be able to interact and not as a fact based subject like History and Geography. Communication is learning the nuances of behaviour, culture and personality through the medium of language.
What suggestions do you have for the improvement of communication skills of the rural and disadvantaged groups?
The educational institutes in the rural areas must be given technological resources and good books on English Language Teaching (ELT) to balance out the gap between the rural and urban teaching. There should be special courses of two or three hour duration for improvement of listening skills of students. They should be given a chance to listen to standard English sounds in connected speech and to get acclimatized to the English speaking environment. Musical notes can be used at initial stages of teaching and students should be taught the use of dictionaries to make them self reliant. Teachers can give one hour every week to a group of students where they can speak English without the fear of being ridiculed or pointed out. This will help in encouraging them to speak and will bring out the shy students into active participation.
Your advice to the rural counterparts, be it students or elders, who wish to possess good communication skills but lack the confidence to do so?
I would like to convey emphatically what I said earlier, that 'communication is not just speech'. Though language is basic to communication, it acts more as a medium for communicating your ideas and thoughts. Do not imitate, just be yourself as it projects what you are and do not fear committing mistakes. Learning comes through errors only. Moreover, keep in mind always that communication is a whole lot of things in addition to language. It is every act where you interact with anything in life - a friend, a book, and behaviors of different people!
Expertspeak
As a person who has worked in the area of English language teaching in several countries around the world, many times, I believe we are at a point where it is no longer a decision between British or American English. In this age of technology, people are communicating with people in different countries all the time and many times in English. In a globalised world people will need to know many different kinds of English. So many people around the world are learning English and it is inevitable that their English will be influenced by their mother tongue. The most important thing is that people can understand and be understood.
— Sarah Anderson, English Research Fellow, RIE, Chandigarh

In this age of globalization, communication skills in English play a pivotal role in bringing the people of different nations together.  But In our country the digital divide between the poor and the rich, the urban and the rural always baffle the educationists to design, develop and deliver any programme exclusively dedicated to training people in communication skills in English.  In a scenario like this, distance education institutions, particularly IGNOU, with its rich repertoire of academic expertise and excellence, can play a proactive role in reaching out to the people across geographical and social divisions and providing quality training in communication skills.
— Dr. Abhilash Nayak, Regional Director, IGNOU, Orissa
Teaching how to communicate well in English has become a major focus of the soft skills

training programme because we all are aware of the possibilities presented by our ability to speak and write in English. In order to help rural children acquire soft skills, we must first work on reducing the rural and urban divide in learning of English language. At the macro level we should have a uniform system in which all children, rural and urban, must have access to education in the English medium. Incentives to good teachers who wish to work in the rural areas would help.
.— Dr. Rajneesh Arora, Head, Deptartment of Linguistics and Contemporary English,The English and Foreign Languages University,Lucknow Campus, Lucknow

Teachers in rural areas (where students are likely to do most of their thinking in their first languages) need to be made aware of what their students can do in the first language and taught to help the students use it as a positive resource. Instead of finding fault with what the student rural or urban as the case may be, (the student with low proficiency in English) it is better to look at what they do have and work with that. Such an approach will also be of immense help to teachers who have low proficiency. Self awareness of what one can do with each of the languages one knows and being able to tap on one to enhance the other will result in good growth.
— Prof. Geetha Durairajan, Department of Materials Development, Testing and Evaluation, EFLU, Hyderabad