| | | |
| --- | --- | --- |
| | OPED — THE ARTS | |
The missing galleries of art
Punjab has given many great artists to the world of art, but, opportunities for the growth of art remain abysmally poor in the state. Of the two existing art galleries in the state, one is mired in controversies.
Vandana Shukla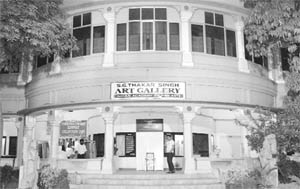 Mired in controversy- Indian Academy of Fine Arts, Amritsar
Punjab has given one of the most celebrated artists to the world of visual art- from Amrita Sher-Gil, Manjit Bawa, Arpana Caur, Paramjit Singh, to T&T ( Thukral and Tagra) and Vibha Galhotra. The artistic journey of these artists has made an impact in shaping new trends in the art world, which resulted in receiving global appreciation for their works. Unfortunately, in their own state, they hardly ever had a chance to showcase their talent, receiving laurels is a far- fetched proposition. Reason, the state does not have galleries and other infrastructure that can cater to dynamic needs of art world, which is evolving and growing beyond the bounds of available resources. As a result, artists migrate from the state to other places to grow.
"The state continues to provide great artistic talent to the country and the world but it fails to grow appreciation for art for lack of infrastructure," says Rahi Mahinder Singh, secretary, Punjab Lalit Kala Akademi.
The continued migration of artists comes as a greater surprise, since, one of the first ever galleries that opened in the country, was, Indian Academy of Fine Arts at Amritsar. The state body of art, Punjab Arts Council, does not have a budget allocation worth mention. NZCC ( North Zone Cultural Centre) , another body that is supposed to cater to needs of art, flip flops, depending upon the efforts of the head of the organisation, especially when it comes to promotion of visual art. At Kalagram, Mani Majra, the ambitious project of NZCC, a corridor was converted into an art gallery, which was in fact, an apology of a gallery, where upcoming artists could exhibit their works. Even this facility was closed, further reducing availability of space for exhibitions. Virsa Vihars was another effort initiated by the state government for the purpose, but, there too exhibitions are held only with collaborations. At Jalandhar, Apeejay College of Art has turned Virsa Vihar, Jalandhar, into Satya Paul Virsa Vihar Art Gallery. At Bhatinda, Kapurthala, and Patiala, Virsa Vihars are still waiting to take off. After closure of NZCC gallery at Sheesh Mahal, Patiala, one more option to showcase works for budding artists is closed, in the almost non- existent private gallery scenario in Punjab. Punjabi University, Patiala, which runs a successful master's programme in Fine Arts, had a gallery and museum attached to the department to promote talent of its students. Due to some bureaucratic decision, the gallery and museum were separated three years back. Now, the gallery in- charge has to take permission from the vice chancellor, instead of a panel of artists- as is the norm, if an artist wants to hold a show.
Artists need exhibitions, without a critique, their art cannot grow. If one excludes Chandigarh, which has a sizeable number of good galleries, barring just two galleries worth mention, there is no other place in Punjab where adequate facilities are provided at a good location to showcase works in a professional manner. Many senior artists, who hail from different towns of Punjab, and have shown works across the country, lament the lack of facilities, which, newly emerging towns like Gurgaon have aplenty in places like EPI Centre and Art Mart. The state is untouched by the way markets and styles have undergone transformation in the absence of professionally managed art activity. There is hardly any interaction with evolved viewers for the artist. It is a catch- 22 situation, artists do not grow for the same reasons that fail to provide discerning viewers of art.
Admitting apathy of the government bodies, Rahi Mohinder Singh adds that it is primarily work of the Akademis to organise seminars, shows, talks etc to support growth of art in the state. Unfortunately, Punjab Arts Council depends on office bearers to extract money from the government, which, till date has no fixed budget allocation for arts.
Another problem is attached to practising artists who have decided not to grow beyond realism and copy work in the name of art. People open galleries in Ludhiana and Jalandhar with fanfare, galleries last till the space is rented out to a more lucrative offer. The kind of commitment art requires has somehow failed to grow, as a result those who wish to pursue art, migrate to Delhi or Mumbai. In the past Ludhiana has seen opening and closing of Tag gallery, Artmosphere and few others. If you compare the scenario with Jahangeer Art Gallery, Mumbai, where waiting list runs into years, galleries don't even hold shows on a regular basis, which explains apathy to art in the state.
Usually artists migrate from small towns in Punjab to Chandigarh, where their journey begins, then, they move on to bigger cities to grow. Art cannot grow without a journey, true, but like MNCs art must not grow in metros alone. And, this can happen with facilities made available, as has happened in smaller towns like Jaipur, Pune and Bhopal.