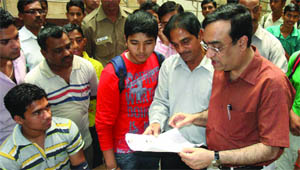 The minister of state for youth affairs and sports Ajay Maken sees the registration form for "Come and Play Scheme" at MDC National Stadium in New Delhi on Monday. Tribune photo: Manas Ranjan Bhui
Japanese team to discuss funding of Metro Phase 3
New Delhi, April 25
A team from Japan International Cooperation Agency (JICA) is likely to arrive in Delhi tomorrow to discuss the funding of Phase-III of Delhi Metro.
Govt makes adjustments in proposal to divide MCD
New Delhi, April 25
The Delhi government has agreed to make some adjustments to its proposal of dividing the Municipal Corporation of Delhi (MCD) into five smaller bodies and increasing number of wards from 272 to over 400 in the face of stiff opposition from a section of the ruling Congress.
Research policy soon, says VC of IGNOU
New Delhi, April 25
Indira Gandhi National Open University (IGNOU) is heading for a paradigm shift in its research policy and research facilitation processes, vice-chancellor V.N. Rajasekharan Pillai said on Monday.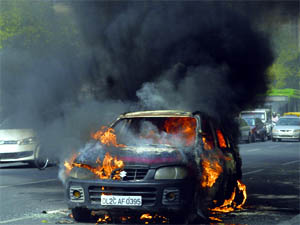 A Maurti car caught fire at Connaught Place in New Delhi on Monday. Tribune photo: Mukesh Aggarwal
Mercury reaches 40° C; today could be hotter
New Delhi, April 25
With the maximum temperature touching 40 degree Celsius on Monday, Delhiites got a taste of the scorching summer in store.
Maid kidnaps infant from Maharani Bagh
New Delhi, April 25
A one-and-a-half year-old child has been allegedly kidnapped by his maid from south Delhi, the police said today.
26 kids rescued
New Delhi, April 25
Twentysix child labourers, mostly from Bihar and Uttar Pradesh, were rescued in two different rescue operations from embroidery units and roadside eateries in the Capital, said RS Chaurasia, chairperson of child rights NGO Bachpan Bachao Andolan today.
5 children go missing from capital daily
New Delhi, April 25
The incidents of children going missing from the Capital are showing an increasing trend this year with statistics showing that five minors disappear every day compared to three last year.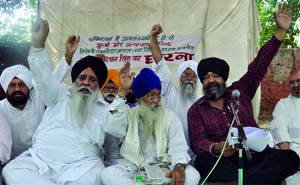 Actvists under the banner of the Shiromani Akali Dal (M Tar Singh), Sri Amritsar, hold a protest against Pakistan on harassment of minorities, at Jantar Mantar in New Delhi on Monday. Tribune Photo: Mukesh Aggarwal
Two slum kids charred to death
Gurgaon, April 25
Two children were today charred to death and over 50 huts were gutted, when a fire broke out in slums located near Ambedkar Colony of the district, the police said.
Arunima responding well to treatment: Doctors
New Delhi, April 25
National-level volleyball player Arunima Sinha who had undergone a surgery on her amputated leg to reduce infection is responding well to the treatment, doctors at the AIIMS said today. On April 22, doctors at AIIMS Trauma Centre carried out a one-hour-long surgery on Sinha's amputated leg to bring down the bacterial load.
Rs 60 crore to revamp Surajpur Bird Sanctuary
Greater Noida, April 25
Surajpur Bird Sanctuary in Greater Noida, spread over 330 hectares, will soon have 52,000 additional plants of new varieties. Efforts are afoot to develop large green belts in the sanctuary.
Snake charmers protest with snakes outside CM's residence
New Delhi, April 25
Pipe-playing snake charmers with their dancing snakes staged a unique protest outside Chief Minister Sheila Dikshit's residence today demanding the inclusion of the community in the Scheduled Tribes (ST) category.
GPS-fitted stolen car recovered; interstate gang busted
New Delhi, April 25
With the help of global positioning system (GPS) installed in the vehicles, a stolen car was recovered and a gang of interstate car jackers, who used to rob luxury cars and then used to dispose them of to various buyers in Haryana and UP, was busted.
Three held for duping
New Delhi, April 25
The Delhi police has arrested three persons involved in duping ATM card users, especially PNB ATM card holders, on the pretext of facilitating them to withdraw money from ATM machines.
MCD ward, standing committee elections on May 5, 6
New Delhi, April 25
The elections for the posts of chairman and deputy chairman of various ward committees of the Municipal Corporation of Delhi (MCD) and six members of the standing committee will be held on May 5 and 6.
Case against official for illegal property transfer
Ghaziabad, April 25
A criminal case was today registered against a Nagar Palika official for allegedly transferring some properties of Sunni Waqf Board in the name of his relative, the police said.