FARMING FOR THE MARKET
With the growing consumerism due to an increase in disposable incomes, a higher level of education, increasing urbanisation and the changing tastes of the younger generation, a consumption-oriented market system is becoming more effective than the one driven by production
Joginder Singh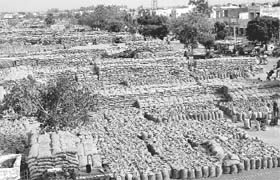 Open storage of food grains is common Photo J.S. Virdi
The Green Revolution, which was ushered in the mid-sixties in Punjab, faded away in the early nineties, leaving agriculture to struggle for its mere sustainability. This is apparent from the fast-sliding compound growth rate in this sector from 5.37 per cent in the Sixth Plan to 1.90 per cent in the Ninth Plan and 2.28 per cent in the Tenth Plan period. Without visualising emerging problems, the political, economic and social systems continued to thrive on the past performance.
Apparently, there is little scope for improvement in productivity of food-grain crops due to technology fatigue. The government and policy planners kept high hopes on the research systems without rectifying the policies, particularly in terms of inadequate funding the research and development, lack of initiative for value addition, non-economic use of a huge mass of crop residue, encouraging overuse of most precious resources such as electricity and water and paralysed export infrastructure.
With the taking off of the state economy during the Green Revolution era, there was a strong need for shifting people from agriculture to manufacturing and the service sector. This process demanded a fast growth of these sectors. In Punjab the banking, insurance, communication and trade, tourism, construction and manufacturing sectors did not catch up with the growth of majority of other states. Hence as much as about 33 pe cent of the gross state domestic product of Punjab is still contributed by the slow-growing agriculture sector whereas almost all right thinking states of the country are concentrating more on the secondary and tertiary sectors.
Diversification
The farm sector is facing serious environmental problems due to the declining water resources, deteriorating soil health, direct human health hazards caused by pesticide residues, air pollution etc. About 30 million tonnes of crop residues are burned every year in Punjab. This calls for immediate attention of its use for livestock, degeneration as humus for soil, making industrial use such as manufacture of cardboard, paper, packing material, energy generation etc.
There exists a vast production potential of various alternative crop and livestock enterprises which can replace rice and wheat crops but their contribution to the overall production is not responding due to lack of processing and other value addition processes, domestic market and export infrastructure. Still on paper, diversification of agriculture is our motto. In the light of this, our planners are unsuccessfully forcing some unviable crops such as soybean, banana etc whereas their roots are refusing to enter the soil. In the attempt at diversification, clear-cut agro-climatic regions should be used as guiding indicators.
The state has south-western districts covering about 7.5 lakh hectares as a clear-cut demarcated cotton belt having brackish underground water. Following a long spell of failure of cotton, the paddy crop infiltrated this area and farmers had to explore deep groundwater by investing in submersible tubewells. Now, the cotton crop is on the recovery path, particularly with the introduction of Bt varieties. Apart from offering diversification possibility of agriculture from rice to cotton on another about two lakh hectares in the state, it has a high potential of employment and value addition in the secondary and tertiary sectors.
The production of fruits, vegetables and various other farm products can be accelerated in the state but lack of processing facilities due to their seasonal production, high carry-over cost and lack of processing attributes are some hindrances. About 9 per cent of the geographical area of the state along the Shivalik hill range having undulating topography, popularly known as Kandi belt, which by default, is more suitable for organic farming of horticultural crops such as fruits, vegetables, spices due to agro-climatic conditions. This could be encouraged through training, developing internal and external inspection system, and encouraging Self Help Groups of farmers. All these examples highlight the role of processing industry in not just processing products but also contributing to R&D for boosting production of their raw materials.
Supply chain management
To ease the situation within agriculture, it is suggested to strive for the Second Green Revolution through value addition. Most of the potential alternative produce is highly perishable and requires special treatment with quick transportation, delicate handling, storage at specific low temperature, processing in different forms, scientific packaging, sound market information and outlook services and development of export infrastructure. Now, the question is that what can be the most suitable agency to carry it out. Incurring such heavy investments is obviously not within the reach of an average farmer who is handicapped by constrains of inadequate resources. A vast majority of farmers' cooperatives have not been successful due to various technical, administrative and social reasons and thus lack initiatives to take up such activities. Autonomous investment is also a remote possibility as the state government has already washed off its hands with the excuse that it is starved of financial resources, obviously due to various measures adopted on different fronts. The initiation of contract farming was an interesting positive step taken by the state government a few years back. This experiment too could not succeed due to a number of obvious reasons, especially inbuilt constraints and over-interference of the government. The buying agencies thrived on trading rather than appropriate value addition processes. Still the only ray of hope is investments by big business houses with backward and forward linkages in spite of certain possibilities of certain exploitative practices.
Consumer is king
The fact remains that our farmer got expertise on production system, which he has nicely demonstrated on the ground. Now with the opening up of the economy, we need to view the things in diametrically opposite perspective. The production system has to be volatile to cater to consumers' requirements. To capture the need of well-to-do sections of society in terms of consumer's taste, product quality, safety, nutrition aspects etc, the essential services are required to be provided, necessitating the opening of retail chain stores in the state. Therefore, to demonstrate the technical and pricing efficiency, organised retailing through horizontal and vertical market linkages, harnessing the scale economies can be a feasible solution. Moreover, with growing consumerism due to an increase in the disposable income, a higher level of education and urbanisation and the changing tastes of the younger generation, a consumption-oriented rather than production-oriented market system is becoming more effective with the passage of time. Let the successful farmers' cooperatives and individual farmers also coordinate and compete within the system. Going a step further, the market view should not be limited only to domestic consumers but also to potential global markets.
Market information is another important dark area which, if cared for prudently, can help in facilitating the process further. Marketing innovations are coming up at a fast rate and sale, which was once effected on the physical display of produce, is now done by samples, by quality description, by grade standards or even by display on the internet. Therefore, a regular monitoring of the domestic and global markets by taking stock of demand, prices, quality requirements and other market forces along with the tariff structure is needed for guidance to farmers and market agencies to facilitate their safe entry. Since small farmers do not have the capacity to develop such market infrastructure, it is for the state to work through the farmers' commission in this direction for some worthwhile performance.
The writer is a former Prof. & Head, Department of Economics & Sociology, PAU, Ludhiana.