M A I N N E W S
Special to the tribune
Pak pushed to the wall over Osama taint
Pakistan has a lot of explaining to do;
US says Islamabad was in the know of Laden shelter
Ashish Kumar Sen in Washington DC
Osama bin Laden's death in a firefight with US forces in a million-dollar mansion 30 miles outside Islamabad has raised questions about Pakistan's complicity in concealing the Al-Qaida leader.
"I think it is inconceivable that Laden didn't have a support system in the country that allowed him to remain there for an extended period of time," John Brennan, US President Barack Obama's counterterrorism adviser, told reporters on Monday.
Laden was killed on Sunday after he was tracked to a compound in the garrison city of Abbottabad, located close to the elite Pakistani Military Academy at Kakul town.
Last week, Pakistan's Army chief, Gen Ashfaq Parvez Kayani, told graduating cadets at the academy that the "back of terrorism" in Pakistan had been broken.
Hamid Gul, a former chief of the ISI, said Laden was in Abbottabad unknown to authorities "is a bit amazing."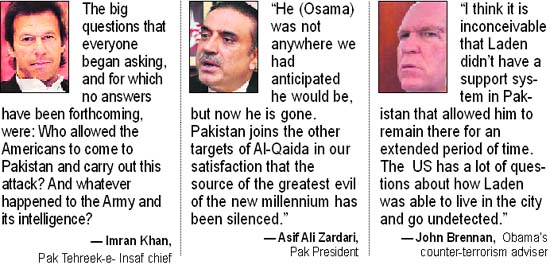 Apart from the military, "there is the local police, the Intelligence Bureau, military intelligence and the ISI. They all had a presence there," said Gul, according to an Associated Press report.
Members of the Congress and analysts said the pressure was now on Pakistan to reveal when it first knew about the Al-Qaida leader's whereabouts.
Sen Joe Liebermann, Connecticut Independent, told MSNBC that the "burden of proof... is on the Pakistanis to convince us that they really did not know" where Laden was hiding. Sen Susan Collins, Maine Republican, accused Pakistan of playing a "double game."
Pakistan's civilian and military leadership have insisted for years that Laden and his deputy, Ayman al-Zawahiri, are not in Pakistan or that they are hiding in the mountainous tribal belt along the Afghan-Pakistan border. Instead, Laden was found living comfortably in a $1 million mansion in a town where affluent families reside.
"We are very concerned that he was inside Pakistan," a senior US official told reporters in a background briefing early on Monday.
Previously, Al-Qaida No. 3, Abu Faraj Al-Libbi and September 11 plotter Khalid Shaikh Mohammed were both captured in residential areas in Pakistan.
"What this shows is that Pakistan has been complicit with Osama bin Laden; that they have sheltered him," Michael Rubin, a resident scholar at the American Enterprise Institute for Public Policy Research, told reporters on Monday.
"Even if Pakistani diplomats have been sincere, the fact of the matter is that the ISI seems to have been running the show and the diplomats were quite irrelevant," he added.
Joshua Foust, a fellow at the American Security Project and former Defense Intelligence Agency analyst, told The Tribune that Laden's location made him question "how much the Pakistani Government really knew, and how believable their denials of his whereabouts really were."
Ayesha Siddiqa, an Islamabad-based political analyst, said: "All fingers are now pointed at Pakistan."
The US team did not encounter any Pakistani authorities during the operation.
Foust said it was interesting that Pakistani forces, which have previously fired on US helicopters, did not respond for 45 minutes. "We're not getting the full story on Pakistan's involvement," he said.
Last month, CIA Director Leon E. Panetta met ISI chief Lt Gen. Shuja Pasha in Washington.
Siddiqa said if the operation against Laden was the result of an agreement reached between the two spy chiefs, US-Pakistan relations will remain tense but intact.
The ties between the two countries have been strained in recent months by the revelation ofthe identity of theCIA's station chief in Islamabad, an incident involving CIA contractor Raymond Davis, who killed two Pakistanis in Lahore on January 27; and a covert US drone program that targets suspected terrorists in Pakistan.
C. Christine Fair, an assistant professor at Georgetown University's Center for Peace andSecurity Studies, saidthe repercussions of Laden's death on the US-Pakistan relationship would be determined by the role Pakistan played in the mission.
"Did they help in anyway with his capture... or did they facilitate his safety? After all, he was in Abbottabad, not Wana," she said referring to a Pakistani town in the South Waziristan agency near the Afghan border.
A senior US intelligence official, who briefed reporters on background, said the Pakistani authorities were unaware of US interest in the compound, but did provide information related to it "to help us complete the robust intelligence case that... eventually carried the day."