Praising Modi isn't fair
He deserves to be punished
by Kuldip Nayar
POLITICIANS often make loaded remarks to convey what they have in mind without spelling it out explicitly. However, when a country's Prime Minister takes to such an exercise, it means he wants to say something specific but does not like to face the storm it might evoke.
Prime Minister Manmohan Singh has said at Kolkata that Gujarat Chief Minister Narendra Modi has given more jobs to Muslims than the Left Front government in West Bengal. He may be factually correct. But does this lessen Mr Modi's crime of planning and executing the killing of Muslims in 2002? Roughly 3,000 Muslims were killed and many more thousands looted and ousted from their homes and lands.
If Mr Modi has given some jobs to Muslims, he has not in any way made amends for his diabolical scheme of ethnic cleansing. It is unfortunate that the Prime Minister should commend Mr Modi at a crucial state election campaign. In a way, he has tried to cover up the biggest mass murder after Independence.
This uncalled for praise of Mr Modi is ominous in many ways. The Supreme Court has appointed a Special Investigation Team (SIT) to reopen the cases of fake encounters and other crimes. The Gujarat government and, more so, Mr Modi is in the dock. Do the Prime Minister's remarks reflect in any way the Central government's thinking on the judgment? The verdict is yet to be delivered. Mr Modi has already started preparing the ground for criticising the judgment.
Some 14 policemen, who are being prosecuted, have said that they have no faith in the SIT inquiry. Another disclosure has tumbled out of the state's cupboard. This time the state Inspector-General of Police Sanjeev Bhatt has spilled the beans. He has said in an affidavit that Mr Modi wanted the police to let Hindus "ventilate their feelings" and "teach a lesson to the Muslims". The police officer was referring to a top-level meeting on February 27 after the Godhara incident when a train compartment was set on fire in which some Hindu "kar sevaks" were burnt to death.
I have had no doubt about Mr Modi's involvement from day one. When I visited Ahmedabad two days after the killings and talked to men and women in refugee camps, I could reconstruct a story of a pre-meditated murder of Muslims in the entire Gujarat state and their forcible eviction from their homes and hearths. It was a familiar pattern of killing and looting, with the police staying at a distance.
At that time, I was a Member of Parliament and wielded some authority. The present chief secretary held this post when the killings took place. I admonished him for not taking action against the mob with swords and even guns. He explained to me that it was the failure of the law and order machinery. Little did I know at that time that the law and order machinery was part of a pogrom that was carried out. Subsequent disclosures made it clear that the government was an active participant.
Looking back, it is apparent that India's secular polity did little even after knowing Mr Modi's culpability. Seven years ago the Supreme Court took notice of the fake encounters for the first time. It appointed the SIT under its own supervision. Even though late, the entire conspiracy is being peeled out like the skin of an onion. The SIT has submitted its report to the Supreme Court with the finding on whether Mr Modi had actually ordered police officers to take no action against rioters.
One person who could have taken action against Mr Modi was Bharatiya Janata Party's Prime Minister Atal Bihari Vajpayee during whose tenure the massacre took place. I believe that he wanted to dismiss Mr Modi. But the RSS, the BJP's mentor, and leaders like Mr L.K. Advani did not allow the Prime Minister to act. On his own, Mr Vajpayee did not have the political support to take on the RSS and Mr Advani at the same time.
However, lack of action does not change the fact of Mr Modi's involvement. A police official has said that Mr Bhatt was not present at the meeting where Mr Modi had given the instructions. But Mr Bhatt's driver has told the media that he drove his boss to Mr Modi's bungalow for the meeting. Strange, the entire campaign of the government is directed at denying Mr Bhatt's presence at the meeting. More important is his affidavit which leaves no doubt about Mr Modi's guilt.
All eyes are focused on the Supreme Court, although there are allegations that the SIT has been selective in admitting evidence. Mr Bhatt's affidavit was not even considered when he submitted it for the first time. Whether his fresh affidavit was taken into account before the SIT gave its report is not known.
The question which the Government of India has to answer is whether it would take any action at all. If it were a matter of moral responsibility, the Chief Minister should have quit long ago. Instead, Mr Modi has built a campaign to show how Gujarat has achieved 12 per cent growth rate and how his tight administration was an example for the rest of the country. In fact, top industrialists had been taken in by this propaganda when they met at Ahmedabad two years ago to declare Mr Modi as the best person to be the country's Prime Minister. These things hardly matter against what Mr Modi did in 2002.
Ultimately, the Centre will have to decide how to punish Mr Modi. I do not think that the Manmohan Singh government or, for that matter, the Sonia Gandhi-headed Congress has the gumption to do anything even if the Supreme Court passes strictures against Mr Modi, without directly blaming the Chief Minister. The Prime Minister's remark at Kolkata indicates his attitude.
What the nation has to worry about is that one Modi has distorted India's ethos of pluralism. That he has brainwashed most Gujaratis is a dangerous development. He won the state election even after "ordering" the massacre. The very ideology of secularism is endangered if Mr Modi gets away with what he did. This is the reason why the Constitution makers had laid down that the Centre could impose President's rule if there was the breakdown of law and order in a state. Political considerations came in the way of what should have been done nine years ago. His government should have been dismissed. Should the Centre be dependent on political exigencies?
It would be a tragedy if such planned killings as happened in Gujarat are decided in a way where the main culprit gets the benefit of doubt. Mr Modi's is a test case for the entire nation, particularly the minorities. Neither the court nor the Centre can afford to play with India's democratic and secular polity.

Wired to World Cup
by Neha Wattas
IF you ever watched ads on Willow TV (online cricket broadcaster in the US) you would think that NRIs live rather insipid lives. First they try finding a life partner on websites such as bharatmatrimony.com. Then after 'settling down', they shop for life insurance and then spend the rest of their spare time happily sending money to India using every wire transfer service under the sun.
With a little chagrin, I have to admit that on most days, these stereotypes wouldn't be completely off the mark. However, the recent tour de force, the cricket World Cup Final, impacted the lives of some of us Chicago Indians in a deeply inspiring way.
Fifty zealous University of Chicago MBA students were cloistered in a media room for 8 hours starting at the wee hour of 4 am shivering in the North American chill. Some of us were still recovering from the hangover of the Indo-Pak semi-final match, which we had the privilege of watching with our Pakistani classmates. It was an incredible opportunity to share great cricketing moments with friends from the opposing team - something one doesn't get to experience very often in India.
So, for the finals clash, we invited our 'token' Sri Lankan classmate, Ruba, to join us. The combination of morning coffee and samosas was so potent that when Dhoni hit the winning six, the room exploded with a burst of energy that even Ruba couldn't resist cheering!
In spite of the distance, we were wired to our country, ball by ball, on this historic event. When Ravi Shastri shouted out to the two billion cricket viewers all over the world, his voice was heard by each one of us. Our eyes moistened when Team India cried tears of joy. We felt uplifted beyond words by the courage, honour and humility demonstrated by both sides.
A ton of emotions were wire transferred to the Wankhede Stadium that day, but something even bigger had stirred within us. At some level, the Indian captain's cool-headed, courageous leadership and the younger team members' self-assurance under extreme pressure marked the beginning of a new era of Indian individuality for the rest of the world to witness.
The moments after the awards ceremony were a manic blur. In our hearts, we were dancing on the streets of 'Mumbai' while we were actually jumping with ecstasy on Chicago's Michigan Avenue, much to the bewilderment of unknowing American bystanders. The celebrations continued with a big buffet at our favourite Indian restaurant where Ruba was granted honorary 'desi-hood' after she agreed to complete the arduous rite of passage of gobbling an entire mango kulfi.
In Yuvi's words, it was indeed a 'good night', even for the Chicago Indians. By the next morning, the bolt of adrenaline had finally worn off; but sobriety was nowhere to be found. The mantle of 'World Champions' is something we might just have to get used to.

A close encounter with osama bin laden
Robert Fisk

ONE hot evening in late June 1996, the telephone on my desk in Beirut rang with one of the more extraordinary messages I was to receive as a foreign correspondent. "Mr Robert, a friend you met in Sudan wants to see you," said a voice in English but with an Arabic accent. At first I thought he meant another man, whose name I suggested. "No, no, Mr Robert, I mean the man you interviewed. Do you understand?" Yes, I understood. And where could I meet this man? "The place where he is now," came the reply. I knew that Bin Laden was rumoured to have returned to Afghanistan but there was no confirmation of this. So how do I reach him? I asked. "Go to Jalalabad - you will be contacted."
A month later, someone was banging a set of car keys against the window of my room in the Spinghar Hotel. "Misssster Robert," a voice whispered urgently. "Misssster Robert." He hissed the word "Mister." Yes, yes, I'm here. "Please come downstairs, there is someone to see you." It registered only slowly that the man must have climbed the ancient fire escape to reach the window of my room. I dressed, grabbed a coat - I had a feeling we might travel in the night - and almost forgot my old Nikon. I walked as calmly as I could past the reception desk and out into the early afternoon heat. He said his name was Mohamed, he was my guide. "To see the Sheikh?" I asked. He smiled but said nothing.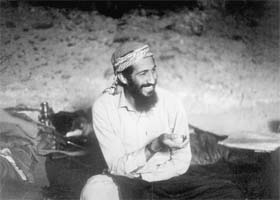 I followed Mohamed all the way through the dust of Jalalabad's main street until we arrived next to a group of gunmen in a pick-up truck in the ruins of an old Soviet army base, a place of broken armoured vehicles with a rusting red star on a shattered gateway. There were three men in Afghan hats in the back of the pick-up. One held a Kalashnikov rifle, another clutched a grenade-launcher along with six rockets tied together with Scotch tape. The third nursed a machine gun on his lap, complete with tripod and a belt of ammunition. "Mr Robert, these are our guards," the driver said quietly, as if it was the most normal thing in the world to set off across the wilds of Afghanistan's Nangarhar province under a white-hot afternoon sun with three bearded guerrillas. By dusk, we had reached a series of cramped earthen villages, old men burning charcoal fires by the track, the shadow of women cowled in the Afghan burka standing in the alleyways.
Mohamed beckoned me to follow him and we skirted a small river and jumped across a stream until, in the insect-filled darkness ahead, we could see a sputtering paraffin lamp. Beside it sat a tall, bearded man in Saudi robes. Osama bin Laden stood up, his two teenage sons, Omar and Saad, beside him. "Welcome to Afghanistan," he said.
He was now 40 but looked much older than at our last meeting in the Sudanese desert late in 1993. Walking towards me, he towered over his companions, tall, slim, with new wrinkles around those narrow eyes. Leaner, his beard longer but slightly flecked with grey, he had a black waistcoat over his white robe and a red-chequered kuffiah on his head, and he seemed tired. When he asked after my health, I told him I had come a long way for this meeting. "So have I," he muttered. There was also an isolation about him, a detachment I had not noticed before, as if he had been inspecting his anger, examining the nature of his resentment; when he smiled, his gaze would move towards his 16-year-old son Omar - round eyes with dark brows and his own kuffiah - and then off into the hot darkness where his armed men were patrolling the fields.
Just 10 days before, a truck bomb had torn down part of the US Air Force housing complex at al-Khobar in Dhahran, Saudi Arabia, and we were speaking in the shadow of the deaths of the 19 US soldiers killed there. And Bin Laden knew what he wanted to say. "Not long ago, I gave advice to the Americans to withdraw their troops from Saudi Arabia. Now let us give some advice to the governments of Britain and France to take their troops out - because what happened in Riyadh and al-Khobar showed that the people who did this have a deep understanding in choosing their targets. They hit their main enemy, which is the Americans. They killed no secondary enemies, nor their brothers in the army or the police in Saudi Arabia... I give this advice to the government of Britain." He said the Americans must leave Saudi Arabia, must leave the Gulf. The "evils" of the Middle East arose from America's attempt to take over the region and from its support for Israel. Saudi Arabia had been turned into "an American colony".
Bin Laden was speaking slowly and with precision, an Egyptian taking notes in a large exercise book by the lamplight like a Middle Ages scribe. "This doesn't mean declaring war against the West and Western people - but against the American regime which is against every American." I interrupted Bin Laden. Unlike Arab regimes, I said, the people of the United States elected their government. They would say that their government represents them. He disregarded my comment. I hope he did. For in the years to come, his war would embrace the deaths of thousands of American civilians. "The explosion in al-Khobar did not come as a direct reaction to the American occupation," he said, "but as a result of American behaviour against Muslims, its support of Jews in Palestine and of the massacres of Muslims in Palestine and Lebanon - of Sabra and Chatila and Qana - and of the Sharm el-Sheikh conference."
But what Bin Laden really wanted to talk about was Saudi Arabia. Since our last meeting in Sudan, he said, the situation in the kingdom had grown worse. The ulema, the religious leaders, had declared in the mosques that the presence of American troops was not acceptable and the government took action against these ulema "on the advice of the Americans". For Bin Laden, the betrayal of the Saudi people began 24 years before his birth, when Abdul Aziz al-Saud proclaimed his kingdom in 1932. "The regime started under the flag of applying Islamic law and under this banner all the people of Saudi Arabia came to help the Saud family take power. But Abdul Aziz did not apply Islamic law; the country was set up for his family. Then after the discovery of petroleum, the Saudi regime found another support - the money to make people rich and to give them the services and life they wanted and to make them satisfied." Bin Laden was picking away at his teeth with that familiar twig of mishwak wood, but history - or his version of it - was the basis of almost all his remarks.Bin Laden sometimes stopped speaking for all of 60 seconds in order to reflect on his words.Bin Laden had asked me - a routine of every Palestinian under occupation - if Europeans did not resist occupation during the Second World War. I told him no Europeans would accept this argument over Saudi Arabia - because the Nazis killed millions of Europeans yet the Americans had never murdered a single Saudi. Such a parallel was historically and morally wrong. Bin Laden did not agree. "We as Muslims have a strong feeling that binds us together... We feel for our brothers in Palestine and Lebanon... When 60 Jews are killed inside Palestine" - he was talking about Palestinian suicide bombings in Israel - "all the world gathers within seven days to criticise this action, while the deaths of 600,000 Iraqi children did not receive the same reaction." It was Bin Laden's first reference to Iraq and to the United Nations sanctions that were to result, according to UN officials themselves, in the death of more than half a million children. For some time, there had been a steadily growing thunderstorm to the east of Bin Laden's camp and we could see the bright orange flash of lightning over the mountains on the Pakistan border. But Bin Laden thought this might be artillery fire, the continuation of the inter-mujahedin battles that had damaged his spirit after the anti-Soviet war. He was growing uneasy. He broke off his conversation to pray. Then, on the straw mat, several young and armed men served dinner - plates of yoghurt and cheese and Afghan naan bread and more tea. Bin Laden sat between his sons, silent, eyes on his food.
I said to Bin Laden that Afghanistan was the only country left to him after his exile in Sudan. He agreed. "The safest place in the world for me is Afghanistan." It was the only place, I repeated, in which he could campaign against the Saudi government. Bin Laden and several of his Arab fighters burst into laughter. "There are other places," he replied. "There are several places where we have friends and close brothers - we can find refuge and safety in them." I told Bin Laden he was already a hunted man. "Danger is a part of our life," he snapped back.
He began talking to his men about amniya, security, and repeatedly looked towards those flashes in the sky. Now the thunder did sound like gunfire. I tried to ask one more question. What kind of Islamic state would Bin Laden wish to see? Would thieves and murderers still have their hands or heads cut off in his Islamic sharia state, just as they do in Saudi Arabia today? There came an unsatisfactory reply. "Islam is a complete religion for every detail of life. If a man is a real Muslim and commits a crime, he can only be happy if he is justly punished. This is not cruelty. The origin of these punishments comes from God through the Prophet Mohamed, peace be upon him." Dissident Osama bin Laden may be, but moderate never. I asked permission to take his photograph, and while he debated this with his companions I scribbled into my notebook the words I would use in the last paragraph of my report on our meeting: "Osama bin Laden believes he now represents the most formidable enemy of the Saudi regime and of the American presence in the Gulf. Both are probably right to regard him as such." I was underestimating the man.
Yes, he said, I could take his picture. I opened my camera and allowed his armed guards to watch me as I threaded a film into the spool. Without warning, Bin Laden moved his head back and the faintest smile moved over his face, along with that self-conviction and that ghost of vanity which I found so disturbing. He called his sons Omar and Saad and they sat beside him as I took more pictures and Bin Laden turned into the proud father, the family man, the Arab at home.
Then his anxiety returned. The thunder was continuous now and it was mixed with the patter of rifle fire. I should go, he urged, and I realised that what he meant was that he must go, that it was time for him to return to the fastness of Afghanistan. When we shook hands, he was already looking for the guards who would take him away.
— The Independent
This is an edited extract from 'The Great War For Civilisation', by Robert Fisk, published by Harper Perennial (£13.99)


My deadliest moment with the world's most dangerous men
19 March 1997. There was a sudden scratching of voices outside the tent, thin and urgent like the soundtrack of an old movie. Then the flap snapped up and Bin Laden walked in, dressed in a turban and green robes. I stood up, half bent under the canvas, and we shook hands, both of us forced by the tarpaulin that touched our heads to greet each other like Ottoman pashas, bowed and looking up into the other's face. Again, he looked tired, and I had noticed a slight limp when he walked into the tent. His beard was greyer, his face thinner than I remembered it. Yet he was all smiles, almost jovial, placing the rifle which he had carried into the tent on the mattress to his left, insisting on more tea for his guest. For several seconds he looked at the ground. Then he looked at me with an even bigger smile, beneficent and, I thought at once, very disturbing.
"Mr Robert," he began, and he looked around at the other men in combat jackets and soft brown hats who had crowded into the tent. "Mr Robert, one of our brothers had a dream. He dreamed that you came to us one day on a horse, that you had a beard and that you were a spiritual person. You wore a robe like us. This means you are a true Muslim." This was terrifying. It was one of the most fearful moments of my life. I understood Bin Laden's meaning a split second in front of each of his words. Dream. Horse. Beard. Spiritual. Robe. Muslim. The other men in the tent were all nodding and looking at me, some smiling, others silently staring at the Englishman who had appeared in the dream of the "brother". I was appalled. It was both a trap and an invitation, and the most dangerous moment to be among the most dangerous men in the world. I could not reject the "dream" lest I suggest Bin Laden was lying. Yet I could not accept its meaning without myself lying, without suggesting that what was clearly intended of me - that I should accept this "dream" as a prophecy and a divine instruction - might be fulfilled. For this man to trust me, a foreigner, to come to them without prejudice, that was one thing. But to imagine that I would join them in their struggle, that I would become one with them, was beyond any possibility. The coven was waiting for a reply.
Was I imagining this? Could this not be just an elaborate, rhetorical way of expressing traditional respect towards a visitor? Was this not merely the attempt of a Muslim to gain an adherent to the faith? Was Bin Laden really trying - let us be frank - to recruit me? I feared he was. And I immediately understood what this might mean. A Westerner, a white man from England, a journalist on a respectable newspaper - not a British convert to Islam of Arab or Asian origin - would be a catch indeed. He would go unsuspected, he could become a government official, join an army, even - as I would contemplate just over four years later - learn to fly an airliner. I had to get out of this, quickly, and I was trying to find an intellectual escape tunnel, working so hard in digging it that my brain was on fire.
"Sheikh Osama," I began, even before I had decided on my next words. "Sheikh Osama, I am not a Muslim." There was silence in the tent. "I am a journalist." No one could dispute that. "And the job of a journalist is to tell the truth." No one would want to dispute that. "And that is what I intend to do in my life - to tell the truth." Bin Laden was watching me like a hawk. And he understood. I was declining the offer. In front of his men, it was now Bin Laden's turn to withdraw, to cover his retreat gracefully. "If you tell the truth, that means you are a good Muslim," he said. The men in the tent in their combat jackets and beards all nodded at this sagacity. Bin Laden smiled. I was saved.