M A I N N E W S
Canada elections 2011
Loyalty shift costs Indo-Canadians two nominees
Prabhjot Singh
Tribune News Service


All five sitting Indo-Canadian Liberal MPs lose
Jasbir Sandhu and Jinny Sims become the first Indo-Canadian to represent NDP in House of Commons
All four sitting Indo-Canadian Conservative MPs win
Nina Grewal and Jinny Sims are the lone Indo-Canadian women to make it to the 41st House of Commons
Chandigarh, May 3
A gradual and visible shift in loyalty from its traditional favourite Liberals to the ruling Conservatives saw the 1.5 million-strong Indo-Canadian community sending eight of its nominees to the 41st House of Commons against nine that it had in the last House.
As Conservatives stormed to their first clear majority in the House of Commons, the strength of Indo-Canadians on the Treasury Benches will now be six against four in the last House.
In addition to the sitting MPs - Nina Grewal, Tim Uppal, Deepak Obhrai and Devinder Shorey - the Conservatives snatched two seats from sitting Indo-Canadian Liberals - Gurbax Malhi and Ruby Dhalla - in Ontario to improve their tally this time.
The The seventh Indo-Canadian MP is Jasbir Sandhu who becomes the first NDP candidate to sit in the House of Commons. He won from Surrey North.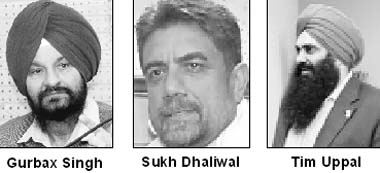 The remaining two Indo-Canadian MPs are Jasbir Sandhu and Jinny Sims who incidentally became the first ever NDP men and women candidates, respectively, to sit in the House of Commons. While Jasbir Sandhu won from Surrey North, Jinny Sims was declared elected from Newton-North Delta.
Interestingly Jinny Sims, a teachersí union president, defeated sitting liberal MP Sukh Dhaliwal. It was in Newton-North Delta riding that Mani Fallon (Conservatives), another Indo-Canadian woman, was among unsuccessful candidates.
Among the major losers this time were former Federal Health Minister and first Indo-Canadian Premier of British Columbia Ujjal Dosanjh.
Though in the 2008 elections, Ujjal had narrowly defeated Wai Young (Conservative) by 20 votes after a judicial recount, he could not maintain his winnability and lost convincingly this time as the Liberal citadel collapsed not only in British Columbia, but also in Ontario.
It was in British Columbia that Sukh Dhaliwal (Newton-North Delta) also lost on the Liberal ticket.
Also among the Liberalsí losers was Gurbax Singh Malhi, five-time winner from Bramela-Malton-Gore Gaon. He lost to Bal Gosal of the Conservatives in a fight that saw youngster Jagmeet Singh (NDP) put up a splendid fight. While Malhi finished a poor third, Jagmeet almost caught up with Bal Gosal in a virtual unpredicted Conservative wave.
Glamour girl of Liberals, Ruby Dhalla, too lost convincingly in Brampton-Springdale to fellow Indo-Canadian Parm Gill.
Another three-time Liberal MP Navdeep Singh Bains was also defeated in Missisauga-Brampton South. He lost to Eve Adams of Conservatives convincingly.
Deepak Obhrai perhaps recorded the biggest win by polling more than 67 per cent of total votes in Calgary East. Equally impressive wins were recorded by Tim Uppal in Edmonton-Sherwood Park and Devinder Shorey in Calgary Northeast ridings.
Nina Grewal made her fourth entry in the House of Commons defeating among others a fellow Indo-Canadian woman Pam Dhanoa of Liberals.
Jasbir Sandhu (NDP) beat among others Shinder Purewal of Liberals in the Surrey North.