M A I N N E W S
Air India pilots call off strike
Operations to normalise in 2 days
Vibha Sharma/TNS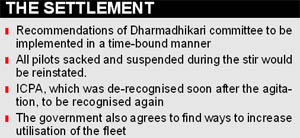 New Delhi, May 6
Air India pilots called off their 10-day-old agitation late Friday after the government assured them that the Dharmadhikari committee set up to harmonise wages of employees of erstwhile Indian Airlines and Air India would submit its report by November and its recommendations would thereafter be implemented in a time-bound manner.
Air India operations will commence tonight and is expected to be normalised over the next two days, an airline official said.
Emerging after five hours of negotiations with the Civil Aviation Ministry officials, Indian Commercial Pilots Association (ICPA) leaders said all pilots sacked and suspended during the stir would be reinstated. ICPA, which was de-recognised soon after the agitation started by the Air India management, would be recognised again. The government also agreed to find ways to increase utilisation of the fleet, something that would bring pilots extra flying hours and more money.
While the situation may appear to stand exactly where it was the day pilots decided to ground the cash-strapped Air India, the strike has brought to the focus crucial issues staring at the national carrier.
ICPA general secretary Rishabh Kapoor maintained that the decision to rejoin work came after concrete assurances from the government that all their demands would be looked into. "The government has given us assurances that they will look into all our demands, including our complaints of irregularities against the airline management," ICPA president AS Bhinder added.
The pilots negotiated for 75 hours of fixed flying along with fixed monthly allowance to match their counterparts from the erstwhile Air India but the government maintained that it was not just them, but the future of around 40,000 Air India employees had to be considered before taking any decision. Therefore, permanent solution to the issue of pay parity would only be resolved after the Dharmadhikari committee report was implemented.
As situation stand now, terminated pilots have been reinstated and the government has withdrawn the decision to de-recognise their union, Indian Commercial Pilots Association. The pilots, however, say the difference is that now a time frame has been set to resolve issues of pay parity. The strike has also brought back into the focus mismanagement in the airline. Air India is understood to be staring at a loss of over Rs 13,000 crore. The Comptroller and Auditor General of India, in fact, believes that Air India incurred Rs 10,000 crore loss because it was forced into buying 111 aircraft that were not needed. While the mega acquisition is among the main reason why the Maharaja is bleeding, withdrawal and cancellation of profitable routes in the name of consolidation is also a matter of inquiry.