Synergising the drivers
The story of Indian defence technology is one of unexpected miracles and unacceptable failures. Indian defence technology is at the crossroads today, with each of the stakeholders and its drivers wanting to take a different road resulting in an impasse. The answer lies in an Indian military industrial commission that would visualise, coordinate and synergise all efforts of military, research and industrial establishments
Vice Admiral Venkat Bharathan & Brig (Dr) Arun Saghal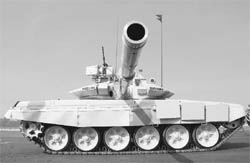 A Russian-made T-90 tank on parade during Army Day. The post-Independence policy of non-alignment coupled with inadequate indigenous defence technology has resulted in a peculiar situation, with the Indian military remaining a British clone, mostly using Russian equipment with Western doctrines in South Asian terrain
The philosophy of approach in Military technology is based on the concept of purpose, vision of intent, potency in performance and relevancy in role, together with effectiveness in execution and purposeful in performance. Sixty years down the line and four wars in our fledgling democratic history, the story of defence technology is one of unexpected miracles and unacceptable failures. Indian defence technology is at the cross roads today.
There are four roads for us to take. These are:
l The Import Highway
l The Indigenous Route
l The Private Path
l The Nowhere Road
In our context, the technology omnibus has five concurrent drivers, which include:
l The Indian Military
l The DRDO & DPSUs
l The Private Sector
l The Political leadership
l The People of India
Of the first three, each want to take a different road. Each one is correct and each one is wrong. The fourth diver lacks understanding while the fifth is passive and perhaps indifferent. Since no consensus is emanating, the omnibus has driven itself mostly to the fourth road.
The most important aspect of this impasse is that the import highway is used by outsiders as a quick fix to show their advanced technology hardware much to the relief and delight of the operationally hard-pressed military concerned about its dwindling operational preparedness. It naturally wants to induct equipment within an acceptable time frame so that it would serve them optimally.
The Indian (indigenous) route is slowly gaining in traction and progressively finding its niche, thanks to the persistence of the government that has sensed the wisdom of allowing the import highway and Indian route to coexist in the interim.
The private path has just begun to be paved, remains dependent upon on both the military and Defence Research and Development Organisation (DRDO) and the Defence Public Sector Undertaings (DPSUs). Increased participation with greater access to technology is key to Indianisation.
The "Nowhere road" is an illusion. It looks real and good close at hand, but is actually a shimmering mirage. Our country had no choice but to be on this road. Post-Independence, India chose to be non-aligned. The West shunned us and ensured that even Great Britain did not pass on any military technology. If we missed the industrial revolution in the distant past, we missed the technological evolution of the late 19th and early 20th century. Compounding this is the ironic reality of the Indian political leadership's approach of separating foreign and security policy. Consequently, development of defence technology remained far removed from the politico-bureaucratic-military mind.
Resultantly, the Indian military remained a British clone, mostly using Russian equipment, with western doctrines in South Asian terrain -- an enigma to itself and the world.
Establishment of indigenous research and development (R&D) facilities in terms of DRDO has the embryonic flaw of being hierarchical, with seniority taking priority over talent and innovation. The promotion structure, the pulls and pushes of the annual confidential reports, often result in the sacrifice of true R&D. The armed forces are also obtuse in their appreciation of what military technology development entail. Most ironically, the concept of tasking DRDO to develop a felt need or upgrade an existing system was rarely contemplated.
THE STATE OF INDIANISATION & INDIGENISATION
Indianisation means converting all equipment to meet our specific military needs. In this there has been considerable achievement as proven in the 1971 Indo-Pak war and the 1999 Kargil conflict. The use of missile boats, MIG 21s, armour and weapons is testimony to our innovative adaptation of equipment. Indigenisation means building at home complete systems or parts thereof. Here too, we have several achievements in terms of graduating from assembling knocked-down kits to building systems from scratch. All these have been part of a big trial and error process. The services too have set up considerable technology infrastructure -- base repair depots, EME workshops, naval dockyards for operational maintenance and repair.
In a nutshell we have Indianised well, indigenised satisfactorily. Herein comes our latent and potent skill euphemistically called "Jugard" and often laughed at. A serious look at our five "Is" of Indianisation, Indigenisation, Innovation, Industrialisation and Integration reveals as to how we have built ourselves from nothing to something sustainable and very recognizable. We are capable of becoming, "Indian" in terms self-reliance across the spectrum of a conflict scenario. It entails the politico-bureaucratic-military-DRDO-industrial leadership to grasp that self-reliance is not a cliché but a caveat that needs to believed and obeyed. It must openly acknowledge that, complete dependence on outsiders is actually deterrence across the spectrum of development, security, economic health and strategic confidence of 'Bharat'. Yet it must also recognize the prudence of interdependence on advanced technological sources to achieve successful leapfrog results in our security and military preparedness.
What prevents us from achieving this are some macro realities; The Indian psyche, of grossly exaggerating our achievements, glossing over screw driver technology successes, ultra-sensitiveness to criticism over failure and reluctance to work together in synergy remains burden of our mindset. The way the higher defence decision structure is designed is sub-optimal in function, output and result. The concept of stakeholder/customer satisfaction as an important accountable imperative is virtually absent. Lack of ownership approach by the armed forces too is a militating factor. Notable examples are the LCA, the MBT Arjun, Dhruv helicopter among the many. In all these, the military virtually took a hands-off approach wanting the DRDO/DPSU to hand them a readymade product that they would then examine for failure!
THE MILITARY INDUSTRIAL COMMISSION
The dynamics of defence technology is complex. It needs a simple strategy of didactics, direction, determination and drive through the aegis of a Military Industrial Commission (MIC). The. MIC charter has to be inclusive and participative. This could be set up from existing entities like CII, FICCI, DRDO, DPSUs, armed forces, CSIR, NRSA, ISRO, private and public sector companies. The Defense Acquisition Council, the Director General Acquisition and the service chiefs/vice-chiefs can become part of the MIC. This could be tiered suitably for policy, planning, review and oversight. It would then emerge as a coordinating catalyst in an all round defence technology development in a win-win scenario. The success of MIC would lie in its composition, autonomy and executive authority. It must have oversight right to review long term perspective planning. It must be empowered to negotiate with foreign governments and international defence companies on transfer of technology.
The foundation of our defence technology edifice is ready and strong. Rapid advances in science, materiel development, electronic-engineering fusion all point towards the advantages of adopting a strategy of technology leapfrog. Reinventing the wheel is no longer needed as India is emerging out of the denial drought. The West woos us while the East engages us vigorously. All this highlights the availability of a span of technologies that can be adopted and adapted to become industrially and militarily Indian. MIC would enable melding military technology and civil technology as an enterprise. Maturing of military commerce, intensive and expansive R&D and focused objectives are the consequent collateral benefits.
The IMMEDIATE STEPS Required
The armed forces must commit to operationalise all Indian systems despite perceived limitations. Equipment and system improvement through upgrades must become ongoing exercise. We need to take a leaf out of Chinese technology innovation To cite an example, it developed the WS-10 engines for its prestigious J-10 fighter aircraft with only a 20-hour life initially. Subsequent upgrades were done based on operating experience and feedback from the end- users.
The MIC can convert the four roads into one common highway. The omnibus can be driven in synergy, and in shifts, by all the drivers and stakeholders. Our five I's can be maximised. India can be truly independent while being interdependent. It is an exciting prospect. Most importantly it is very realisable and really important for India to reach its destiny. The answer lies in an Indian military industrial commission with the Five-I approach.
The writers are former Vice Chief of the Naval Staff and former Director, Faculty of Studies, Army War College, respectively