They queued up for peace in area
Kunzar, May 8
Since early morning, voters in long queues could be seen standing for their turn to cast votes at various polling stations in the Kunzar block of Baramulla district and the Narbal block of Budgam district.
Development is his main agenda
Uttersoo, (Anantnag), May 8
In his early 20s, Javed Ahmad Bhat, a science graduate, is contesting the panchayat elections for the post of sarpanch in Uttersooo village, 75 km from Srinagar.
Now, Chinese mobile network in Jammu!
Jammu, May 8
As if Chinese intrusions, military build-up along the Indian border and presence of Chinese army in the POK were not enough to create problems for India, now signals from the Chinese mobile network have been detected in this militancy-infested state.


People in Shangus vote for water, power
Shangus (Anantnag), May 8
Since early morning, people thronged their respective polling stations with a belief that their basic problems of water, electricity, roads and employment would be addressed at the grass-roots level without waiting for the attention from legislators or the civil administration.

Villagers outside a polling station after casting their vote in Nowgam area of Shangus block on Sunday. Every voter or a candidate in this area has a long tale of woe on the plight of the area. Tribune photo: Amin War
CAG pulls up state govt for time, cost overrun on hydel projects
Jammu, May 8
Pulling up the Jammu and Kashmir government for time and cost overruns on hydel projects, the CAG has said the excess expenditure on these initiatives was in the range of 41 per cent to 687 per cent, adding up to Rs 1,700 crore, and the delays were from four to 16 years.
Villagers demand action against SHO, Tehsildar
Udhampur, May 8
The residents of Bugratean village in Ramnagar tehsil of Udhampur district today demanded an inquiry into the unprovoked lathicharge on the villagers protesting against inadequate staff at Government High School in their village. Around 14 sustained injuries.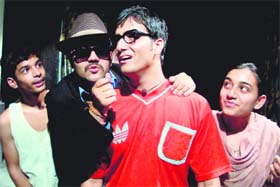 POWER PLAY: A scene from the play 'Pantrabaaz', directed by Balwant Thakur, which was staged at the Natrang Theatre on Sunday.
A Tribune photograph
Militant hideout busted in Kupwara
Huge cache of arms, ammunition recovered
Srinagar, May 8
A militant hideout was busted and a huge cache of arms and ammunition recovered by the Army in the forest area of Kupwara district in Jammu and Kashmir, officials said here today. "A militant hideout was busted in the Rajwar forest area of Handwara in Kupwara district by troops of Six Rashtriya Rifles assisted by the police," a senior army official said.
Jammu Central varsity still a dream
Jammu, May 8
Due to an impasse over the appointment of a Vice-Chancellor (V-C), Central University, Jammu, is all set to lose one more academic session. Nearly one-and-half-year has passed after the Union government earmarked two central universities for Jammu and Kashmir, but the Union HRD Ministry has so far failed to establish Central University in Jammu.
Militants give forces the slip again
Jammu, May 8
A joint operation launched by the Army, Special Operations Group (SOG) and the police in the Dongra forests of the Bafliaz area in Surankote to track down a group of militants has been called off as the militants managed to give them a slip. "The operation has ended without any result," said Poonch SSP Ashqoor Wani.
Darbar Move offices to open today
Srinagar, May 8
All arrangements are in place for the reopening of the Civil Secretariat and other Darbar Move offices here tomorrow, after they closed in Jammu on April 29 last. Chief Minister Omar Abdullah will be given a Guard of Honour on the opening of the Civil Secretariat at 9.30 am tomorrow, following which he will visit various sections in the Secretariat.
Minor raped in Reasi
Udhampur, May 8
The police today found a minor girl of Karwa village in Reasi district, who was missing since yesterday after being allegedly kidnapped and raped by a youth. The police has arrested the accused.