Gujjar boy among six make it to IAS
Ravi Krishnan Khajuria & Tejinder Singh sodhi
Tribune News Service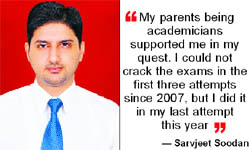 Jammu/Srinagar, May 12
After Dr Shah Faesal topped the civil services examination last year, a Gujjar boy is among the six candidates from Jammu and Kashmir, who have made it to the Union Public Service Commission's list of successful candidates this year.
Based on the civil services examination 2011, the results of which were declared yesterday, Mohammad Aijaz, a Gujjar boy from the remote Dharna village in Mendhar tehsil of Poonch district, has been selected for the Indian Administrative Service (IAS) this year.
Son of Choudhary Ghulam Nabi, Aijaz had studied in the IIT, Delhi, and had secured more than 75 per cent marks in B Tech. He had also qualified the Kashmir Administrative Services in 2010. He remained a meritorious student throughout his career and got many awards at the state and national levels.
A woman candidate, Ovessa Iqbal from the Ladakh region, three candidates from the Valley, Abid Hussain Sadiq, Gulzar Ahmad Wani, Syed Abid Rashid, and two from the Jammu region, Sarvjeet Soodan and Mohammed Aijaz, have made it to the IAS this year.
Talking to The Tribune over phone, Sarvjeet Soodan, a 27-year-old veterinary science graduate from the Sher-e-Kashmir University of Agricultural Sciences and Technology-Jammu (SKUAST), attributed his success to support from his parents and friends. Soodan has cleared the coveted exams in his last attempt.
"My parents being academicians supported me in my quest. I could not crack the exams in the first three attempts since 2007, but I did it in my last attempt this year," he said. He added that he kept his patience, which finally saw him through to the list of successful candidates.
Ranked 97th in the list, Soodan had taken geography and veterinary science as optional subjects. He had taken coaching for general studies from Vajiram Institute in New Delhi. Younger of the two siblings, Soodan said he always wanted to do something for the poor and the downtrodden in a society where corruption had spread its tentacles far and wide.
Hailing from the Hyderpora area of Srinagar city, 31-year-old Abid Hussain Sadiq gives the credit to his family for his success. Abid, who holds a bachelors degree in electronics and communication and is an MBA, was preparing for the civil services examination for the past two years.
Another successful candidate, Dr Syed Abid Rasheed of Baghat Barzulla is all praise for the DIG, Police Central Kashmir, Abdul Gani Mir, who along with other colleagues, runs the Initiative for Competition Promotion in Jammu and Kashmir for motivating the Kashmir youth to try for the civil services.
However, the youngest among the six is Gulzar Ahmed Wani, a law graduate. Gulzar, who hails from the Wagoora area of Baramulla district, says he had been aspiring to pass the civil services since his childhood.