Status statement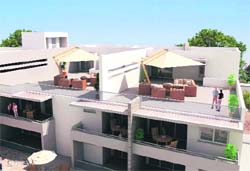 While the region is slowly getting used to the concept of living in flats and housing societies because of sky rocketing prices and scarcity of space in most of the cities, the builders are moving a step further by bringing in the concept of classy penthouses for those who want to have a feeling of independent residence in a community setting. The upwardly mobile homebuyers want their homes to have that touch of exclusivity in the neighbourhood.
House-lifting technique gets popular in Rohtak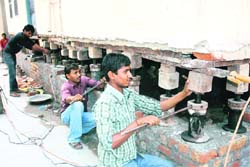 Rohtak has joined the league of those cities in the region where the technique of lifting a residential building has caught the fancy of residents. This is perhaps due to the fact that fast development in real estate has left a large number of buildings with low base level in comparison to the rising road level in all residential and commercial areas in the past few decades. More than 48 houses have been lifted with jack technique in the past few years.
A house being lifted in Lakshmi Nagar, Rohtak. Photo: Manoj Dhaka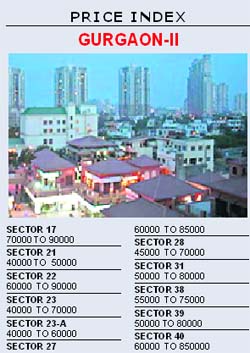 Price in Rs per sq yd
Please note: The prices may vary as per the size of the plots and location, and are subject to change from time to time.
Source: Nirmal Infrastructures. Mohali
[email protected]
Tax tips
Owner can claim rebate
HRA ISSUES
Share in grandfather's property
Son's right
Capital gain
Loan from kin
Ground Realty
RIGHT WAY TO POLISH!
Woodwork is the most time-consuming activity in the construction of a house with painting and polishing taking a lot of extra time as it is a slow-progressing work. But now, with the availability of a variety of readymade polishes in the market, not only can the activity-time be cut short but the desired results can also be achieved.
GUEST COLUMN
The vital code
Real Estate has been one of the key growth drivers in India. From being the largest employment provider to unskilled labour, the sector holds the key to the problems of housing shortage and urbanisation. From being a sector that had been marked by fragmentation, disorganisation and poor governance, Indian real estate has transformed into an organised industry with global standards and best practices. Real estate players in India today are emerging as professional, customer-focused, reform oriented and committed to quality construction.
launch PAD
Marine Plaza
Ashiana Housing recently announced the launch of an integrated commercial retail complex "Marine Plaza" in Jamshedpur. The project will ensure world-class shopping, leisure and entertainment, all under one roof. A one stop shop solution with all well known brands, this complex will be a debut venture of Ashiana Housing in retail segment in Jamshedpur.