30 engineers suspended
Sushil Manav
Tribune News Service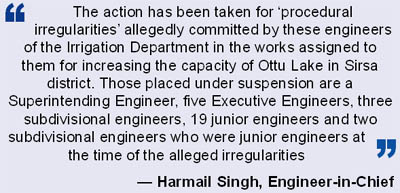 Sirsa, May 14
In what is perhaps the biggest disciplinary action in the history of the state Irrigation Department, the Haryana Government has suspended 30 engineers of the department for irregularities.
The action has been taken for "procedural irregularities" allegedly committed by these engineers in the works assigned to them for increasing the capacity of Ottu Lake in Sirsa district.
Confirming the government action, Harmail Singh, Engineer-in-Chief of the Haryana Irrigation Department, told The Tribune that the engineers placed under suspension included a Superintending Engineer, five Executive Engineers, three subdivisional engineers, 19 junior engineers and two subdivisional engineers who were junior engineers at the time of the alleged irregularities.
He said the action had been taken by the government on the report of a special inquiry committee headed by RK Garg, a Superintending Engineer of the department, who had since been promoted to the post of Chief Engineer.
The Engineer-in-Chief said the inquiry revealed several procedural irregularities in the work of increasing the capacity of the Ottu Lake on the Ghaggar in Sirsa district.
Harmail Singh said the inquiry report had revealed procedural irregularities starting from 2007-08 till 2010.
Sources in the Irrigation Department here revealed that the work on increasing the capacity of Ottu Lake was to be taken up in three phases and a sum of Rs 70 crore was allocated for the purpose.
The first and the second phase were completed with an expenditure of Rs 15 crore and Rs 30 crore, respectively, and the tenders for the third phase were floated recently.
The work aimed at digging Ottu Lake further by 6 ft to increase its capacity. The irrigation authorities had claimed before the last monsoon that Ottu Lake had been dug further and its capacity more than doubled than its initial capacity of 20,000 cusecs.
However, floods from the Ghaggar had caused devastation in several villages of Sirsa during the monsoon last year and the claims of the authorities had come under the scanner.
Allegations were levelled that the capacity of Ottu Lake had not increased despite the expenditure of several crores and villagers maintained that the floods could have been prevented had the work of increasing the capacity of the lake been properly executed.