FESTIVALS of style?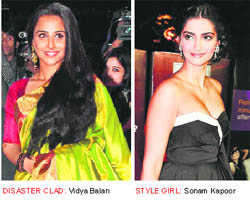 The hibernating fashion police swings into action the moment Aishwarya Rai Bachchan steps on to the red carpet for an international event. It began with the flip-flops nine years back; then she drew flak for her parrot green saree, out of the fairytale dress, her hillock of a puff…each time, she has somehow managed to come up with something! Even at the ongoing Cannes Fashion Festival…oops…Cannes Film Festival, she was observed, debated upon and only then the positive reviews flew in. Back home, the same treatment is meted out to female actors at the Filmfare or Screen Awards.
Rachel premiers with Indian jewels
The host of Bollywood stars walking the red carpet is not the only Indian presence at the Cannes film fest as Hollywood actress Rachel McAdams added to it by sporting some 'desi' jewellery during her stint on the French Riviera.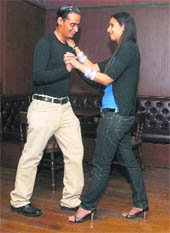 Spice it up with Salsa
Step in your dancing shoes to learn a few Salsa moves and celebrate it with Mexican food!
What can be a perfect antidote to monotonous, never ending weekdays? You can either keep reminiscing about the happening weekend gone by or make plans for the coming one. And if both don't seem to be a good idea, how about engaging in a high energy workout, which is undoubtedly sexy as well: Salsa. And that is not all as now you can delight your tastebuds as well with food of the same theme. How the two come together…lets find out.
I cheated on my wife, so do millions: Jesse James
Reality TV star Jesse James admits his marriage with actress Sandra Bullock failed because of his cheating, but he feels there is nothing unusual in the reason behind his relationship going wrong as "millions of other men" have affairs .
Angry old man!
Promotions for Viacom18 and AB Corp's Bbuddah - Hoga Terra Baap begin today with the first teaser of the film being released across India!
Deepika wishes best for Sonam
Sonam Kapoor is busy preparing for her much awaited stint on the French Riviera and fellow Bollywood beauty and gal pal Deepika Padukone has wished her luck for the walk down the Cannes red carpet.
Nikhil is scared of Shaitan
Nikhil Chinapa is set to make his Bollywood debut in Anurag Kashyap's much hyped production Shaitan but he says that the thriller will be his first and last silver screen outing.
Aamir waiting for Salman's haseena


The two popular Khans of Bollywood-Salman and Aamir-otherwise known for their camaraderie, leave no chance to take pot-shots at each other over the issue of marriage. Recently, when asked about finding a suitable girl for his bachelor buddy Salman, Aamir said, "I will search a girl for Salman, but he has to assure me that he would marry her... and that there will be no further discussion on it." When further quizzed if he would choose someone from the Hindi film industry, the perfectionist actor said, "First let him give me assurance that he will not say 'No' to that girl.
Pirate walks the red carpet
The latest instalment of the Pirates of the Caribbean movie franchise laid anchor at the Cannes film festival bringing with it a crew of big stars, including Johnny Depp and Penelope Cruz. Pirates of the Caribbean: On Stranger Tides is the fourth film in a series which has made a fortune for Disney with a combined global box office tally so far of $2.7 billion.
First Look: WEST is WEST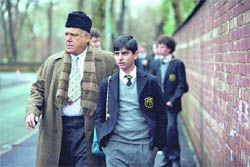 West is West, the long anticipated sequel to the blockbuster East is East is set for a June 10 release in India. From the same creative team that brought us East is East, produced by Leslee Udwin (BAFTA and multi-award winner) and written by Ayub Khan-Din (nominated BAFTA Carl Foreman Award and twice winner of Laurence Olivier Award), the film stars Om Puri (BAFTA nominated), Linda Bassett, Ila Arun, Jimi Mistry, Vijay Raaz and introduces Aqib Khan.
BOLLYWOOD GOSSIP
Tabu is back!


Tabu fans can rejoice as she is said to have agreed to feature in Kabeer Kaushik's action drama Maximum and will play the wife of a cop, to be played by Sonu Sood. The choosy and reclusive actress is said to have liked the script and has given the nod though she is yet to sign it. The movie also stars Naseeruddin Shah, Pankaj Kapoor, and Arya Babbar.
The 'in' side
Combining fabric styles, patterns and colour schemes is the key to a good decor. Following these tips will help you create the right look and will add a 'WOW' factor to your space.
Keep it casual, keep it comfortable
Every person has a sense of style. Yet, there are only a few who'd attract a second glance or make heads turn. The magic could lie in tousled hair or it could lie in torn jeans! This week's face in the crowd, Manveen Kaur, student, Advanced Diploma in Fashion Designing, INIFD, comes from the 'casual comfy' school of thought with a touch of tradition.
Trouble in Mona-Anukalp relationship
A new entry, in Ram Milayi Jodi on Zee TV, is all set to create havoc in Mona (Sara Khan) and Anukalp's (Nishant Malkani) married life. The girl in question will be Anukalp's friend Aanchal, played by actress Damini Joshi who also plays Usha in Maykee Se Bandhi Dor on STAR Plus.
chatter box
Is male casting couch a reality?
The casting couch, commonly known in the West as hard audition, is becoming more and more common in our entertainment industry. We spoke to few actors from the television industry, for their take on the male casting couch.