Couple among nine Haryanvis out to conquer Mt Everest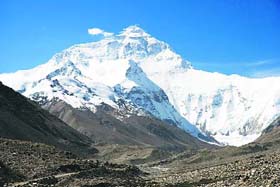 Vikas Kaushik (24) and his wife Sushma (27), constable with the Haryana police, hope to become the youngest couple to scale Mt Everest together
Though Nepalese girl Moni Mulepati and her husband Pem Dorje Sherpa were younger than the Kaushiks when they scaled the Everest in 2005, the Haryana couple can still claim the record since Mulepati and Sherpa were not married when they achieved the feat. The pair exchanged vows on the summit
The first married couple to scale Mt Everest together were Slovenians Andrej and Mariga Stremfelj, who scaled the peak in 1990
Kathmandu, May 15
After proving their mettle in sports, men and women from Haryana, including a young couple, are now seeking to conquer the world's highest peak. Nine of the 17 Indians individually attempting to scale the 8,848-m summit hail from the state.
"We were inspired by Mamata Sodha," says Vikash Kaushik, a 24-year-old computer science student from Kurukshetra University, who is among the nine Haryanvis trying their luck, skill and courage on the mountain that has already claimed three lives this season.
Mamata Sodha, a 28-year-old teacher, scaled the peak last year and returned home in glory, asking people to "do something different".
So Kaushik is now biding his opportunity on the freezing slope, hoping to do her bidding. And he is not alone. Accompanying him on the challenge is his wife Sushma, a 27-year-old constable with the Haryana police serving in Panipat. "We hope to do something different. We hope to become the youngest couple to scale Mt Everest together," said Kaushik.
The first married couple to scale Mt Everest together were Slovenians Andrej and Mariga Stremfelj, who scaled the peak in 1990. Eight years later, the peak took the lives of a climbing couple, American Francys Arsentiev and her husband Serguei.
Though Nepalese girl Moni Mulepati and her husband Pem Dorje Sherpa were younger than the Kaushiks when they scaled Mt Everest in 2005, the Haryana couple can still claim the record technically since Mulepati and Sherpa were not married when they went up. The pair exchanged vows only on the summit and then had a formal wedding ceremony after they came down.
The Vikash-Sushma pair also projects a refreshingly different image of Haryana and, indeed, India - she is the elder partner and is the breadwinner while he is still a student. The 11-member second Eco-Everest Expedition, of which the Kaushiks are members, has three more aspirants from Haryana, including a woman, Sunita Singh Chokan (26).
Also attempting the climb is a third woman from Haryana - Richa Sheokand (25), who is part of the international expedition that saw Tine Mena, the first woman from India's northeast, scale this week. The Haryana boom is also being attributed to the generous patronage that Chief Minister Bhupinder Singh Hooda's government has shown to athletes.
"Mamata was promoted to the rank of Deputy Police Superintendent after she scaled Mt Everest," says Captain Sanjiv Vajpai, father of Arjun Vajpai, the New Delhi schoolboy who created history last year when he scaled Mt Everest at the age of 16, thereby becoming the youngest Indian to achieve the feat. — IANS