Buddha Purnima celebrated with fervour
Yangchan Dolma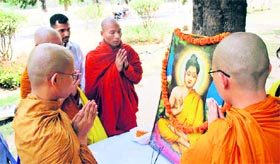 Buddhist students hold prayers at the University of Jammu on Tuesday. Photo: Inderjeet Singh
Leh, May 17
Although Buddha Purnima in Ladakh, according to the local Buddhist calendar, falls on June 15, but like other parts of the country, it was also celebrated in Leh town with religious and traditional fervour today.
Bhumskor, a traditional religious procession in which devotees carry the teachings of Lord Buddha translated into the Bhoti language in 108 volumes, was organised.
The procession started from Chokhang Vihra, passed through Sangkar Gonpa Tsemo Fort and culminated at the Polo ground.
The Bhumskor was accompanied by monks of the Stakna monastery, who were playing all Buddhist religious instruments, and local musicians, who played their music instruments, followed by hundreds of devotees in their traditional dresses and jhankis of various schools of Leh town depicting the life of Lord Buddha.
Later, an elaborated cultural extravaganza was organised by the Ladakh Buddhist Youth Association to mark Buddha Purnima.
Thousands of people from all over Ladakh attended the function while the president of the All Ladakh Gonpa Association, Skabje Tokdan Rinpoche, was the chief guest. Religious scholars spoke about the teachings of Lord Buddha focusing on nonviolence, truth, and compassion.
Skits on Lord Buddha's life, including his first sermon after 49 days of enlightenment, and devotional songs by schoolchildren were presented to mark the occasion.
Rinpoche, in his address, stressed on following Buddha's teachings in daily life to make a healthy society. He also announced that on the invitation of Buddhist religious organisations, the Dalia Lama had agreed to visit Ladakh in 2012.
Earlier, president of the Ladakh Buddhist Youth Association Tsewang Thinless said all communities should strengthen the age-old communal harmony and resolve all problems together. Heads of other religions were also present on the occasion.
Jammu: Sangarsh, a movement for justice, equality, peace, prosperity and brotherhood, celebrated Buddha Purnima at the entrance of the University of Jammu here today. Pharma Surasak Suramuni, a Buddhist monk and scholar, was the chief guest on the occasion, while the president of the movement, Mahesh Kaul, presided over the function. The programme started with the garlanding of a Buddha's statue.
Kaul appealed to the student community to spread the message of Lord Buddha among people so that a sense of security, love, compassion etc may prevail in society.