Bajpai is HPU VC
Shimla, May 20
It is Dr ADN Bajpai, Professor of Economics at Rani Durgavati University, Jabalpur, who has emerged as the final choice of the state government for being appointed as Vice-Chancellor of Himachal Pradesh University (HPU) while Dr KR Dhiman has been given a second term as VC of Dr YS Parmar University of Horticulture and Forestry, Nauni. Dr ADN Bajpai

Will Dhiman complete his second term?
Solan, May 20
With the state government granting second term to Dr KR Dhiman, Vice-Chancellor of Dr YS Parmar university of Horticulture and Forestry, Nauni, the uncertainty prevailing over this key post for the last almost one-and-a-half month has been put to rest.

Dr KR Dhiman

CM justifies nod to pvt varsities
Mandi, May 20
Taking the Congress tirade against private universities head-on, Chief Minister Prem Kumar Dhumal today asserted that the government would not allow any private university to affiliate any college with it in the state.
Meeting on Dalai's retirement starts today
Dharamsala, May 20
The Tibetan National General Meeting, which will decide the retirement of the Dalai Lama, will start tomorrow morning. About 418 participants from various sections of the Tibetan community-in-exile will take part at the meeting that will be held in upper Tibetan Children Village.
Work on Rohru Road
HC seeks SP, SDMs explanation
Shimla, May 20
The HP High Court today sought an explanation from the SP, Shimla, SDMs, Theog and Rohru, that why they had not provided proper assistance and help to Chinese contractor for constructing and widening the 80-km-long Theog-Kotkhai-Jubbal to Rohru road, especially when the local people were creating hindrances in the smooth execution of the contracted work.
Fans charged up for last match today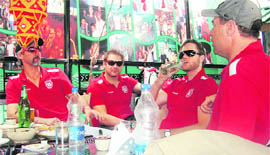 Dharamsala, May 20
It is not less then a festival season for all the cricket lovers here. Excitement is at its peak for the season's last IPL match to be played here tomorrow. Kings XI Punjab is the favourite team of the locals.


(From left) Players of Kings XI Punjab Jason Gillespie, Ryan Harris, Nathan Rimington and coach Michael Bevan in Hotel Mclo at McLeodganj on Thursday. Photo: Kamaljeet

CM opens ITI building
Mandi, May 20
Chief Minister PK Dhumal today laid the foundation stone of the panchayati raj training institute at Thunag and inaugurated ITI building at Bakshiad and science block of the senior secondary school, Thunag, in Seraj.
Congress for FIR in Bamloe builder case
Shimla, May 20
Stepping up the attack on the Shimla Municipal Commissioner AN Sharma, the Congress today demanded immediate registration of an FIR over the "no-objection certificate" to Bamloe Developers for raising apartments in the thick forest area and to uncover the real persons behind the fake letter on the basis of which road was constructed overnight by felling trees to oblige the builder.
Villagers protest against non-supply of LPG refills
Hamirpur, May 20
A large number of villagers from surrounding panchayats of Hamirpur held a demonstration before the office of the District Controller of Food Civil Supplies and Consumer Affair here yesterday to protest against the non supply of LPG refills in their villages.
Village ex-chief booked
Nurpur, May 20
Following a complaint of Rajiv Kumar, pradhan of Bhaloon village, the police has booked Rajesh Kumar, ex-pradhan of Kamnala village, last evening for allegedly encroaching government land.
Student dies as van falls into khud
Shimla, May 20
A 12-year-old school girl died when a van carrying schoolchildren met with an accident near Dasana Kainchji in Theog subdivision today.
Truck driver killed in mishap
Bilaspur, May 20
Truck driver Mahender Singh (25), son of Rattan Lal of Saayar village in this district, was killed when his clinker-loaded truck fell into a 500-ft-deep gorge near Dadhwaal village near Suharghat on National Highway-21 yesterday.