Central relief for Bhatta-Parsaul farmers
Seriously injured to get Rs 50,000;
Union Minister Sachin Pilot arrested, released
Ashok Tuteja/TNS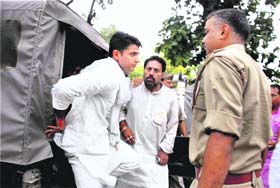 Union Minister of State for Communications and IT Sachin Pilot at Ghaziabad Police Lines on Sunday. — PTI
New Delhi, May 22
Union Minister Sachin Pilot was today arrested while on his way to Bhatta-Parsaul and other villages in Gautam Budh Nagar district which were recently affected by large-scale violence over the land-acquisition issue. The Congress has already upped the ante against the Mayawati government by highlighting the plight of affected farmers.
Meanwhile, Prime Minister Manmohan Singh has announced financial compensation for farmers and their families injured during the recent violence in these villages. Those injured seriously would get Rs 50,000, while Rs 10,000 would be paid to those who suffered minor injuries.
Just a few days after party general secretary Rahul Gandhi's visit to Bhatta-Parsaul and his subsequent arrest, Pilot was taken into preventive custody by the police at Lal Chowk outside the violence-affected villages. However, he was released soon thereafter.
Claiming that he did not violate any law, Pilot, after his release, said, "We wanted to go to the villages...the UP police blocked the national highway for over an hour. They brought us here to the Police Lines without any reason. We had not planned any meetings or speeches.
We just wanted to give condolences."
The minister had earlier, along with 100 supporters, visited the Dasna jail in Ghaziabad where he met farmers lodged there since the launch of the agitation. Pilot accused the state government of grabbing land and demanded a "thorough probe" into the alleged atrocities on villagers.
"They (farmers) were treated badly for sure, and many people have said this before. But you know if you go to any village and speak to a woman about rape with a camera to her face, it will be tough to get the truth. We would like this matter to be thoroughly investigated, and the people who conducted a skewed investigation subjected to strict investigation," Pilot said just before he was arrested.
Pilot's visit to the area comes just a day after the National Commission of Women demanded a CBI probe into the alleged acts of violence on women by the police in the twin villages.