M A I N N E W S
In '72 he wrote about webcams and microwaves
Simmy Richman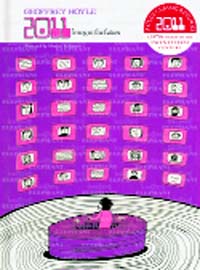 Living in the future: Geoffrey Boyle
Webcams, microwaves, touchscreens, Ocado, jumpsuits... When Geoffrey Hoyle was asked in 1972 to imagine what the world might be like in 2011, little could he have known quite how many advances he would correctly predict
What will the world look like in the not-too-distant future? It's a fun game to play sitting around the pub/dinner-party table, but unless you grew up in the house of the astronomer and science-fiction writer Sir Fred Hoyle (who, incidentally, coined the term 'big bang', even though he rejected the theory), where lunches with the physicist Richard Feynman were not uncommon, chances are your beautiful "vision" will evaporate with the inexorable passing of time.
So it is a brave man who commits such ideas to paper. Which makes it all the more delicious that when Sir Fred's son, Geoffrey, was asked to do just that in the early 1970s, he got so many things right. And though 2011: Living in the Future was intended for children, the renewed interest in Hoyle's work (Facebook groups, a new US publisher) owes as much to Hoyle's prescience as it does the period charm provided by the accompanying illustrations by Alasdair Anderson that have become something of a cult.
The new reprint is flattering to Hoyle, now 69 and living in a French village, but also, perhaps, amusing to a man who has been a theatre producer, a documentary-maker and an advertising executive before, somewhat reluctantly, entering the "family business" of science-fiction writing.
"The book was the idea of an editor at Heinemann," he says from his home near Perpignan. "They were publishing a series for children and asked whether there was something we could do involving science-fiction to make them think about what kind of world they would like to grow up into; and because it was going to be sold in America, it was made clear that there should be no politics or sex."
The fact that the book promotes an uncomplicated, politics-free vision of the future is made even more astonishing when you talk to Hoyle now. Here is a man whose mind flits from subject to subject at an alarming rate - from accusations that 2011 is politically incorrect ("People blame me for the fact that there are no black people in the book, but I had nothing to do with the illustrations. Would I have chosen for the father to be a hippie? Probably not") to a deep feeling that while technology has developed almost as he had foreseen, attitudes and social structures have not kept pace.
This last point is something of a bugbear. "Over the years politicians have added new thing to new thing and nobody has the intellect to wipe the slate clean and say, 'What do we need?' What have changed over the decades are the levels of bureaucracy, the control over our lives and the rise of the career politician with pop-star status. We live in a time where there's a huge amount of disinformation and facts can be twisted to alarm or control"
So while Hoyle predicted both the large (the ubiquity of the computer, the invention of the smartphone and the microwave) and the small (Skype, home supermarket delivery, touchscreens and webcams) ways our lives have changed, he has no idea why the social model of Europe is still "tailored to the way people were living in 1947".
What, then, would the book look like if he were writing it now and trying to imagine the world in 2051? "I think that book might have to show the slow decline of the Anglo-Saxon industrial revolution. Things have either peaked or plateaued, so there will probably be a reduction in the standard of living. But then," he adds, "that book would inevitably be bleaker, because the 1960s and 1970s were fantastic and I am now, I suppose, a grumpy old man."
Hoyle is also acutely aware that he will almost certainly not live to see whether he is right or wrong in this analysis. Not that this realisation frustrates him. What does is the fact that of the many young people looking at the book now, few of them ("One out of 17 from a class of 11th graders in Kansas") have the imagination to consider their own future world. "I grew up at a time when people put money into original thinking. Now it's all about viable commercial ideas. But the jet engine and penicillin were not born out of that culture. So I'm thinking of starting a website-cum-blog where young people can post their own thoughts on how everything from clothes to food to how we live and work will change over the next 40 years."
And as far as Hoyle's own immediate future is concerned? "That's easy," he says. "My sister and I inherited my father's intellectual copyright, and 10 years after his death he and his ideas are still much talked about. I sit and watch, reply to emails, and enjoy the sunshine.