Economics of success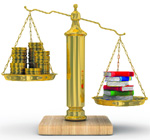 Economics has always been the guiding force of society not only in its formation but also in its development through different phases. Writings of the earliest thinkers whether it was Aristotle's Politcs or Chanakya's Arthashastra, allude that there was a class of elite scholars who devoted their lives to understanding the functioning of economy and how it could be improved with conscious efforts.Even at the mundane level a farmer selling his crops or the household leader allocating his income under various heads, everyone unwittingly lays down and makes use of the laws of economics.


DU quota for sports
Admission procedure for NRIs
Sane choice
Don't lose heart
Lecturer in home science
Getting into merchant navy
Practical training pays in job market
The recruitment industry is a $1.25-billion industry in India today, with a growth rate of 250 per cent per annum, but there is a dearth of recruitment specialists and professionals.
Dare to believe and win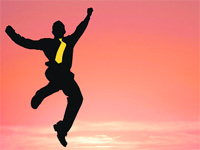 The potent power of human faith and belief best becomes crystal clear from Morris Goodman's example, whose spinal cord was crushed in a plane crash. He could neither breathe nor eat or take water, only his eyes could blink. How he imagined, thought, felt thrilled, and ultimately faced the toughest challenge, and achieved greatness. That's certainly the greatest lesson for mankind. When Einstein's laboratory was set ablaze, instead of lamenting he called for his wife to witness the wonderful sight which she would never ever see in life. These great men focused not upon loss or fear but on their faith to achieve and win.
BBA Entrance
Test of deft management
A degree in BBA/BBS is a strong foundation for students who want to pursue a career in management besides offering them a host of job opportunities in banks, financial institutions, MNCs and other corporate houses.


Careercature
Sandeep Joshi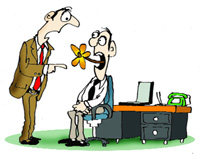 You seem to be sufficiently de-stressed now. Just stop taking the anti-stress medicine.

JOB BUZZ
Host of opportunities
Hospitality and Tourism Sector
The hospitality industry in India has scaled new heights in the past decade. With Atithi Devo Bhava as its motto, the sector is providing world class facilities to travelers due to rapid upgradation and modernisation.
Office Mantra
Steer clear of politics
Office politics is an inevitable part of every organisation. With individuals vying with each other either for position or power, workplace becomes a hotbed for politics.
Happiness @ work
No remedy if it springs another problem
Gems of ancient wisdom
Everyday we face several problems. And, there are multiple solutions to every problem. Wisdom is in choosing a solution that doesn't give rise to another problem. As she couldn't face the summer heat of the Sun God, Sanjna sent her shadow Chhaya to Surya's abode to take care of him and their children. But Chhaya maltreated Sanjna's kids. This made Surya confront Chhaya after which she revealed her true identity.