5.26% hike in power tariff for domestic consumers
Tribune News Service
Dehradun, May 26
The Uttarakhand Electricity Regulatory Commission has finally released the new tariff rates with an increase of 5.26 per cent in the tariff for the domestic consumers. The new tariff rates will be applicable from May. The fresh rates have somewhat relieved the customers who were expecting a big jump in the increment. Though various political parties and organisations did not seem pleased with the exercise.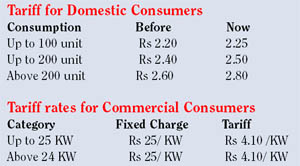 According to sources in Uttarakhand Power Corporation Limited (UPCL), the officials in the corporation are not happy over the outcome as they had recommended an increase of 31 per cent in the rates. The sources say the new rates are being seen a compulsion of the state government to keep the tariff under control ahead of the Assembly elections. They say in the next financial year, there can be a significant increase in the tariff rates to balance the abysmal increase of the current financial year.
It is also alleged that the new rates may put the UPCL in further financial trouble as the corporation, which had bought electricity worth Rs 1,720 crore last year, is slated to purchase power worth Rs 2,759 crore, shelling out Rs 1,000 crore extra this year.
A member of the UERC Anand Kumar though made it clear that from the very beginning, their aim was not to burden the common man and they could finally make it after going through each minute detail regarding the expenditure and revenue of power corporations along with their estimates.
A leader of the Uttarakhand Kranti Dal (Panwar faction), Shanti Prasad Bhatt, opposed the increase in the tariff rates. He said: "Our state earns 20 per cent royalty from all the hydro-power projects and at least 5 per cent of it should be passed on to the domestic consumers. By this yardstick, the consumers should not be charged more than Rs 1 per unit. People living in hill areas who hardly consume much electricity should also be spared of electricity bills."
Alluding to the CAG report, he said: "According to the CAG report, the line losses worth Rs 4,000 crore shown by the UPCL are actually the losses incurred due to power theft, in which officials of power corporations are thickly involved with the thieves. Therefore the consumers should not be punished to pay from their pockets each year to balance these losses."
The Communist Party of India (Marxist) (CPM) has also opposed the increase in the tariff rates. Surender Singh Sajvan, district secretary of the party, said the state government was giving a heavy exemption to the big industrialists who were supposed to pay the dues running in crores to the government, and was crushing the common man with financial burden."
Convener of the Nationalist Congress Party Manoj Dhyani, too, aired the same views, saying: "Uttarakhand is an energy state of the country. It should not impose an increase in tariff rates each year, and maintain affordable rates. Instead of charging it from the public, who is already struggling to survive the formidable inflation, the government should make the industrialists pay extra charges."