Centrestage
THE DOWNHILL STATIONS
Tourism in the hills is growing like never before. Mussoorie, which has a population of just around 40,000, is visited annually by a number that is said to be fifty times more. Manali, which again has a similar resident population, boasts of over 400 hotels and 19,000 hotel rooms. The unprecedented rush has put infrastructure under tremendous strain in most hill stations in the region. The quiet of these holiday resorts are a thing of the past. Hotels have come up higgledy-piggledy. Something is seriously wrong.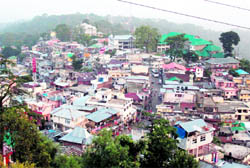 Turning into urban slums. Dharamsala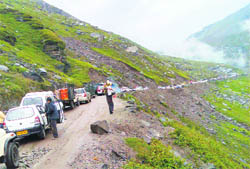 INCREASING TRAFFIC JAMS.
Road to Manali

The irony is that nobody appears to be happy. The tourists complain of exorbitant prices ( at times paying Rs 200 for a plate of Rajma-Chawal ), poor service and getting cheated at every step. The local population disdainfully dismiss the seasonal influx of uncivilised hordes as a necessary evil. The government grudges the pressure tourism is putting on infrastructure, transport, law and order and ecology but cannot think beyond hotels and resorts. Businessmen are complaining that the tourists do not spend enough, demanding that the governments take steps to attract high-end tourists with more spending power. All said and done, it is a messy situation that calls for urgent attention.
Even Kufri, which once drew film makers in droves for its excellent ski-slopes, today stinks of animal dung and is so crowded that film-makers think it better to keep away. Traffic chaos at Kufri would come as a shock to those who have visited the place a decade or two earlier.
Tourists still make a beeline to Naldehra, Mashobra and Narkanda but with the limited tourism infrastructure giving way under the weight of tourists, they are no longer what they used to be.
LAKES BECOMING GARBAGE DUMPS.
Nainital

Can't PARK,
MOVE.
Mcleodganj

Undoubtedly, authorities need to do much more by way of creating way side amenities, better roads, more parking lots, augmented water supply to meet the demand of the huge floating population of visitors and so on.
A lot has been done but a lot more needs to be done. All hill stations do not have uniform facilities, rates and signage-for example.
AK Dwivedi, Joint Director, Uttarakhand Tourism Development Board claims to have provided toilets and rain shelters at various places on the "Char Dham" route. Emergency ambulance service with toll-free number 108 too has also been introduced while more than seven thousand oxygen cylinders have been provided, he says, at the government guesthouses in the hills.
MANALI
THE MADHOUSE
Manali has degenerated into a "mad Mecca" for low-budget domestic tourists and backpackers. Dust and emissions from three wheelers and vehicles, traffic jams, large crowds, heaps of debris on the Mall and stench from leaking sewers and gutters and dirty toilets greet the tourist at Manali.
Parking of vehicles is a major problem at Manali and even a 50-room hotel provides parking for just five vehicles. Tough the district tourism council since 2004 has collected Rs 17 crore by way of green
tax imposed by the High Court on tourists to improve tourist infrastructure, visitors are still forced to park their vehicles on the roadside as Manali has just five public parking lots , which can cater to about 600
vehicles. The proposed additional parking lots have remained on paper for the last seven years.
Manali needs at least 150 policemen but it has 70 in place to handle the summer rush. Manali needs 2 lakh liters of water daily, but the supply is about one lakh litres. The employees are said to be at the beck and call of hoteliers, who allegedly bribe them to provide 24 hrs supply.
The Tourism department has two inspectors and no independent tourism officer to check fleecing. "Fleecing is rampant here. Rooms are not up to the mark and lack parking facilities", complains Amit Shah, a Mumbai tourist. "The touts get commission even if they manage bus or taxi ickets".
Manali produces more than 20 tonnes of solid waste daily and one quintal of plastic. While the Nagar panchayat collects about 15 tonnes of solid waste daily and dispose it off in the treatment plant, which is overflowing, rest of it ends up in the Manalsu khad or in the Beas river.
Manali's green lungs- deodars are in danger. Over 100 trees have dried up. 72 more trees face the axe to make room for the proposed Manali Bypass. The encroachers are pruning trees or drying them up in the upper reaches of Hidimba Devi, Ram Bagh and other places for expanding their business.
"Tourism is growing, but we are missing out on quality tourists. Perhaps we need more five star hotels, more tourism activities, proper parking and infrastructure and proper monitoring so that only good people come here", says Gajender Thakur, president, Manali hoteliers association.
GULMARG, PAHALGAM
SMELL THE STENCH
At Gulmarg and Pahalgam, tourists are often shocked to see the filth spread by ponies in the area, the stink raised by droppings considerably dampening the mood.
"This is a beautiful place and should be kept neat and clean, but as you enter the area you are greeted by the droppings littered everywhere in the meadow," cribs Alok Kumar from Chandigarh.
Tourists who come to these hill resorts are also shocked to find that not a single public convenience is available. .
Although the government has fixed rates for the Pony ride in summer and sledge ride in winters, tourists complain they are invariably fleeced and forced to pay much more by the pony walas and the sledge pullers.
"Wherever you go, hotel charges are so high and the service so poor. During the peak tourist season, one suspects hotel owners create an artificial shortage of rooms to increase the rates and the tourists are forced to pay," complains Gulzar Singh from Delhi .
Tourists also complain of being cheated by traders who sell them spurious stuff in the name of Kashmiri handicrafts and handloom.
"Last time when I came here, a shopkeeper in Sonmarg sold me a shawl, assuring that it was a pure Kashmiri pashmina shawl but when I reached home I discovered that it was a factory made shawl which was made in Ludhiana. Since then I have decided not to purchase anything from here," said Abhiskeh Lokhande a resident of Maharastra.
Nainital
GROWING CHAOS
At Nainital also, the administration has simply failed to regulate the basics of tourism namely getting hotels to display their tariff cards and to regulate the fares of taxis. This has led to undue harassment of tourists and even hoteliers agree that the number of return tourists is going down sharply, the bitter experience forcing tourists to decide against visiting the place.
The hotel accommodation in Nainital is of course inadequate to handle the peak season rush. Hence, the hotels and guesthouses that are running illegally are doing brisk business and are charging as per their whims and fancies. A room that is normally available for Rs 1,500 in similar towns in other parts of the country can cost up to Rs 6,000 in Nainital during the peak season.
The spokesperson of the Nainital Hotel and Restaurant Association Kamal Jagati says,"We can answer for our members who have been issued certificates by us and have been asked to put up tariff cards. The best way to check the illegally run guest houses is to register them as regular entities and get them to operate under the norms."
A prominent hotelier who has been working for promotion of tourism in the area for several decades, Pravin Sharma, pointed during the said meeting , " There are schemes like the Bed and Breakfast initiative of the tourism ministry that need to be promoted."
Parking and traffic management is another major problem in the town. Although plans are drawn every year to deal with the problem but thecity remains choked as ever during tourist season.
Jagati says the long term solution lies in creating parking lots on the periphery with dormitories for the drivers. Reckless driving at night, parking at random by tourists leading to chaos are other major problems.
Mussoorie
BURSTING AT ITS SEAMS
The present population of Mussoorie is around 42078 thousand but more than 23, 00,000 tourists visit the town every year and this unrestrained inflow of tourists is far beyond the carrying capacity of the town.
According to Mussourie Jal Santhan officials, the water availability in the town is around 7.67 MLD (million liters per day) as against the requirement of 7.77 MLD during off seasons. But during the peak tourist seasons, the requirement increases to 14.42 MLD. The department tries to compensate this gap by manipulating the water supply from the reservoirs.
The water supply is interrupted when pumping stations fail to work due to the frequent power cuts and in that case the water is supplied through the storage tanks.
Hotelier Kanwal Jeet Singh recalls that several projects were announced to increase the capacity, such as upgrading the Kolti drinking water project, Hardy Fall water supply project, increasing the storage capacity of other reservoirs but none has curiously been completed.
According to the Mussoorie Hotel Association (MHA) spokesperson Sandeep Sahni, the economy of the town is based on tourist inflow but the lack of adequate parking facility and traffic congestion leave tourists cursing their luck and vow never to revisit the town again.
According to the police officials this year they have increased the number of traffic personnel to manage the traffic. One way zones have been created at several points of congestion which have yielded good result.
Mussoorie Traders Association president Rajat Agarwal is of the view that lack of solid waste management despite council collecting the eco- fee from tourists is another major problem faced by the town. He further said that as there is no concrete project for the disposal of the garbage, it is strewn all over the town. Encroachment on Mall Road by the street vendors has also led to increase in filth and congestion.
The Municipal Council President OP Uniyal confided that on an average Mussoorie generates around 18 tons of garbage per day of which 34% is dry and 66 % is wet garbage. At present the garbage is not being processed and it is being disposed at the trenching ground that exists at Gaddi Khana near library bazaar. Uniyal further said that Council has ordered for a compacter which will compress the garbage and send it to a recycling unit.
(Inputs from Kuldeep Chauhan in Manali, Rajeev Khanna in Nainital, Tejinder Sodhi in Pahalgam, Rakesh Lohami in Shimla, SMA Kazmi in Dehradun, Ajay Ramola in Mussoorie and Ehsan Fazili in Srinagar)