NRI's land fraudulently sold in Moga, 9 booked
Moga, May 31
As many as 14 acres of land worth about Rs 3 crore belonging to an NRI has allegedly been sold fraudulently by some persons in connivance with the revenue authorities at Rania village in Nihalsinghwala sub-division of the Moga district.
Corruption surfaces in DTO office, two held
Moga, May 31
Widespread corruption prevailing in the office of the district transport officer was exposed when a clerk and an agent were found hand-in-glove in getting the work related to registration of vehicles and driving licences done by taking extra money than the prescribed government fee from the people.
HC seeks report on pvt de-addiction centres
Chandigarh, May 31
The Punjab and Haryana High Court has asked the deputy commissioners of Jalandhar, Moga, Ludhiana, Faridkot and Amritsar to file their reports on private de-addiction and rehabilitation centres in Punjab. The centres, found failing in complying with the rules, have also been given six weeks to meet the norms.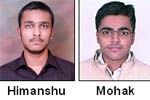 Abohar, Fazilka lads make it to PMET
Abohar/ Fazilka, May 31
Himanshu Gupta has got 10th rank in the CBSE PMET besides obtaining 100 per cent marks in Physics. His father Shiv Charan Gupta is a teacher in Physics and runs a coaching centre at Chandigarh.
Abohar MC meeting
MC hikes water, sewerage charges by 100 per cent
Abohar, May 31
Anguished over unprecedented deterioration in water supply and sewerage system, five councillors of the ruling BJP walked out of the long-awaited meeting of the local Municipal Council today. Putting the saffron party to further embarrassment, they turned up after a few minutes in the town hall to record 'no voting' along with eight members of the opposition Congress as the Council resolved to increase the users charges for water and sewerage connection by 100 per cent.
Encroachments removed in Abohar
Abohar, May 31
Encroachments that obstructed traffic on the Railway road in Abohar were removed today after some of the watermelon sellers created problem in downloading of newspaper bundles and misbehaved with the newspaper agents.
People urged to give up tobacco
Fazilka, May 31
To mark the World Tobacco Eradication Day a programme was organised in the local civil hospital under the chairmanship of Senior Medical Officer Dr SP Garg.
Three of a family die in road mishap
Sriganganagar, May 31
Three members of a family that runs a canteen in the Military Station at Bathinda were killed while five others sustained injuries as the car by which they were travelling collided head-on with a pick-up van near Purabsar late last night.
Paramedics, Health Dept staff to stage protest rally on June 3
Fazilka, May 31
Paramedics and Health Department employees would stage a protest rally on June 3 before the office of the Director Health Services, Chandigarh, against the alleged adamant and negative attitude of the Punjab government for not accepting the long-pending demands of para medical employees in the state.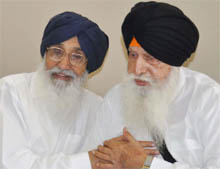 Talwandi shares Badal's grief over wife's death
Badal (Muktsar), May 31
Chief Minister Parkash Singh Badal appeared a bit cheerful as his old-time Shiromani Akali Dal (SAD) colleague and former president of the SGPC Jagdev Singh Talwandi visited his house here today to express grief over the death of Surinder Kaur Badal.

CM Parkash Singh Badal and an estranged Akali leader and former SGPC president Jagdev Singh Talwandi at Badal village on Tuesday. A Tribune photograph

Notorious drug peddler arrested, intoxicants seized
Bathinda, May 31
Sunil Kumar alias Sonu, a notorious drug peddler of this region, fell into police trap at a special check-post laid by the Rampura Phul police on the bridge of a drain at Pitho village late last evening.